This Lectin-Free Vegan Mushroom Cauliflower Rice "Risotto" is a warm and aromatic side dish that is ready in less than 20 minutes using clean ingredients.
All you need to make it is a skillet and ingredients you probably already have on hand.
In this quick and easy recipe, I used diced baby bella mushrooms and diced red onions sauteed in olive oil and seasoned them with fresh garlic, ground sage, black pepper and Himalayan pink salt.
To make this a lectin-free dish (and low carb!) I substituted traditional risotto rice with cauliflower rice.  I used frozen organic cauliflower rice (which is less than $2.00 a bag that contains 4 cups) but you could also use fresh cauliflower.  Just add it to a food processor and process it until it turns into a rice consistency.
There is one extra "advanced preparation" step you will need to do before making this.  Since this is a recipe that doesn't use butter or cheese or even cashews (for a vegan version), I used the "fat" part in the can of coconut milk.  But you will need to put it in the refrigerator overnight (or longer) for it to separate from the coconut water.
I always keep at least 2 cans in the back of my refrigerator for recipes like this, and especially when making Homemade Whipped Coconut Cream Topping.  You will be ready at a moments notice!
Traditional S.A.D. (Standard American Diet) Risotto recipes contain typical ingredients like these:
S.A.D. (Standard American Diet) Risotto Ingredients:
Typical Ingredients:  butter, chicken stock, parmesan cheese
And the ingredients in a store-bought boxed version are worse:
S.A.D. (Standard American Diet) Nutrisystem Mushroom Risotto:
Ingredients: Water, Vegetarian Crumble (Water Soy Protein Concentrate, Canola Oil, Spices, Salt, Autolyzed Yeast Extract, Sugar, Dehydrated Garlic, Caramel Color, Onion Powder, Natural Flavor, Red Bell Pepper, Thiamine Hydrochloride, Riboflavin, Niacinamide, Pyridoxine Hydrochloride (Vitamix B6), Cyanocobalamine (Vitamin B12), Calcium Pantothenate, Ferric Orthophosphate, Zinc Oxide), Arborio Rice, Mushrooms, Bell Peppers, Wild Rice, Modified Corn Starch, Olive Oil, Parmesan Cheese (Pasteurized Milk, Cheese Culture, Salt, Enzymes), Onions, Torula Yeast, Shiitake Mushrooms, Sea Salt, Dehydrated Garlic, Mushroom Powder, Spice.
This healthier, clean eating recipe is organic, vegan, gluten-free, dairy-free, lectin-free, nut-free and paleo-friendly.
Want more healthy recipes? Check out Gluten-Free Vegan Thyme and Garlic Crackers, Gluten-Free Vegan Oven Baked Sweet Potato Toast with Spicy Guacamole, Raw Vegan Spinach and Avocado Dip or my Clean Eating Cookbook with an entire chapter of 20 healthy, clean eating snack and side dish recipes just like this one that you will love!

5 Fast Facts About Cauliflower:*
1 cup contains 9.1% DV of potassium
1 cup contains 85.9% of vitamin C
1 cup contains 8.5% DV of fiber
excellent anti-oxidant
contains anti-inflammatory benefits
5 Fast Facts About Mushrooms:*
excellent source of potassium
rich source of riboflavin, niacin and selenium
supports a healthy immune system
provides anti-inflammatory benefits
natural source of vitamin D
5 Fast Facts About Extra-Virgin Olive Oil:*
lowers blood cholesterol levels
rich in anti-oxidants
improves bone mineralization and calcification
excellent protection from heart attack and stroke
contains anti-inflammatory benefits
5 Fast Facts About Coconut (Milk):*
2 tablespoons contain 4.6 g RDA of dietary fiber
healthy source of medium-chain fatty acids
can help to decrease cholesterol
high in lauric acid
excellent source of manganese at 60% RDA and iron at 11% RDA
5 Fast Facts About Onions:*
rich source of sulfur compounds
excellent for cardiovascular health
inhibits bone loss in women
reduced blood pressure
lowers blood cholesterol levels
5 Fast Facts About Garlic:*
regulates blood sugar levels
lowers high blood pressure
contains anti-bacterial and analgesic properties
anti-viral
helps to lower cholesterol levels
5 Fast Facts About Himalayan Pink Salt:*
contains 84 minerals
unrefined, unprocessed, raw
promotes stable pH balance in cells
controls water levels in the body
aids digestion and facilitates better nutrient absorption
*These statements have not been evaluated by the Food and Drug Administration. This information is not intended to diagnose, treat, cure or prevent any disease.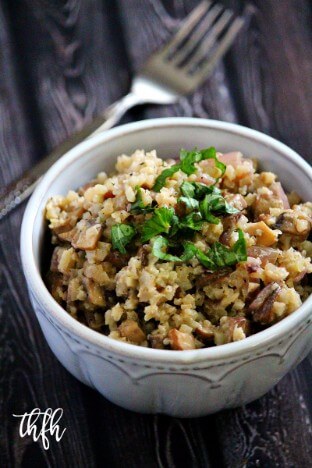 Print
Lectin-Free Vegan Mushroom Cauliflower Rice "Risotto"
Yield 2 cups
Vegan / Gluten-Free / Dairy-Free / Lectin-Free / Soy-Free / Nut-Free / Alkaline / Paleo-Friendly
Ingredients
For the add-ins:
Instructions
Advanced Preparation:  Add a can of full-fat coconut milk to the back of your refrigerator overnight.
Prepare the veggies: Dice the onions and mushrooms into small pieces.
Add all ingredients EXCEPT the cauliflower rice and coconut milk to a skillet and saute on medium-high heat until the onions and mushrooms are soft.  
Remove the can of coconut milk from the refrigerator and after opening the can, remove ONLY the top hardened part (coconut fat).  Do not use the liquid (coconut water) part, save this to make a smoothie with.  The more liquid that is added to the skillet, the less thick the "risotto" will be.
Add the hardened coconut "fat" and cauliflower rice to the skillet and stir together until everything is well combined.  
Simmer on medium heat until the cauliflower is soft enough to resemble a rice texture and consistency.
Adjust seasonings to your preference.
Enjoy!
Notes
Get all your organic ingredients delivered straight to your door at up to 25 - 50% off retail by cutting out the middleman and retail markups with a Thrive Market Membership and save 15% off on your first order.
The recipe and photographs for "Lectin-Free Vegan Mushroom Cauliflower Rice Risotto" by Karielyn Tillman of The Healthy Family and Home website are licensed under a Creative Commons Attribution Non-Commercial No Derivatives 4.0 International License and cannot be used without my written permission.
Affiliate Disclosure: This post contains affiliate links. This means that if you were to make a purchase through one of these links, "The Healthy Family and Home" website would receive a small commission at no additional cost to you.
Amazon Disclosure: "The Healthy Family and Home" website is a participant in the Amazon Services, LLC Associates Program, an affiliate advertising program designed to provide a means for sites to earn advertising fees by advertising and linking to Amazon.com.
Thank you for your support of this website!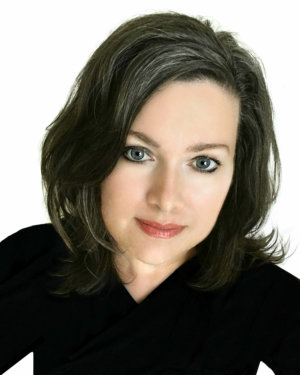 Hi, I'm Karielyn! I'm the published cookbook author of CLEAN DESSERTS and content creator of The Healthy Family and Home™ website since 2012. I specialize in creating easy, healthy plant-based and Medical Medium® compliant recipes that are gluten-free + vegan and made with clean, real food ingredients that you can feel good about eating.