Vegan Coconut and Mango Chocolate Cups…an easy recipe made with clean, whole food ingredients and they're "almost raw", vegan, gluten-free, dairy-free, paleo-friendly and contain no refined sugar.
These Raw Vegan Coconut and Mango Chocolate Cups are loaded with clean, whole food ingredients like superfoods, nuts and seeds for a nutrient-dense snack that will keep you satisfied.
They are more like "tropical" treat because of the coconut and mango, but they have a nice crunch to them from the hemp seeds, chia seeds and cashews.
I used organic freeze-dried mangos and cut them up into little bite-sized pieces which gives it a natural sweetness.
And, they can be prepared in less than 10 minutes and freeze well so they are perfect to pull one out when you need a quick burst of energy.
Similar store-bought bars can contain unhealthy ingredients like these:
S.A.D. (Standard American Diet) Soy Joy Mango Coconut Fruit and Soy Bar Ingredients:
Ingredients:  Soybeans Powder Whole, Raisins, Butter (Milk), Sugar, Coconut Dried, Eggs Frozen, Maltodextrin, Papaya Dried, Papaya Dried, Mango Dried, Mango Dried, Pineapple Dried, Flavors Natural, Salt (source)
It contains GMO's (soybeans powder whole, maltodextrin), refined white sugar and salt, butter and eggs.
This healthier version is made with organic, whole food ingredients and is "almost raw", vegan, gluten-free, dairy-free, paleo-friendly and contains no refined sugar.
Want more healthy dessert recipes?  Check out Healthy Peanut Butter Cups, Clean Eating Peanut Butter Fudge, Pomegranate and Dried Blueberry Chocolate Bark or my Clean Eating eCookbook with an entire chapter of 20 healthy, clean eating dessert recipes just like the one that you will love!
5 Fast Facts About Mango:*
super high in vitamin A at 25% RDA
good source of copper at 12% RDA
excellent anti-oxidant
contains 46% RDA of vitamin C
contains 10% RDA of vitamin B6
5 Fast Facts About Coconut Flakes:*
2 tablespoons contain 4.6 g RDA of dietary fiber
healthy source of medium-chain fatty acids
can help to decrease cholesterol
high in lauric acid
excellent source of manganese at 60% RDA and iron at 11% RDA
5 Fast Facts About Cashews:*
packed with dietary fiber
rich in "heart friendly" mono-saturated fatty acids
rich source of minerals
high in magnesium and copper
excellent source of antioxidants
5 Fast Facts About Hemp Seeds:*
healthy inflammatory 3:1 ratio of omega-6 to omega-3 fats
contains 10 essential amino acids
contains 11 g of raw vegan protein
helps to reduce blood cholesterol
natural appetite suppressant
5 Fast Facts About Chia Seeds:*
excellent source of healthy omega fatty acids
contains 700% more calcium than salmon
contains more anti-oxidants than flaxseeds or blueberries
contains 500% more calcium than milk
contains 20% easily digestible vegan protein
5 Fast Facts About Coconut Oil:*
super high in lauric acid
rich in antioxidants
contains natural microbial and anti-bacterial agents
helps to improve metabolism
improves cholesterol levels
*These statements have not been evaluated by the Food and Drug Administration.  This information is not intended to diagnose, treat, cure or prevent any disease.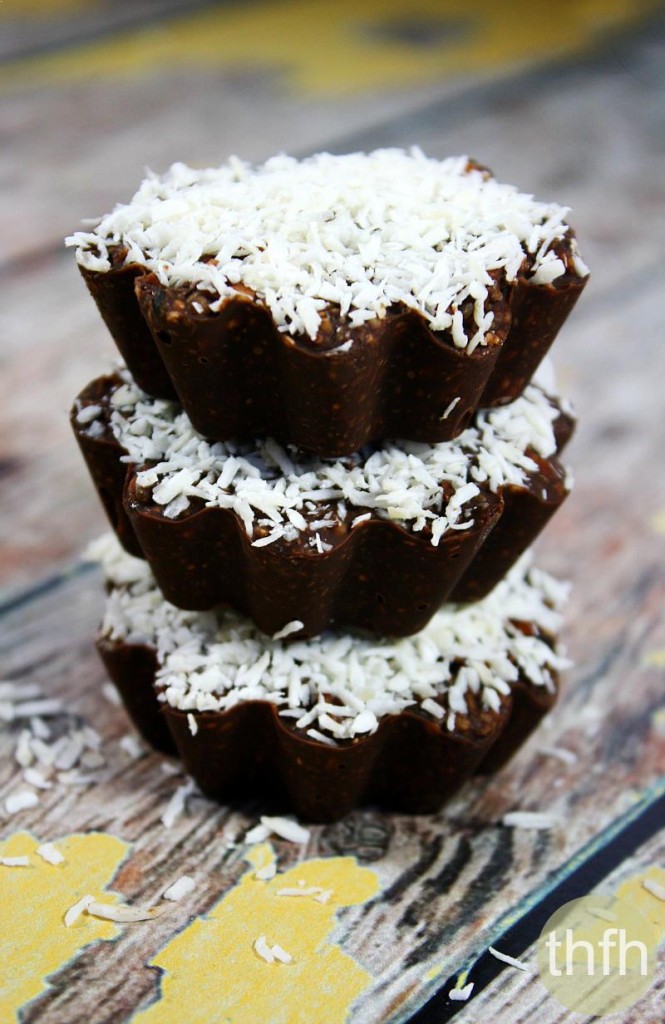 Where to Buy:  If you have trouble finding any of the ingredients to make this recipe, you can order online from Amazon and have them delivered straight to your door:
Tip #1:  I made mine in these cute little silicone molds, but you could also use the standard size paper muffin cups ( <— try to get the unbleached, chlorine-free ones if you can).
Tip #2:  The extra coconut flakes on top are optional, and if you don't like coconut flakes at all, you can still make these without the coconut flakes in the mixture or on top and they are still good.
Tip #3:  You can make these 100% raw by making your own homemade chocolate (equal parts of organic coconut oil, organic raw cacao and organic maple syrup).  They might melt a little easier than using the mini chocolate chips and you will need to keep them in the freezer until ready to serve.
Vegan Coconut and Mango Chocolate Cups ("Almost Raw", Vegan, Gluten-Free, Dairy-Free, Paleo-Friendly, No Refined Sugar)
Print recipe
Ingredients
1/2 cup organic dried mango (diced)
1/2 cup organic unsweetened shredded coconut flakes
1/2 cup organic raw cashews (chopped into small pieces)
1/2 cup organic hemp seeds
1/2 cup organic chia seeds
1 cup Enjoy Life mini chocolate chips
1 tablespoon organic coconut oil
Directions
Step 1
Prepare the cashews and dried mango: break/chop the cashews into small pieces and dice the dried mango into small pieces.

Add the cashews and dried mango with all the other dry ingredients (coconut flakes, hemp seeds, chia seeds) to a medium sized bowl and stir so they are evenly distributed. Set aside.

In a small saucepan, add the chocolate chips and coconut oil and melt on the lowest heat setting, stirring continuously making sure it doesn't burn and the mixture is smooth.

Transfer the melted chocolate to the bowl with the dried ingredients and gently stir until everything is coated in chocolate and mixed well.

Take 1 - 2 spoonfuls out at a time and fill your silicone molds or muffin cups.

Optional: add extra shredded coconut flakes to the top for garnish and pat it down gently.

Place them on a baking pan and put them in the freezer to 1 -2 hours, or until they harden.

Store them in the refrigerator or freezer until ready to serve because they will get soft if left out at room temperature.

Enjoy!
Note
This recipe will make approximately (12) standard size muffin cups.

The recipe and photographs for " Vegan Coconut and Mango Chocolate Cups" by Karielyn Tillman of The Healthy Family and Home are licensed under a Creative Commons Attribution-NonCommercial 4.0 International License and cannot be used without my written permission.
Affiliate Disclosure: This post contains affiliate links. This means that if you were to make a purchase through one of these links, "The Healthy Family and Home" website would receive a small commission.
Amazon Disclosure: "The Healthy Family and Home" website is a participant in the Amazon Services, LLC Associates Program, an affiliate advertising program designed to provide a means for sites to earn advertising fees by advertising and linking to Amazon.com.