This Pomegranate and Dried Blueberry Chocolate Bark really should be called "Antioxidant Chocolate Bark".
It is a decadent treat made with some of the highest healthy antioxidant foods...like pomegranate seeds, dried blueberries, and raw cacao.
And not only is it an ultimate healthy treat, but it only takes a few minutes to prepare once you've melted the cacao butter and you don't even need a chocolate mold to make it!
You'll never eat another store-bought chocolate bar touting healthy ingredients like pomegranate after eating fresh, raw, organic homemade chocolate bark made with clean ingredients you can control.
Here's the ingredient list for a store-bought pomegranate chocolate bar:
S.A.D. (Standard American Diet) Hershey's Extra Dark Pomegranate Chocolate
Ingredients: CHOCOLATE SEMISWEET (CHOCOLATE, SUGAR, COCOA, MILKFAT, COCOA BUTTER, SOY LECITHIN, FLAVORS NATURAL AND ARTIFICIAL, MILK) FRUIT JUICE CONCENTRATES (POMEGRANATE JUICE CONCENTRATE, CRANBERRIES JUICE CONCENTRATE, APPLES JUICE CONCENTRATE, PINEAPPLE JUICE CONCENTRATE)
It has the typical GMO ingredients in processed chocolate...dairy, soy lecithin, and refined sugar. And, it doesn't even have pomegranate seeds, just "juice concentrate".
Not only does this healthier version have real, raw, organic chocolate and real pomegranate seeds, but it's also raw, vegan, gluten-free, dairy-free, paleo-friendly and has no refined sugars.
Want more healthy dessert recipes? Check out my Clean Eating Chocolate Crunch Bars, Raw Snickers Bars, Dark Chocolate Cups with Pistachios and Goji Berries or my Clean Eating eCookbook with an entire chapter of 20 healthy, clean eating recipes you will love!
5 Fast Facts About Pomegranate:*
excellent source of anti-oxidants
good source of potassium with 1 cup containing 10% DV
good source of vitamin C with 1 cup containing 26% DV
1/2 cup contains 3.5 g fiber
1 cup contains 2.6 g plant-based protein
5 Fast Facts About Blueberries:*
packed with vitamin C at 25% RDA
excellent source of dietary fiber
high in anti-oxidants
help to boost immunity
can enhance brain health and improve memory
5 Fast Facts About Raw Cacao Butter:*
contains healthy omega-3, omega-6, and omega-9 fats
good source of magnesium
contains 4 x antioxidants than green tea
good source of sulfur
can help promote cardiovascular health
5 Fast Facts About Raw Cacao Powder:*
super high in anti-oxidants
promotes cardiovascular health
contains essential fats
can help to decrease blood pressure
contains over 300 compounds including protein, calcium, copper, zinc, and iron
5 Fast Facts About Maple Syrup:*
contains manganese and zinc
super high in anti-oxidants
helps with inflammation
1/4 cup contains more calcium than the same amount of milk
1/4 cup contains more potassium than a banana
5 Fast Facts About Vanilla Bean Powder:*
anti-microbial
high in anti-oxidants
can help reduce inflammation
contains small traces of minerals
1 teaspoon contains 3g of protein and 3g of fiber
*These statements have not been evaluated by the Food and Drug Administration. This information is not intended to diagnose, treat, cure or prevent any disease.
Pomegranate and Dried Blueberry Chocolate Bark (Raw, Vegan, Gluten-Free, Dairy-Free, Paleo-Friendly, No Refined Sugars)
Print recipe
Ingredients
For the chocolate
1/2 cup organic raw cacao powder
1/2 cup organic raw cacao butter
1/4 cup organic maple syrup
1 teaspoon organic vanilla bean powder
For the add-ins
1/2 cup organic pomegranate seeds
1/2 cup organic dried blueberries
Directions
Step 1
Melt the cacao butter:
- "raw" option 1: put the cacao butter in a small bowl and add to a dehydrator at 115 degrees until it melts
- "raw" option 2: put it in a bowl over a pot of water on the lowest heat on the stove until it melts
- non "raw" option 3: put it in an oven-safe bowl in the oven for a few minutes at the lowest setting until it melts, keeping a close eye on it

Add the melted cacao butter and cacao powder,maple syrup and vanilla bean powder to a medium sized bowl and stir until smooth and creamy.

Gently stir in the pomegranate seeds and dried blueberries.

Line a baking pan with parchment or wax paper and evenly spread the mixture then put it in the freezer for 30 minutes, or until it hardens.

To serve, break off into individual size pieces.

Enjoy!
Note
This recipe will make approximately 4 - 6 servings.

The recipe and photographs for "Pomegranate and Dried Blueberry Chocolate Bark" by Karielyn Tillman of The Healthy Family and Home are licensed under a Creative Commons Attribution-NonCommercial 4.0 International License and cannot be used without my written permission.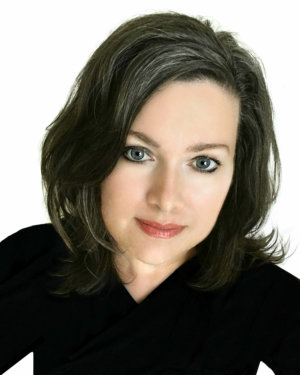 Hi, I'm Karielyn! I'm the published cookbook author of CLEAN DESSERTS and content creator of The Healthy Family and Home website since 2012. I specialize in creating easy, healthy plant-based recipes that are gluten-free + vegan and made with clean, real food ingredients that you can feel good about eating.