This Creamy Vegan Tomato Basil Soup is a really simple meal that can be made in less than 30 minutes and is perfect for Meatless Monday.
Back in the day, I remember going (on a fairly frequent basis) to a popular french chain restaurant, la Madeleine, and always ordering their Tomato Basil Soup.
It was so popular, they sold it in jars to purchase and take home with you...for around $8.00 a jar.
If you're trying to eat clean and vegan, the problem with traditional tomato basil soup recipes is they typically contain butter and heavy cream.
The "copycat" recipes online for la Madeleine's famous tomato basil soup use 1/4 pound of butter and 1 cup of heavy cream.
But the good thing is, you can make a healthier version and have the same creaminess without using dairy.
A common vegan replacement for heavy cream is cashews and when blended, they give your recipe a smooth, thick, creamy texture which is exactly what you want in this soup.
I like to sprinkle hemp seeds on top of mine to give it a little extra vegan protein.
This healthier version is vegan, gluten-free, dairy-free and paleo-friendly!
Want more healthy meal and entree recipes? Check out Spicy Chickpea and Tomato Soup, Creamy Red Lentil and Kale Soup, Vegan Stuffed Pepper Soup or my Clean Eating Cookbook with an entire chapter of 20 healthy, clean eating meal and entree recipes just like this one that you will love!
5 Fast Facts About Tomatoes:*
contains lycopenes which are cancer fighting agents
high in beta-carotene
excellent anti-oxidant
high in vitamin A and K
high in chromium which helps control blood sugar levels
5 Fast Facts About Basil:*
2 teaspoons provide 60% dv of vitamin K
2 teaspoons provide 5.9% dv of calcium
provides anti-inflammatory benefits
good for digestive tract health
anti-oxidant and anti-bacterial
5 Fast Facts About Onions:*
rich source of sulfur compounds
excellent for cardiovascular health
inhibits bone loss in women
reduced blood pressure
lowers blood cholesterol levels
5 Fast Facts About Garlic:*
regulates blood sugar levels
lowers high blood pressure
contains anti-bacterial and analgesic properties
anti-viral
helps to lower cholesterol levels
5 Fast Facts About Almonds (Almond Milk):*
helps to regulate cholesterol and blood pressure
energy booster
loaded with calcium and fiber
1/4 cup contains 8 grams of vegan protein
high in anti-oxidants
5 Fast Facts About Extra-Virgin Olive Oil:*
lowers blood cholesterol levels
rich in anti-oxidants
improves bone mineralization and calcification
excellent protection from heart attack and stroke
contains anti-inflammatory benefits
5 Fast Facts About Celery:*
improves immune system
reduces blood pressure
extremely alkalizing food
anti-inflammatory
helps to lower cholesterol
5 Fast Facts About Himalayan Pink Salt:*
contains 84 minerals
unrefined, unprocessed, raw
promotes stable pH balance in cells
controls water levels in the body
aids digestion and facilitates better nutrient absorption
*These statements have not been evaluated by the Food and Drug Administration. This information is not intended to diagnose, treat, cure or prevent any disease.
Tip #1: I like to make homemade almond milk, which I don't add any sweeteners to it. If you use a store-bought brand, make sure it's unsweetened.
Tip #2: You can add different toppings, like gluten-free bread crumbs, sliced avocados, chopped fresh basil or hemp seeds (which will add extra vegan protein).
Tip #3: For the tomato sauce and paste, I like to use the Thrive Market brand because they are organic, there's no added salt and they come in BPA-free cans so I don't have to worry about BPA-lined cans and the acidity from the tomatoes.
Print
Creamy Vegan Tomato Basil Soup
Yield 4 servings
Vegan / Gluten-Free / Dairy-Free / Paleo-Friendly
Instructions
Soak the cashews:  Add the cashews to a bowl of purified/filtered water and soak for about 15 - 20 minutes, or while you are prepping your veggies.  This will soften them and make them creamier.
Prepare the veggies:  Dice the onions and celery.
Add the olive oil, garlic, onions, celery, bay leaves and Himalayan pink salt to a medium saucepan and saute' on medium heat for 2 -3 minutes, or until the onions become soft.
Add the tomato paste, almond milk, veggie broth and strained tomatoes to the saucepan.  Lightly stir everything together until it is well combined and simmer on low-medium heat for 10-15 minutes.
Drain and strain the soaked cashews and add them to a Vitamix, along with the soup mixture from the saucepan and the fresh basil.
Blend on high speed until creamy and smooth.
Adjust seasonings to your preference.
Lightly warm the soup on the stove top or on the "soup" setting of your Vitamix.
Optional:  Garnish with diced fresh basil and/or hemp seeds.
Enjoy!
Notes
Get all your organic ingredients delivered straight to your door at up to 25 - 50% off retail by cutting out the middleman and retail markups with a Thrive Market membership and save 15% off on your first order.
  The recipe and photographs for "Creamy Vegan Tomato Basil Soup" by Karielyn Tillman of The Healthy Family and Home website are licensed under a Creative Commons Attribution Non-Commercial No Derivatives 4.0 International License and cannot be used without my written permission.
Affiliate Disclosure: This post contains affiliate links. This means that if you were to make a purchase through one of these links, "The Healthy Family and Home" website would receive a small commission.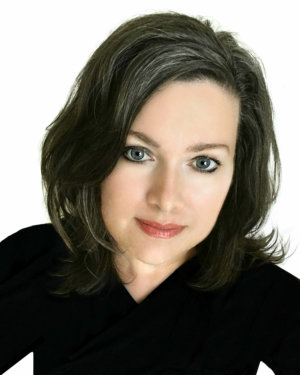 Hi, I'm Karielyn! I'm the published cookbook author of CLEAN DESSERTS and content creator of The Healthy Family and Home website since 2012. I specialize in creating easy, healthy plant-based recipes that are gluten-free + vegan and made with clean, real food ingredients that you can feel good about eating.