This post has been updated October 1, 2016 as part of the "5 Affordable Weeknight Dinners from Whole Foods Market" campaign highlighting high-quality ingredients from my recent Whole Foods Market shopping trip.
---
This Clean Eating Vegan Stuffed Pepper Soup is part of the "5 Affordable Weeknight Dinners from Whole Foods Market" theme highlighting recipes made with organic, high-quality groceries using Whole Foods Market 365 Everyday Value brand ingredients and Whole Foods Market fresh, responsibly grown, local and Whole Trade produce.  Check out all the details of my shopping trip here.
If you've never shopped at Whole Foods before, or purchased their 365 Everyday Value brand, I think you will be pleasantly surprised at the quality and value.  You can be assured when you buy 365 Everyday Value brand foods they will not contain high-fructose corn syrup, no hydrogenated fats and no artificial colors, flavors, preservatives or sweeteners.

Make sure you check out the other 4 dinner recipes you can make using high-quality ingredients at great prices from Whole Foods Market:
Whole Foods Market has thousands of items on sale every day!  Don't forget to download the Whole Foods Market app  and subscribe to the Whole Foods Market newsletter for sales and digital coupons.
This recipe, Vegan Stuffed Pepper Soup, which is part of the "5 Affordable Weeknight Dinners from Whole Foods Market" theme, is a one-pot meal that is ready to serve in about 20 minutes once you've made your rice.
And, it's even better if you already have leftover rice to use…saving you even more time in the kitchen!
Traditional stuffed pepper soup recipes use ground beef and a beef or chicken broth – as ground beef is one of the main ingredients in stuffed peppers.
But vegan's can enjoy the same tomato flavors and sweet red peppers in this hearty soup without the meat.
Want more healthy soup recipes?   Check out Vegan Black Bean Soup, Spicy Chickpea and Tomato Soup, Creamy Red Lentil and Kale Soup or my Clean Eating Cookbook with an entire chapter of 20 healthy, clean eating meal and entré recipes you will love!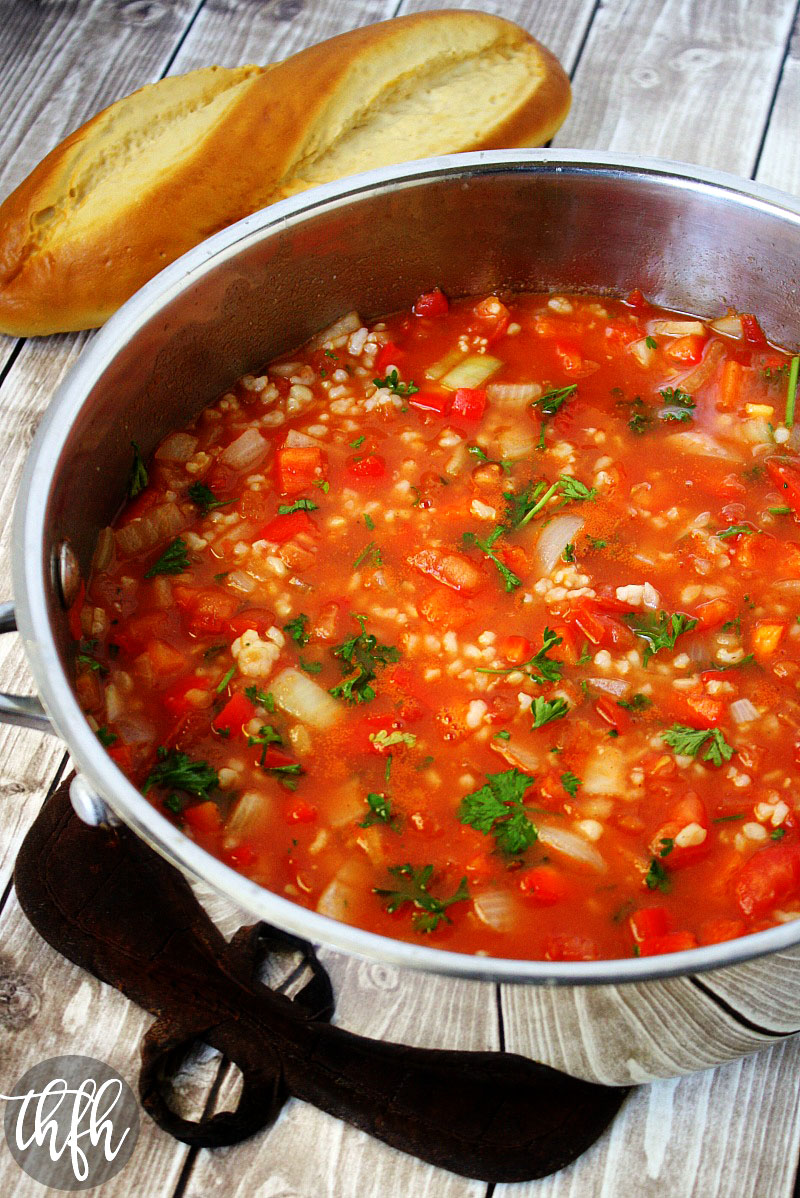 Vegan Stuffed Pepper Soup (Vegan, Gluten-Free, Dairy-Free)
Print recipe
Ingredients
2 cups 365 Everyday Value organic brown rice (cooked)
1 cup organic onion (diced)
3 cloves organic garlic (freshly crushed)
1 tablespoon 100% pure avocado oil
4 organic roma tomatoes (diced)
1/2 cup organic red bell pepper (diced)
2 tablespoons organic fresh parsley (chopped)
2 tablespoons 365 Everyday Value organic tomato paste
3 - 4 cups 365 Everyday Value organic vegetable broth
1 - 2 pinch 365 Everyday Value organic cayenne pepper
1 teaspoon Himalayan pink salt
Directions
Step 1
Prepare the rice: prepare and cook (2) cups of brown rice, according to your preferred method or package instructions.

Prepare the veggies: dice the onions, red bell pepper and tomatoes; chop the fresh parsley.

Add the avocado oil, diced onions and garlic to a medium sized pot and saute' on medium/high heat for about 2 - 3 minutes, or until the onions are soft.

Add the bell peppers, tomatoes, parsley, Himalayan pink salt, cayenne pepper, tomato paste, veggie broth and cooked rice; simmer uncovered on low/medium heat for 10-15 minutes, stirring occasionally. Adjust the seasonings and veggie broth to your preference.

Optional: garnish with extra parsley.

Enjoy!
Note
This recipe will make approximately (4) servings.

The recipe and photographs for "Vegan Stuffed Pepper Soup" by Karielyn Tillman of The Healthy Family and Home are licensed under a Creative Commons Attribution Non-Commercial 4.0 International License and cannot be used without my written permission.
Disclosure:  This is a sponsored post by Whole Foods Market.  I was provided ingredients to make the recipes in this post and was compensated for my time.  Thank you for supporting the brands that make this website possible!