This plant-based Gluten-Free Vegan Sweet Potato and Cilantro Dip is an easy and healthy recipe made with real food ingredients, can be made in under 20 minutes using an Instant Pot and is Medical Medium compliant.
You can never have too many plant-based, healthy dip recipes on hand.
One of the reasons I love this one so much – besides the flavorful ingredient list – is it's a nice change of pace from typical dips like hummus or vegan cheese.
Not that there's anything wrong with those, but sometimes you might crave something a little more savory.
My Sweet Potato and Cilantro Dip reminds me of a cross between hummus and mashed sweet potatoes in consistency.
You'll love it because you can customize the seasonings and ingredients to your preference and even include add-ins like jalapenos or roasted asparagus.
What Does Medical Medium Have To Say About Sweet Potatoes?
"Sweet potatos are an important glucose and glycogen storage food for the liver. Sweet potatoes have phytochemical properties that calm heated, angry, stagnant, sluggish, and toxic livers and help prevent spasming. They also offer a range of hormone-balancing phytochemicals for the liver; the liver uses sweet potatoes and yams to regulate and control some of its hormone functions." – Medical Medium | Liver Rescue
I've been on a mission to eat at least 1-2 sweet potatoes every day to support and heal my liver, and to help balance my hormones.
And, I've been eating this Sweet Potato and Cilantro Dip every day for the past two weeks.
Sometimes I eat it by itself and sometimes I eat it as a dip.
What Does Medical Medium Have To Say About Cilantro?
"Not only does this herb bind onto toxic heavy metals; its undiscovered phtyochemical compounds also cling to other troublemakers – such as neurotoxins and dermatoxins that commonly end up inside our liver – then expel them safely from our bodies. Cilantro is both a great liver cleansing and liver building herb. It helps regernerate nerve tissue around the liver – precious nerve tissue that sends out messages from our brains to communicate with our livers." – Medical Medium | Liver Rescue
I've known that cilantro is an excellent detoxifier for heavy metals for many years now, but after reading the Liver Rescue book and trying to heal my liver, I have become extra conscious of adding as much as possible to my meals every day.
Every morning I add (1) cup of fresh organic cilantro to my Heavy Metal Detox Smoothie and when I make this recipe, I'm adding another (1) cup of cilantro daily for a total of (2) cups!
I'm always looking for a way to incorporate more cilantro into my meals and this recipe makes it so easy.
What Ingredients Are In This Sweet Potato and Cilantro Dip Recipe?
I tried to incorporate as many healing foods that Medical Medium | Liver Rescue recommends for liver health in this recipe:
5 Fast Facts About Sweet Potatoes:*
contains anti-inflammatory properties
contains 2 g of vegan protein
contains 4 g of fiber
high in vitamin A, vitamin C, vitamin B5, and vitamin B6
excellent source of potassium, copper, and manganese
5 Fast Facts About Cilantro:*
contains powerful anti-oxidants
anti-inflammatory
helps to remove toxins and heavy metals
promotes healthy liver function
helps to control blood sugar
5 Fast Facts About Onions:*
rich source of sulfur compounds
excellent for cardiovascular health
inhibits bone loss in women
reduced blood pressure
lowers blood cholesterol levels
5 Fast Facts About Garlic:*
regulates blood sugar levels
lowers high blood pressure
contains anti-bacterial and analgesic properties
anti-viral
helps to lower cholesterol levels
5 Fast Facts About Sesame Seeds (Tahini):*
high in calcium at 35% RDA
excellent anti-oxidant
lowers cholesterol
reduces inflammation
high in phytosterol
5 Fast Facts About Hemp Seeds:*
healthy inflammatory 3:1 ratio of omega-6 to omega-3 fats
contains 10 essential amino acids
contains 11 g of raw vegan protein
helps to reduce blood cholesterol
natural appetite suppressant
5 Fast Facts About Limes (Lime Juice):*
aids in digestion
fat burner
contains more vitamin C than a lemon
anti-oxidant and anti-biotic effects
extremely alkalizing to the body
5 Fast Facts About Himalayan Pink Salt:*
contains 84 minerals
unrefined, unprocessed, raw
promotes stable pH balance in cells
controls water levels in the body
aids digestion and facilitates better nutrient absorption
*These statements have not been evaluated by the Food and Drug Administration. This information is not intended to diagnose, treat, cure or prevent any disease.
How To Make Sweet Potato and Cilantro Dip:
Step 1: Gather The Ingredients
The first thing you'll need to do is gather and measure all the ingredients you need to make this recipe.
Next, you'll need to prep the veggies:
Peel and cube the sweet potatoes
Dice the onions and cut the jalapeno (if you'll be adding one)
OPTIONAL: I like to add (1) jalapeno to mine, but if you don't like it too spicy, you can reduce it to a 1/2 jalapeno or just omit it.
Step 2: Mix The Ingredients Together In a Food Processor
Once your ingredients are prepped, you'll need to add them to a food processor to mix together.
You can process it until it gets to the consistency that you prefer, but I like mine to have the consistency of a thick hummus.
Taste it and adjust the seasonings to your preference.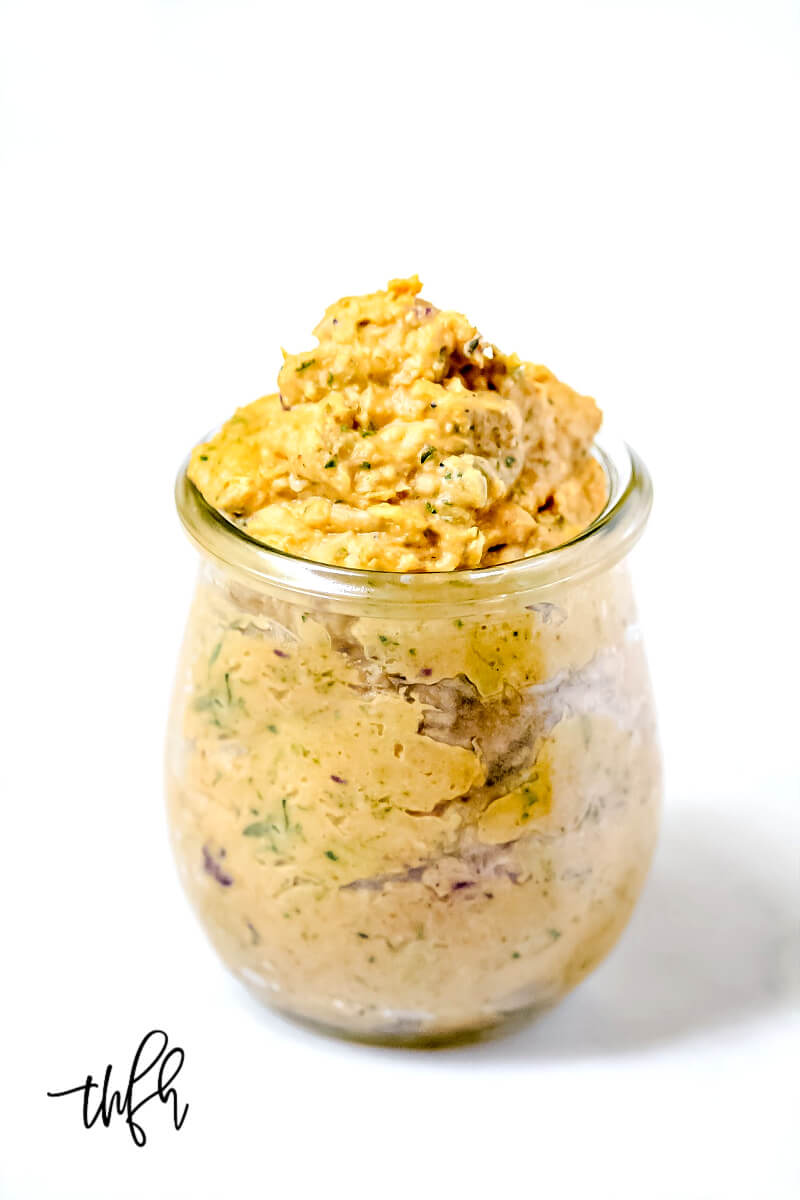 Ingredients + Substitutions For Making Sweet Potato and Cilantro Dip:
Cutting the sweet potato. How many sweet potatoes do you need to get 2 cups cubed? It depends on the size of your sweet potato, but I can get 2 cups with either (1) extra-large sweet potato or (2) medium-sized sweet potatoes. Don't worry if you are a tad bit over or under 2 cups, it's fine.
Preparing the sweet potato. There are two ways you can cook the sweet potato, either in an Instant Pot (which takes about 20 minutes total) or in the oven (which takes about 2 hours total). I used to make mine in the oven, but since I've purchased an Instant Pot, I prefer to make them quickly without heating my oven and waiting. But don't worry if you don't have an Instant Pot, you can still make them in the oven! I have instructions for both methods in the recipe below.
Seasonings. Because I tried to incorporate as many Medical Medium healing foods into this recipe, you may or may not like some of them so feel free to omit, adjust or add what you prefer.
Add-Ins. I make this recipe so much, I like to play around with the ingredients to give it a little variety. Sometimes I like to add a jalapeno which makes it extra spicy, but if you don't like spicy or will be serving this to children, you may want to reduce or omit the jalapeno. Whenever I have roasted asparagus left over, I add (1) cup to the recipe and it gives it an extra liver healing ingredient without affecting the flavor.
Want More Healthy Plant-Based Sweet Potato Recipes?
Check out these:
Did You Make This Recipe?
If so, please leave a rating and comment below to let me know…it would make my day! 🙂