This plant-based Gluten-Free Vegan Sweet Potato and Cilantro Dip is an easy and healthy recipe made with real food ingredients, can be made in under 20 minutes using an Instant Pot and is Medical Medium compliant.
You can never have too many plant-based, healthy dip recipes on hand.
One of the reasons I love this sweet potato dip so much – besides the flavorful ingredient list – is it's a nice change of pace from typical dips like classic hummus or vegan cheese.
Not that there's anything wrong with those, but sometimes you might crave something a little more savory.
My Sweet Potato and Cilantro Dip reminds me of a cross between the consistency of hummus and mashed sweet potatoes.
You'll love it because you can customize the seasonings and ingredients to your preference and even include add-ins like jalapenos or roasted asparagus.
If you want another savory sweet potato recipe, try my Sweet Potato Hummus…it's really good too.
This healthy recipe is made with clean, real food ingredients and is plant-based, vegan, gluten-free, dairy-free, soy-free, nut-free, paleo-friendly and Medical Medium compliant.

How To Make Sweet Potato and Cilantro Dip | Step-By-Step Instructions:
Step 1: Gather The Ingredients
The first thing you'll need to do is gather and measure all the ingredients you need to make this recipe.
Next, you'll need to prep the veggies:
Peel and cube the sweet potatoes
Dice the onions and cut the jalapeno (if you'll be adding one)
OPTIONAL: I like to add (1) jalapeno to mine, but if you don't like it too spicy, you can reduce it to a 1/2 jalapeno or just omit it.
Step 2: Mix The Ingredients Together In a Food Processor
Once your ingredients are prepped, you'll need to add them to a food processor to mix together.
You can process it until it gets to the consistency that you prefer, but I like mine to have the consistency of a thick hummus.
Taste it and adjust the seasonings to your preference.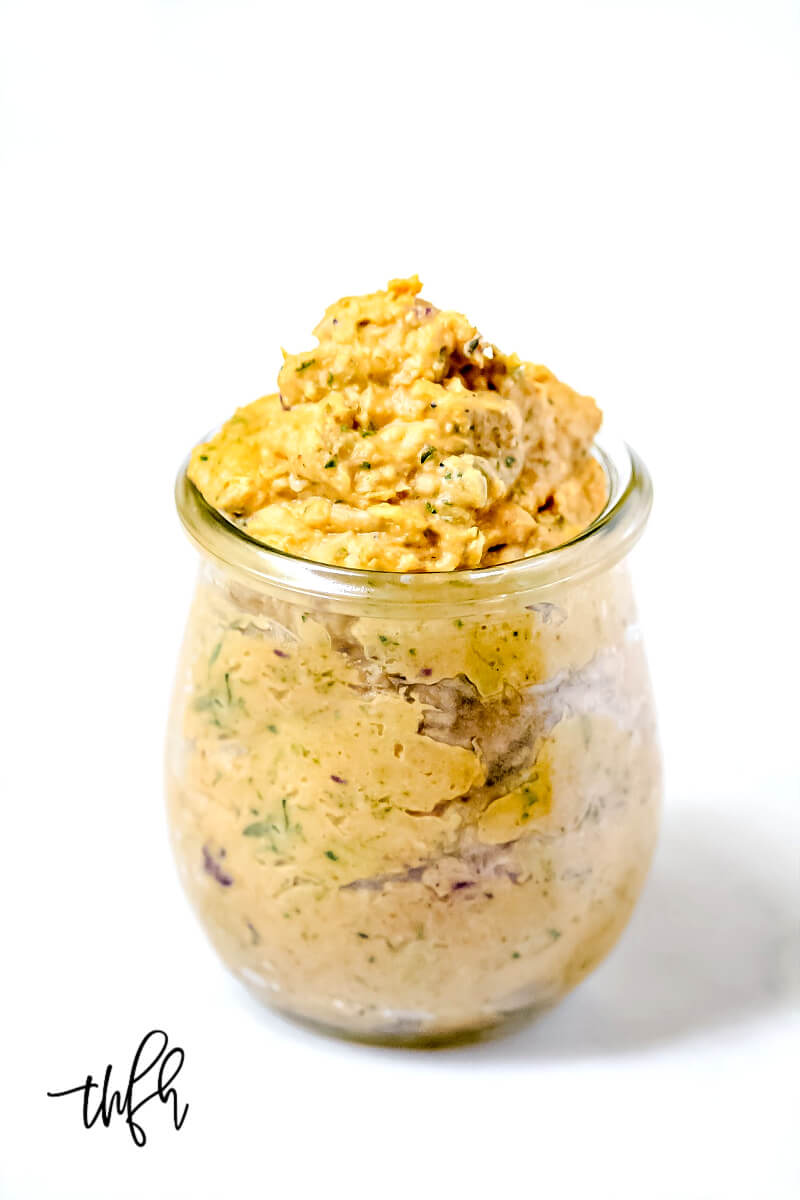 Ingredients + Substitutions For Making Sweet Potato and Cilantro Dip:
Cutting the sweet potato. How many sweet potatoes do you need to get 2 cups cubed? It depends on the size of your sweet potato, but I can get 2 cups with either (1) extra-large sweet potato or (2) medium-sized sweet potatoes. Don't worry if you are a tad bit over or under 2 cups, it's fine.
Preparing the sweet potato. There are two ways you can cook the sweet potato, either in an Instant Pot (which takes about 20 minutes total) or in the oven (which takes about 2 hours total). I used to make mine in the oven, but since I've purchased an Instant Pot, I prefer to make them quickly without heating my oven and waiting. But don't worry if you don't have an Instant Pot, you can still make them in the oven! I have instructions for both methods in the recipe below.
Seasonings. Because I tried to incorporate as many Medical Medium healing foods into this recipe, you may or may not like some of them so feel free to omit, adjust or add what you prefer.
Add-Ins. I make this recipe so much, I like to play around with the ingredients to give it a little variety. Sometimes I like to add a jalapeno which makes it extra spicy, but if you don't like spicy or will be serving this to children, you may want to reduce or omit the jalapeno. Whenever I have roasted asparagus leftover, I add (1) cup to the recipe and it gives it an extra liver healing ingredient without affecting the flavor.
Want More Healthy Plant-Based Sweet Potato Recipes?
Check out these:
Did You Make This Recipe?
If so, please leave a rating and comment below to let me know…it would make my day! 🙂