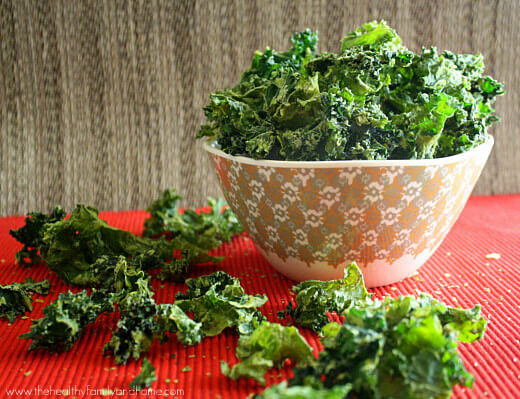 If you are looking for a variety from the basic kale chip recipe, these Raw Vegan Sour Cream and Onion Kale Chips are a nice alternative.
I think one of my most favorite snacks has to be homemade kale chips made in my dehydrator.
The very first ones I made were Cheezy Raw Kale Chips and these are now running a close race for first place.
This recipe kind of happened by accident though.
They are actually a combination of my favorite raw dressing that I combine with plain kale to make a salad – which I literally eat every day and usually add some chia seeds, sunflower seeds, hemp seeds or sesame seeds on top.
Then one day I thought…this would be really good as a kale chip!
So I've taken my favorite salad…kale and Raw Creamy Jalapeno Dressing (minus the jalapeno and cilantro) and made it in the form of a chip!
They are so easy to make and the hardest part is just waiting for them to be finished!
But if you are ever tempted to eat the GMO-filled traditional chips, just remember the ingredients found in a bag of Lay's Sour Cream and Onion Potato Chips:
S.A.D. (Standard American Diet) Lay's Sour Cream and Onion Potato Chips:
Ingredients: POTATOES, VEGETABLE OIL (SUNFLOWER, CORN AND/OR CANOLA OIL), SOUR CREAM AND ONION SEASONING (SKIM MILK, SALT, SOUR CREAM [CULTURED CREAM AND SKIM MILK], ONION POWDER, WHEY, WHEY PROTEIN CONCENTRATE, CANOLA OIL, NATURAL FLAVOR, PARSLEY, GUM ARABIC, MALTODEXTRIN [MADE FROM CORN], SUNFLOWER OIL, CITRIC ACID AND BUTTERMILK).
Looking at the ingredient list, you can see that this is a highly processed "food" that contains GMO ingredients list corn, canola oil, dairy, and maltodextrin and they aren't vegan due to the dairy.
When you make homemade chips with organic ingredients, your recipe will be raw, vegan, gluten-free, dairy-free and soy-free.
Want more healthy snack and side dish recipes? Check out Habanero Kale Chips, Kale Chips with Spicy Peanut Sauce, Vegan Cheesy Baked Kale Chips or my Clean Eating Cookbook with an entire chapter of 20 healthy, clean eating snack and side dish recipes just like this one that you will love!

5 Fast Facts About Kale:*
high in iron

excellent for detoxification
contains powerful antioxidants
high in calcium
anti-inflammatory benefits
5 Fast Facts About Cashews:*
excellent source of calcium, magnesium and copper
packed with dietary fiber
rich in heart-healthy monosaturated fats
antioxidant
rich source of minerals
5 Fast Facts About Macadamia Nuts:*
super high in heart-healthy monosaturated fats
high in protein and all the essential amino acids
high in fiber
brain booster
antioxidant
5 Fast Facts About Onions:*
rich source of healthy sulphur compounds
excellent for cardiovascular health
inhibits bone loss in women
reduces blood pressure
lowers blood cholesterol levels
5 Fast Facts About Lemons:*
extremely alkaline to the body
blood purifier
excellent for detoxification
balances blood sugar levels
contains powerful antibacterial properties
5 Fast Facts About Pink Himalayan Salt:*
contains 84 minerals
unrefined, unprocessed, raw
promotes stable pH balance in cells
controls water levels in the body
aids digestion and facilitates better nutrient absorption
*These statements have not been evaluated by the Food and Drug Administration. This information is not intended to diagnose, treat, cure or prevent any disease.
Tip #1:  You will need to make sure that you use a Vitamix for this recipe, and not a food processor like I made the mistake of doing the first time I made it.  Why?  I guess because of the amount of liquid in the recipe, it all came out of the top and sides of the food processor and made a big mess.  Once you throw all the ingredients in the Vitamix, it's ready in a matter of minutes, without the mess.
Tip #2:  The dressing recipe is enough to use with two bunches of kale which filled up 3 dehydrator trays (which is one serving size in my book!)
Tip #3:  Although I have never tried this, I've seen kale chip recipes where you can make them in the oven.  I would set it at the very lowest temperature and that might work.  If not, you can always make the sauce and eat it over plain kale as a salad with your favorite toppings.
Raw Vegan Sour Cream and Onion Kale Chips
Print recipe
| | |
| --- | --- |
| www.thehealthyfamilyandhome.com | The Healthy Family and Home |
Ingredients
1 - 2 bunch organic kale
1 1/4 cup raw cashews (soaked for 15 - 20 minutes)
1/3 cup macadamia nuts
1/2 organic onion
1 cup organic green onions
1 1/4 cup water (purified or distilled)
1 - 2 organic lemons (fresh squeezed)
1/2 - 1 teaspoon pink himalayan salt
Directions
Step 1
De-stem 1-2 bunches of kale (curly, dino, purple, whichever you prefer) and break into small bite sized pieces.

Put all the ingredients for the vegan sour cream and onion sauce in a Vitamix and blend until smooth and creamy.

In a large bowl, pour the sauce over the kale pieces and mix together until all pieces are covered and coated with the sauce.

Spread the kale pieces on a mesh dehydrator tray and dehydrate at 110 degrees for approximately 8 - 10 hours or until dry and crispy.

Store in an air-tight container.

Enjoy!
Affiliate Disclosure: This post contains affiliate links. This means that if you were to make a purchase through one of these links, "The Healthy Family and Home" website would receive a small commission at no additional cost to you.
Amazon Disclosure: "The Healthy Family and Home" website is a participant in the Amazon Services, LLC Associates Program, an affiliate advertising program designed to provide a means for sites to earn advertising fees by advertising and linking to Amazon.com.
Thank you for your support of this website!