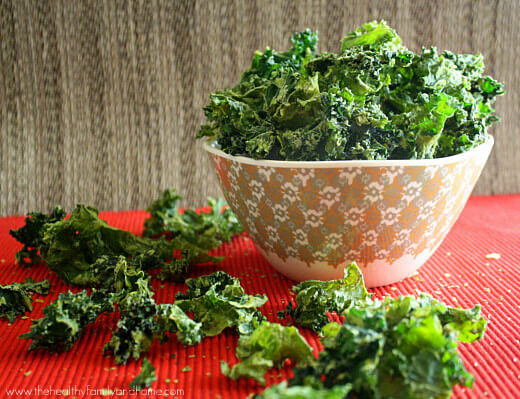 If you are looking for a variety from the basic kale chip recipe, these Raw Vegan Sour Cream and Onion Kale Chips are a nice alternative.
I think one of my most favorite snacks has to be homemade kale chips made in my dehydrator.
The very first ones I made were Cheezy Raw Kale Chips and these are now running a close race for first place.
It kind of happened by accident though.
They are actually a combination of my favorite raw dressing that I combine with plain kale to make a salad – which I literally eat every day and usually add some chia seeds, sunflower seeds, hemp seeds or sesame seeds on top.
Then one day I thought…this would be really good as a kale chip!
So I've taken my favorite salad…kale and Raw Creamy Jalapeno Dressing (minus the jalapeno and cilantro) and made it in the form of a chip!
They are so easy to make and the hardest part is just waiting for them to be finished!
But if you are ever tempted to eat the GMO-filled traditional chips, just remember the ingredients found in a bag of Lay's Sour Cream and Onion Potato Chips:
Ingredient List:
POTATOES, VEGETABLE OIL (SUNFLOWER, CORN AND/OR CANOLA OIL), SOUR CREAM AND ONION SEASONING (SKIM MILK, SALT, SOUR CREAM [CULTURED CREAM AND SKIM MILK], ONION POWDER, WHEY, WHEY PROTEIN CONCENTRATE, CANOLA OIL, NATURAL FLAVOR, PARSLEY, GUM ARABIC, MALTODEXTRIN [MADE FROM CORN], SUNFLOWER OIL, CITRIC ACID AND BUTTERMILK).  (source)
Corn and Canola Oil – well known and documented GMO ingredients.  Unless it is labeled "organic" or is labeled "Non-GMO Project Verified", we can only assume it's made from GMO products.
Maltodextrin – a food additive that could be sourced from corn, which is a well known and documented GMO ingredient.  Unless it is labeled "organic" or is labeled "Non-GMO Project Verified", we can only assume it's made from GMO corn.
Salt – processed, toxic iodized salt
Skim Milk/Cultured Cream/Buttermilk/Whey – if it's not organic or the milk you are consuming in a food product is not coming from a local, family farm, it's highly likely the milk is coming from factory-farmed cows that have been given antibiotics, hormones, fed GMO grains, etc.
Natural Flavor – a sneaky way to disguise ingredients they don't want you to know about
5 Fast Facts About Kale:
high in iron

excellent for detoxification
contains powerful antioxidants
high in calcium
anti-inflammatory benefits
5 Fast Facts About Cashews:
excellent source of calcium, magnesium and copper
packed with dietary fiber
rich in heart-healthy monosaturated fats
antioxidant
rich source of minerals
5 Fast Facts About Macadamia Nuts:
super high in heart-healthy monosaturated fats
high in protein and all the essential amino acids
high in fiber
brain booster
antioxidant
5 Fast Facts About Onions:
rich source of healthy sulphur compounds
excellent for cardiovascular health
inhibits bone loss in women
reduces blood pressure
lowers blood cholesterol levels
5 Fast Facts About Lemons:
extremely alkaline
blood purifier
excellent for detoxification
balances blood sugar levels
contains powerful antibacterial properties
5 Fast Facts About Pink Himalayan Salt:
contains 84 minerals
unrefined, unprocessed, raw
promotes stable pH balance in cells
controls water levels in the body
aids digestion and facilitates better nutrient absorption
Tip #1:  You will need to make sure that you use a Vitamix for this recipe, and not a food processor like I made the mistake of doing the first time I made it.  Why?  I guess because of the amount of liquid in the recipe, it all came out of the top and sides of the food processor and made a big mess.  Once you throw all the ingredients in the Vitamix, it's ready in a matter of minutes, without the mess.
Tip #2:  The dressing recipe is enough to use with two bunches of kale which filled up 3 dehydrator trays (which is one serving size in my book!)
Tip #3:  Although I have never tried this, I've seen kale chip recipes where you can make them in the oven.  I would set it at the very lowest temperature and that might work.  If not, you can always make the sauce and eat it over plain kale as a salad with your favorite toppings.
Raw Vegan Sour Cream and Onion Kale Chips
Print recipe
| | |
| --- | --- |
| www.thehealthyfamilyandhome.com | The Healthy Family and Home |
Ingredients
1 - 2 bunch organic kale
1 1/4 cup raw cashews (soaked for 15 - 20 minutes)
1/3 cup macadamia nuts
1/2 organic onion
1 cup organic green onions
1 1/4 cup water (purified or distilled)
1 - 2 organic lemons (fresh squeezed)
1/2 - 1 teaspoon pink himalayan salt
Directions
Step 1
De-stem 1-2 bunches of kale (curly, dino, purple, whichever you prefer) and break into small bite sized pieces.

Put all the ingredients for the vegan sour cream and onion sauce in a Vitamix and blend until smooth and creamy.

In a large bowl, pour the sauce over the kale pieces and mix together until all pieces are covered and coated with the sauce.

Spread the kale pieces on a mesh dehydrator tray and dehydrate at 110 degrees for approximately 8 - 10 hours or until dry and crispy.

Store in an air-tight container.

Enjoy!