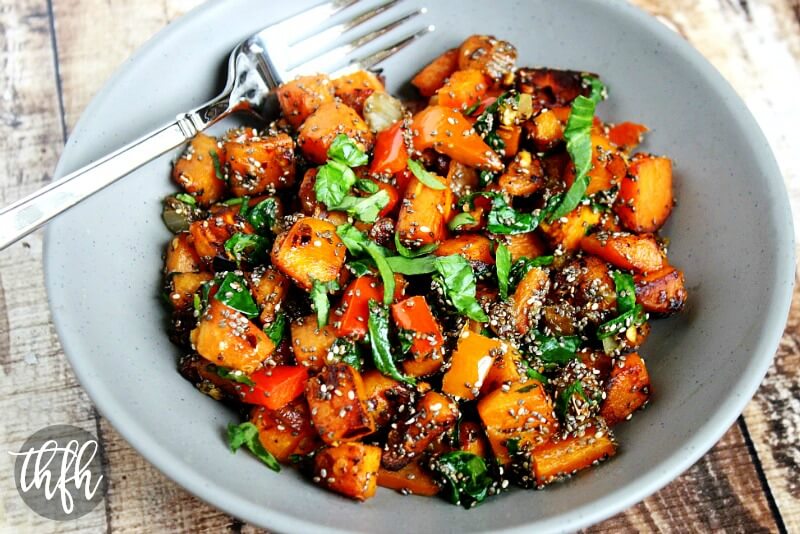 This Spicy Red Pepper and Spinach Sweet Potato Hash Brown recipe just might be the healthiest sweet potato hash browns you have ever tasted!
It's my recipe submission for this month's Recipe ReDux theme which is: "Grab a Book & Cook" - We're repeating last December's theme due to popular demand: It's the end of the year and we're taking a moment to reflect – The Recipe ReDux has been around for 54 months! To celebrate, we're playing a little party game this month: Grab your nearest cookbook and ReDux the recipe on page 54 or 154. We can't wait to see the books you're cooking from these days."
I chose my recipe from my newest cookbook "The Chia Cookbook" written by Janie Hoffman, the founder of Mamma Chia.
I happen to love, love, love chia seeds but this cookbook has shed a new light on one of my favorite superfoods.
There are so many other things you can make with chia seeds other than smoothies or desserts!
Take this recipe for example.  I would have never thought to add chia seeds to a hash brown recipe but it was really good, gave it an extra crunch and increased the nutritional profile of an already healthy dish.
I used the "Chia and Herb Sweet Potato Hash Brown" recipe on page 53 (there wasn't a recipe on page 54) as inspiration for this recipe.
Since I didn't have the fresh herbs on hand that the original recipe called for, I decided to add what I did have on hand which was a red bell pepper and fresh spinach.
I also added a little garlic, black pepper and red pepper flakes to make it extra spicy.
This was a really simple dish to make and it's vegan, gluten-free, dairy-free, nut-free and paleo-friendly.
Want more healthy recipes?  Check out Spicy Turmeric Twice Baked Potatoes, Roasted Potatoes with Habanero and Basil Pesto, Vegan Cheesy Scalloped Potatoes or my Clean Eating Cookbook with over 140 healthy, clean eating recipes just like this one that you will love!

5 Fast Facts About Sweet Potatoes:*
contains anti-inflammatory properties
contains 2 g of vegan protein
contains 4 g of fiber
high in vitamin A, vitamin C, vitamin B5 and vitamin B6
excellent source of potassium, copper and manganese
5 Fast Facts About Chia Seeds:*
excellent source of healthy omega fatty acids
contains 700% more calcium than salmon
contains more anti-oxidants than flaxseeds or blueberries
contains 500% more calcium than milk
contains 20% easily digestible vegan protein
5 Fast Facts About Spinach:*
contains anti-inflammatory properties
high in anti-oxidants
super high in vitamin K (1,110.6% DV) and vitamin A (377.3% DV)
phytonutrients provide anti-cancer benefits
can help improve cardiovascular health
5 Fast Facts About Red Bell Peppers:*
high in anti-oxidants
1 cup contains 195.8% DV of vitamin C
excellent source of carotenoids
contains potential anti-cancer benefits
helps reduce inflammation
5 Fast Facts About Onions:*
rich source of sulfur compounds
excellent for cardiovascular health
inhibits bone loss in women
reduced blood pressure
lowers blood cholesterol levels
5 Fast Facts About Garlic:*
regulates blood sugar levels
lowers high blood pressure
contains anti-bacterial and analgesic properties
anti-viral
helps to lower cholesterol levels
5 Fast Facts About Extra-Virgin Olive Oil:*
lowers blood cholesterol levels
rich in anti-oxidants
improves bone mineralization and calcification
excellent protection from heart attack and stroke
contains anti-inflammatory benefits
5 Fast Facts About Himalayan Pink Salt:*
contains 84 minerals
unrefined, unprocessed, raw
promotes stable pH balance in cells
controls water levels in the body
aids digestion and facilitates better nutrient absorption
*These statements have not been evaluated by the Food and Drug Administration.  This information is not intended to diagnose, treat, cure or prevent any disease.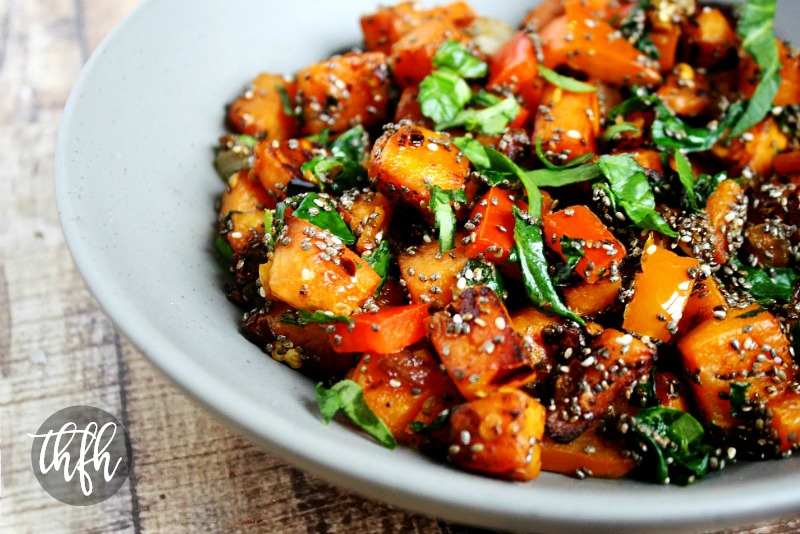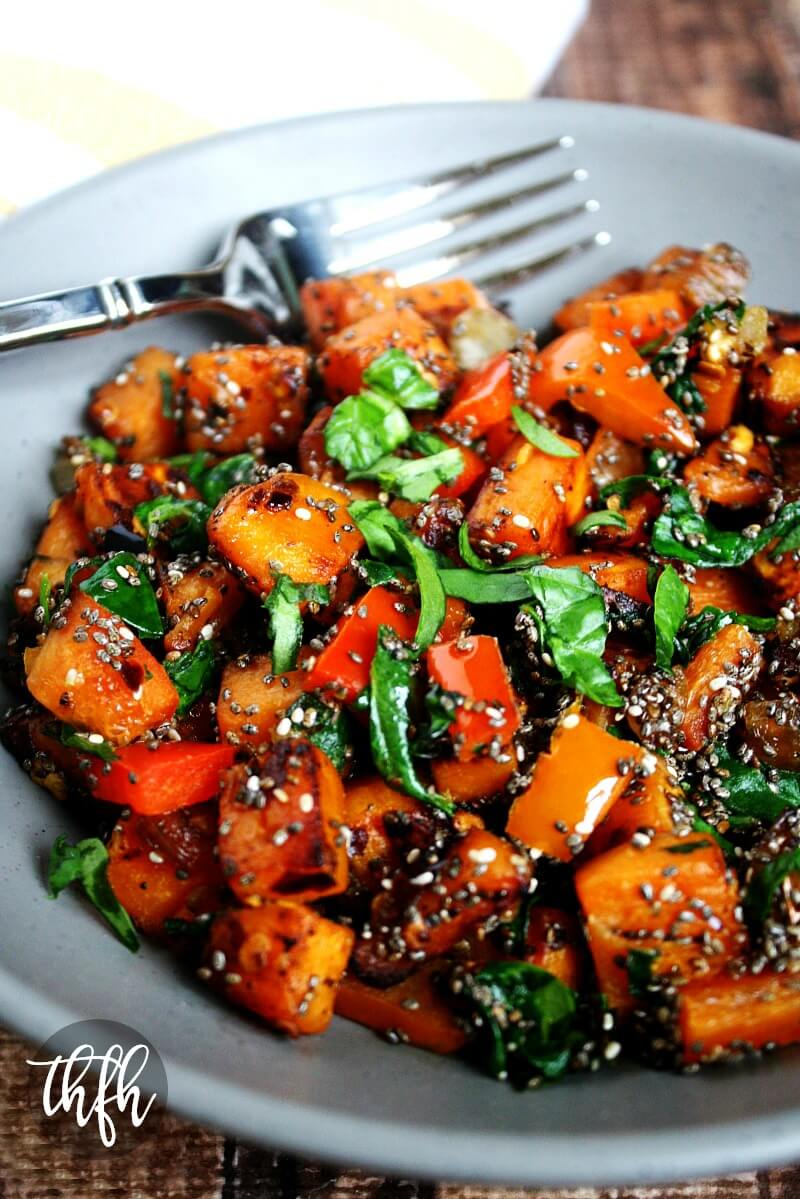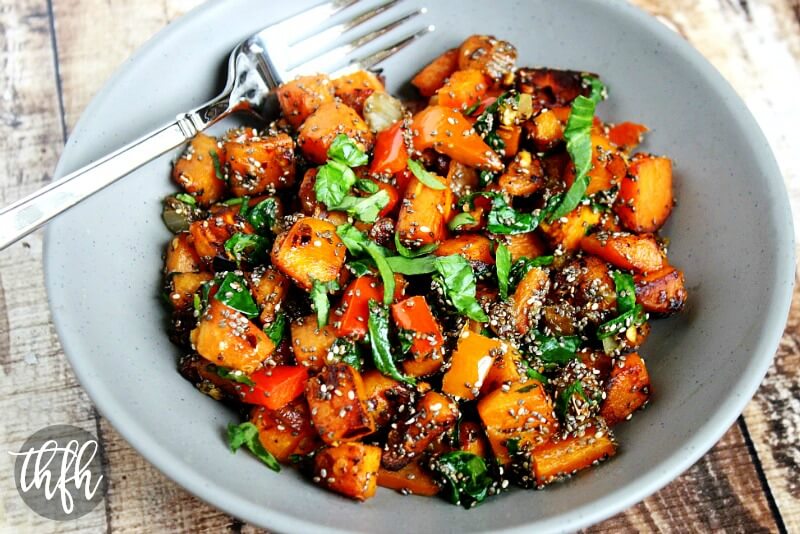 Print
Spicy Red Pepper and Spinach Sweet Potato Hash Browns
Yield 2 servings
Vegan / Gluten-Free / Dairy-Free / Nut-Free / Paleo-Friendly
Instructions
Prepare the veggies:
Peel and cube the sweet potatoes, dice the onion and red bell pepper, chop the spinach into thin strips.
Prepare the meal:
Add all ingredients (EXCEPT the diced red bell peppers, chopped spinach and chia seeds) to a skillet and lightly saute' on medium heat for approximately 20 minutes, or until the sweet potatoes are soft and slightly crispy on the outside.  Adjust seasonings to your preference.
Add the diced red bell peppers, chopped spinach and chia seeds and gently toss for about 1-2 minutes, or just long enough for the spinach to wilt.
Remove from heat, garnish with fresh chopped spinach and serve.
Enjoy!
Notes
Recipe slightly adapted from:  "The Chia Cookbook" by Janie Hoffman
Get all your organic ingredients delivered straight to your door at up to 25 - 50% off retail by cutting out the middleman and retail markups with a Thrive Market Membership and save 15% off on your first order.
  The recipe adaptations and photographs for "Spicy Red Pepper and Spinach Sweet Potato Hash Browns" by Karielyn Tillman of The Healthy Family and Home website are licensed under a Creative Commons Attribution Non-Commercial No Derivatives 4.0 International License and cannot be used without my written permission.
Affiliate Disclosure: This post contains affiliate links. This means that if you were to make a purchase through one of these links, "The Healthy Family and Home" website would receive a small commission.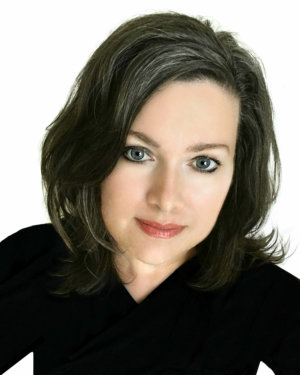 Hi, I'm Karielyn! I'm the published cookbook author of CLEAN DESSERTS and content creator of The Healthy Family and Home website since 2012. I specialize in creating easy, healthy plant-based recipes that are gluten-free + vegan and made with clean, real food ingredients that you can feel good about eating.