This Vegan Cheesy Scalloped Potatoes recipe may be one of the easiest side dishes you'll ever make!
It's really simple - start by slicing the potatoes, baking them in the oven until the edges are golden brown, then covering them with a creamy vegan "cheese" sauce you can make with a Vitamix in less than 5 minutes.
Garnish the top with fresh sage, rosemary or tarragon and, you can even turn it into a meal by adding diced onions and vegan sausage slices (like Field Roast) in between the potato pieces (recipe for that coming soon!).
Traditional scallop potato recipes use lots of butter, milk, cheese and even white flour.
This healthier version is organic, vegan, gluten-free and dairy-free.
Want more healthy side dish recipes?  Check out Spicy Twice Baked Turmeric Potatoes, Rosemary and Garlic Maple Glazed Carrots, Clean Eating Roasted Vegetable Medley or my Clean Eating Cookbook with an entire chapter of 20 healthy snack and side dish recipes just like this one that you will love!
5 Fast Facts About Potatoes:*
one potato contains 16% dv of fiber
one potato contains 39% of vitamin B6
good source of zinc, copper and magnesium
contains more potassium than a banana
20% of a potatoes nutrients are in it's skin
5 Fast Facts About Avocado Oil:*
healthier cooking with smoke point of 500 degrees
may help reduce the risk of metabolic syndrome
helps maintain healthy blood sugar levels
provides protection from cardiovascular disease
good source of vitamin E
5 Fast Facts About Cashews:*
packed with dietary fiber
rich in "heart friendly" mono-saturated fatty acids
rich source of minerals
high in magnesium and copper
excellent source of antioxidants
5 Fast Facts About Nutritional Yeast:*
vegan source of vitamin B12
contains 18 amino acids and is a complete protein
boosts immune system
excellent anti-oxidant
contains 15 minerals
5 Fast Facts About Himalayan Pink Salt:*
contains 84 minerals
unrefined, unprocessed, raw
promotes stable pH balance in cells
controls water levels in the body
aids digestion and facilitates better nutrient absorption
*These statements have not been evaluated by the Food and Drug Administration.  This information is not intended to diagnose, treat, cure or prevent any disease.
Tip #1:  I used "red potatoes" but feel free to use your favorite variety or whatever you have on hand.
Tip #2:  I used homemade almond milk, but feel free to use your favorite unsweetened non-dairy milk as a substitute.
Tip #3:  I added the ground turmeric to give the sauce a "yellow" color but you can omit it if you don't have any.
Vegan Cheesy Scalloped Potatoes (Vegan, Gluten-Free, Dairy-Free, Alkaline)
Print recipe
Ingredients
For the potatoes
8 organic red potatoes
1 tablespoon 100% pure avocado oil
1/8 teaspoon Himalayan pink salt
1 - 2 pinch organic ground black pepper
For the sauce
1 cup organic raw cashews
1 cup homemade almond milk
1/2 cup nutritional yeast
1/2 teaspoon Himalayan pink salt
1/4 teaspoon organic ground turmeric
Directions
Step 1
Wash and dry the potatoes, then cut into thin slices (leaving the skin on).

Add the sliced potatoes, avocado oil, Himalayan pink salt and ground black pepper to a large mixing bowl and toss until everything is evenly distributed and well combined.

Fill an 8 x 8 baking dish with the potato slices; making three rows and stacking the potatoes in each row in an upright position (like dominos).

Bake at 375 degrees for approximately 45 - 60 minutes, or until they are soft. The baking time can vary and will depend on how thin / thick the potato slices are, but you only need to bake them until they are soft.

While the potatoes are baking, add all ingredients for the sauce to a Vitamix, or high speed blender, and blend until everything is well combined and smooth. Adjust seasonings to your preference. Set aside.

When the potatoes are ready, remove them from oven and immediately pour the "cheesy" sauce over the top while the potatoes are still warm.

Optional: garnish with fresh chopped sage, rosemary, tarragon or ground black pepper.

Enjoy!
Step 2


Note
This recipe will make approximately (4) servings.

The recipe and photographs for "Vegan Cheesy Scalloped Potatoes" by Karielyn Tillman of The Healthy Family and Home website are licensed under a Creative Commons Attribution Non-Commercial-NoDerivatives 4.0 International License and cannot be used without my written permission.
Affiliate Disclosure:  This post contains affiliate links.  This means that if you were to make a purchase through one of these links, "The Healthy Family and Home" website would receive a small commission.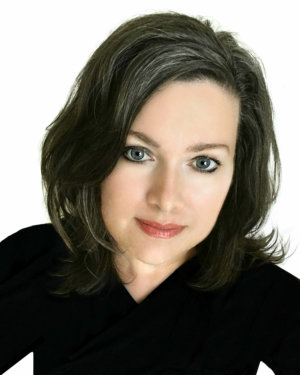 Hi, I'm Karielyn! I'm the published cookbook author of CLEAN DESSERTS and content creator of The Healthy Family and Home website since 2012. I specialize in creating easy, healthy plant-based recipes that are gluten-free + vegan and made with clean, real food ingredients that you can feel good about eating.