This Gluten-Free Vegan Potatoes Au Gratin dish is a healthier vegan makeover for the traditional comfort food we all grew up with and loved, except I've cleaned it up and veganized it for you!
If you have ever found yourself looking down at a bag of potatoes and wondering what to make with them, this recipe will make your day 🙂
Instead of making boring baked potatoes, you can have this creamy and "cheesy" meal prepared in less about 10 minutes.
Even though you have baking time, it's still pretty fast and easy to make. There are basically two steps to making this recipe – prepping the veggies and making the vegan cheese sauce in a Vitamix, which takes less than 5 minutes, then just pouring the sauce over the veggies. That's it!
All you have left to do is put it in the oven for about an hour while you multi-task with something else – the cooking time is non-active so you really don't need to do anything to it while it's baking in the oven.
If you make a traditional dish of potatoes au gratin, they usually contain an ingredient list like this and isn't vegan or gluten-free:
S.A.D. (Standard American Diet) Potatoes Au Grain Ingredients:
Ingredients: Butter, Flour, Cheese, Milk
S.A.D. (Standard American Diet) Betty Crocker Au Gratin Potatoes Ingredients:
Ingredients: Potatoes, Corn Starch, Whey, Salt, Soybeans, Oil, Partially Hydrogenated, Dried Cheddar Cheese (Milk Pasteurized, Cheese Culture, Salt, Enzymes), Flour Enriched (Wheat Flour, Niacin, Vitamin B3, Iron, Thiamine Mononitrate, Vitamin B1, Riboflavin, Vitamin B2, Folic Acid, Vitamix B9, Maltodextrin, Corn Starch Modified, Dried Onions, Disodium Phosphate, Milk Non Fat, Dried Garlic, Mono and Diglycerides, Sodium Citrate, Dried Blue Cheese (Milk Pasteurized, Cheese Culture, Salt, Enzymes), Lactic Acid, Natural Flavors, Yellow 5, Yellow 6, Soy Flour, Sodium Bisulfite to preserve freshness.
The processed, store-bought version is even worse and is basically a box of GMO's (corn starch, soybeans, soy flour, maltodextrin,), dairy and food colorings.
This healthier dish is made with clean, real food ingredients and is vegan, gluten-free, dairy-free, soy-free, oil-free and paleo-friendly.
Want more healthy meal and entree recipes? Check out Roasted Potatoes with Habanero and Basil Pesto, Spicy Turmeric Twice Baked Potatoes, Roasted Smashed Potatoes with Smoked Paprika Habanero Sauce or my Clean Eating Cookbook with an entire chapter of 20 healthy, clean eating meal and entree recipes just like this one that you will love!

5 Fast Facts About Potatoes:*
one potato contains 16% dv of fiber
one potato contains 39% of vitamin B6
good source of zinc, copper and magnesium
contains more potassium than a banana
20% of a potatoes nutrients are in it's skin
5 Fast Facts About Onions:*
rich source of sulfur compounds
excellent for cardiovascular health
inhibits bone loss in women
reduced blood pressure
lowers blood cholesterol levels
5 Fast Facts About Red Bell Peppers:*
high in anti-oxidants
1 cup contains 195.8% DV of vitamin C
excellent source of carotenoids
contains potential anti-cancer benefits
helps reduce inflammation
5 Fast Facts About Almonds (Almond Milk):*
helps to regulate cholesterol and blood pressure
energy booster
loaded with calcium and fiber
1/4 cup contains 8 grams of vegan protein
high in anti-oxidants
5 Fast Facts About Nutritional Yeast:*
vegan source of vitamin B12
contains 18 amino acids and is a complete protein
boosts immune system
excellent anti-oxidant
contains 15 minerals
5 Fast Facts About Cashews:*
packed with dietary fiber
rich in "heart friendly" mono-saturated fatty acids
rich source of minerals
high in magnesium and copper
excellent source of antioxidants
5 Fast Facts About Paprika:*
anti-inflammatory
boosts blood circulation
one teaspoon contains 20% DV of vitamin A
anti-bacterial
aids digestion
5 Fast Facts About Himalayan Pink Salt:*
contains 84 minerals
unrefined, unprocessed, raw
promotes stable pH balance in cells
controls water levels in the body
aids digestion and facilitates better nutrient absorption
*These statements have not been evaluated by the Food and Drug Administration. This information is not intended to diagnose, treat, cure or prevent any disease.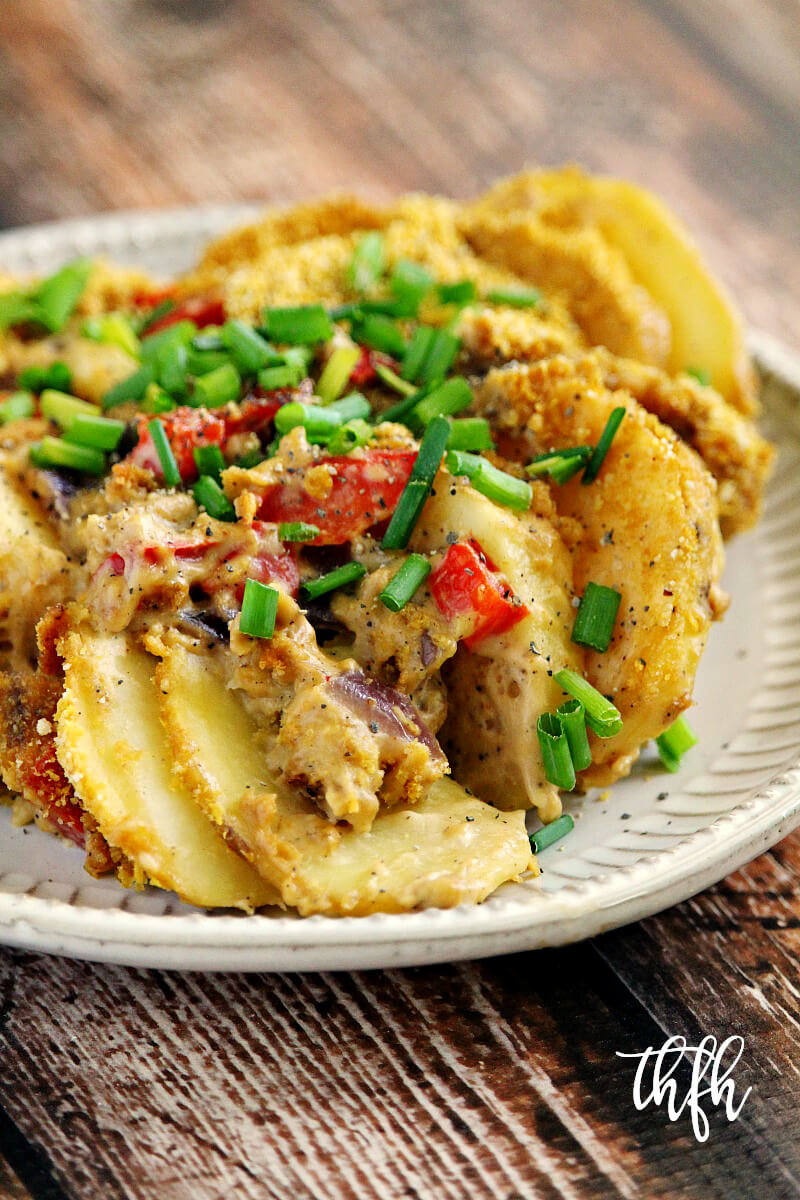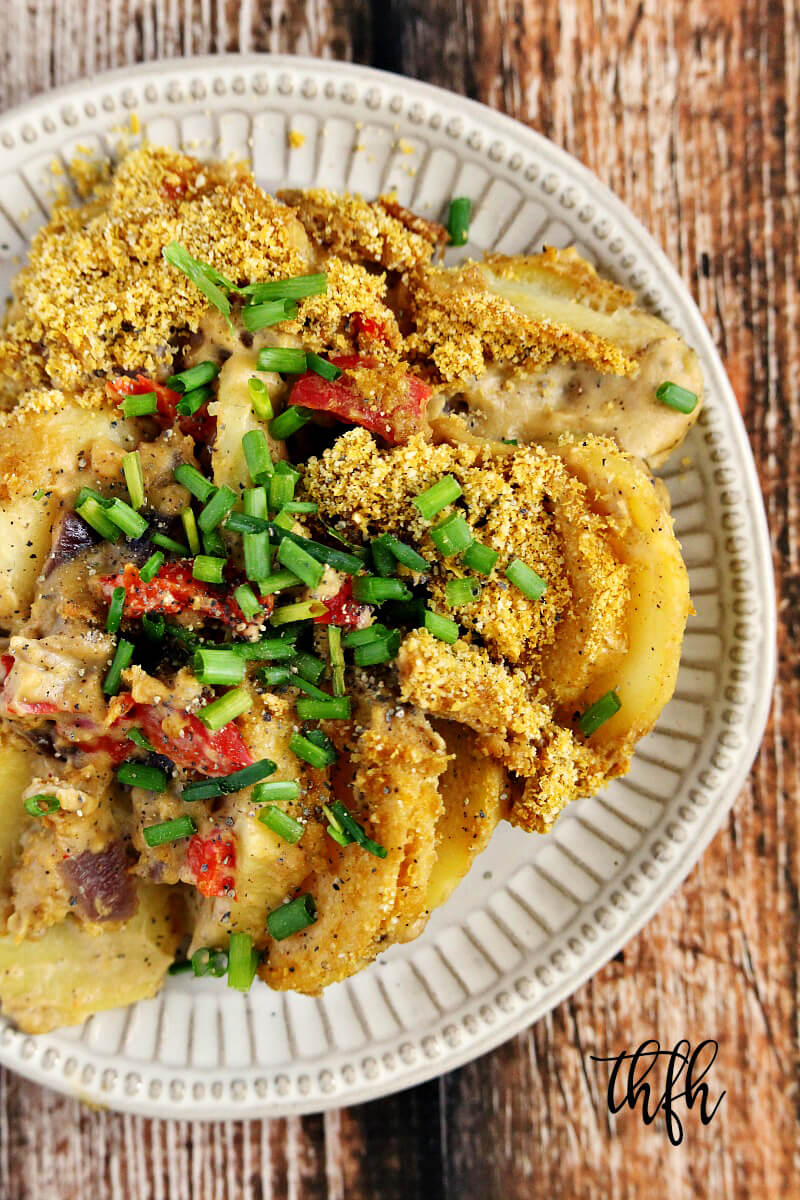 Vegan Potatoes Au Gratin
Print recipe
| | |
| --- | --- |
| www.thehealthyfamilyandhome.com | The Healthy Family and Home |
Ingredients
4 Medium organic potatoes (scrubbed)
1 organic red bell pepper
1 Medium organic onion
1 organic garlic clove
1/2 cup nutritional yeast
1 tablespoon organic extra virgin olive oil
1 tablespoon organic coconut oil
1 1/2 cup coconut milk (So Delicious brand)
2 tablespoons unbleached all-purpose flour
1 tablespoon non-GMO cornstarch (Rapunzel brand)
1 teaspoon organic paprika
1 teaspoon organic garlic powder
1 teaspoon pink himalayan salt
handful fresh parsley
Directions
Prepare the vegetable mixture
Step 1
Slice potatoes very thin (1/8 inch or less).

Slice onions and red bell pepper in long thin strips.

Chop garlic and put the potatoes, onions, red bell pepper and garlic into an 8 x 8 glass baking dish.
Prepare the vegan cheese sauce
Step 2
In a Vitamix, blend the coconut milk, olive oil, coconut oil, flour cornstarch, paprika, pink himalayan salt, pepper, garlic powder and nutritional yeast until well blended.
Assemble and Bake
Step 3
Preheat oven to 350 degrees.

Pour the vegan cheese sauce over the vegetable mixture.

Put the glass dish in the oven and bake for 50-60 minutes (make sure the potatoes are soft and the sauce is thick and creamy).

Garnish with fresh parsley.

Enjoy!
Note
Recipe source:  https://www.myvegancookbook.com/recipes/recipe.php?id=9 (not an active link)
Affiliate Disclosure: This post contains affiliate links. This means that if you were to make a purchase through one of these links, "The Healthy Family and Home" website would receive a small commission at no additional cost to you.
Amazon Disclosure: "The Healthy Family and Home" website is a participant in the Amazon Services, LLC Associates Program, an affiliate advertising program designed to provide a means for sites to earn advertising fees by advertising and linking to Amazon.com.
Thank you for your support of this website!