This Creamy Pumpkin Quinoa isn't a savory side dish, but rather a sweeter quinoa dish.
It's an "almost raw" dish with the exception of the cooked quinoa, but the creamy pumpkin sauce is completely raw and can be made very quickly with a Vitamix.
I topped it with cranberries but you can enjoy it plain or even with some walnuts sprinkled on top.
You can even serve enjoy it warm with freshly cooked quinoa or chilled with leftover quinoa, both are really good.
It would be a perfect healthy, gluten-free, vegan side dish to serve with your Thanksgiving meal.
Want more healthy side dish recipes?  Check out Red Quinoa with Cilantro and Lime, Clean Eating Zucchini Boats with Creamy Garlic Sauce, Spicy Turmeric Twice Baked Potatoes or my Clean Eating eCookbook with an entire chapter of 20 healthy, clean eating side dish recipes just like this one that you will love!
 5 Fast Facts About Pumpkin:*
high in beta-carotene
full of iron, zinc and vitamin C
rich in anti-oxidants
246% RDA of vitamin C
good source of B complex vitamins
5 Fast Facts About Quinoa:*
high in anti-oxidants
anti-inflammatory
high in magnesium (20.9% DV) and folate (19.5% DV)
gluten-free
complete protein containing 9 essential amino acids
5 Fast Facts About Cashews:*
packed with dietary fiber
rich in "heart friendly" mono-saturated fatty acids
rich source of minerals
high in magnesium and copper
excellent source of antioxidants
5 Fast Facts About Himalayan Pink Salt:*
contains 84 minerals
unrefined, unprocessed, raw
promotes stable pH balance in cells
controls water levels in the body
aids digestion and facilitates better nutrient absorption
*These statements have not been evaluated by Food and Drug Administration.  This information is not intended to diagnose, treat, cure or prevent any disease.
Where to Buy:  If you have any trouble finding any of the ingredients to make this recipe, you can order online from Amazon and have them delivered straight to your door!
Creamy Pumpkin Quinoa (Vegan, Gluten-Free, Grain-Free, Dairy-Free, No Refined Sugar)
Print recipe
Ingredients
4 cups cooked organic quinoa
1/2 cup organic pumpkin puree
2 cups organic raw cashews
1/2 cup homemade almond milk
1/2 cup organic maple syrup
1 teaspoon organic ground cinnamon
1/4 teaspoon organic ground nutmeg
1/4 teaspoon organic ground ginger
1/8 teaspoon organic ground cloves
1 teaspoon organic vanilla bean powder
Directions
Step 1
Cook quinoa according to package directions. Set aside.

Put all other ingredients (pumpkin puree, cashews, almond milk, cinnamon, nutmeg, ginger, cloves, vanilla and maple syrup) into a Vitamix and blend until well combined and creamy.

In a medium sized bowl, combine the cooked quinoa and creamy pumpkin sauce and stir until mixed together well.

Garnish with cranberries or walnuts.

Enjoy!
Note
This recipe will make approximately 2 - 4 servings.

The recipe and photographs for "Creamy Pumpkin Quinoa" by Karielyn Tillman of The Healthy Family and Home are licensed under a Creative Commons Attribution-NonCommercial 4.0 International License and cannot be used without my written permission.
Affiliate Disclosure: This post contains affiliate links. This means that if you were to make a purchase through one of these links, "The Healthy Family and Home" website would receive a small commission.
Amazon Disclosure: "The Healthy Family and Home" website is a participant in the Amazon Services, LLC Associates Program, an affiliate advertising program designed to provide a means for sites to earn advertising fees by advertising and linking to Amazon.com.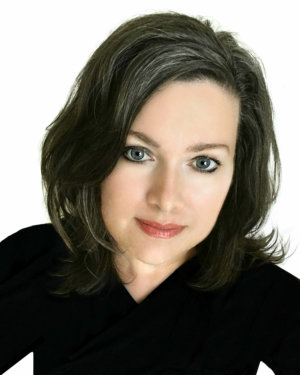 Hi, I'm Karielyn! I'm the published cookbook author of CLEAN DESSERTS and content creator of The Healthy Family and Home website since 2012. I specialize in creating easy, healthy plant-based recipes that are gluten-free + vegan and made with clean, real food ingredients that you can feel good about eating.