These little Clean Eating Vegan Pistachio and Matcha Truffles are so easy to make and are loaded with lots of nutrients!
I was contacted by Kiss Me Organics to review their Organic Matcha - Green Tea Powder and create a new recipe and this is what I came up with.
Matcha Green Tea is not just for drinking...there's lots of things you can make with it besides a cup of tea.
Their Organic Matcha is "culinary grade" which means it's perfect for lattes, smoothies and baking.
The last recipe I made with it was my Matcha Green Tea Chocolate Chip Brownies, and they were really good, but this time I wanted to make a super nutritious no-bake treat.
If you aren't familiar with Matcha Green Tea Powder, it is awesome.  It really takes your antioxidant intake to a whole new level...137% more anti-oxidants than brewed green tea!
It was equally comparable to other matcha tea I have purchased in the past and I was very pleased with the color, quality and taste of the Organic Matcha from Kiss Me Organics.
Here's some information about their product :
Organic Matcha Benefits:
All Day Energy With Increased Focus - Matcha provides 4 - 6 hours of mild steady energy as it acts as both a stimulant and a relaxant.  This is ideal for focusing on whatever the day throws your way.
Metabolism Boost - Consuming matcha green tea can increase thermogenesis (the body's own rate of burning calories) from a normal 8% - 10% of daily energy expenditure, to between 35% and 43% of daily energy expenditure.
137 x The Antioxidants of Brewed Green Tea - Antioxidants are essential as you age to boost your body's natural defenses against oxidation.  Researchers have found that a high level of dietary antioxidants can prevent many age-related diseases.
Improved Skin Health - Scientists have discovered that Matcha Green Tea helps protect the skin from harmful UVrays, while improving blood flow and oxygen levels lifting the overall quality of the skin.
110% Hassle-Free Money Back Guarantee - If for any reason you are not completely happy, within 30 days, please return your Organic Matcha for a No Questions Asked 110% Money Back Guarantee.  Yes, we are that serious about your satisfaction.
(source:  Amazon.com)

5 Fast Facts About Matcha Green Tea Powder:*
137 times the antioxidants of brewed green tea
can help to boost metabolism
excellent source of anti-oxidants
increase focus
can help to improve skin health
5 Fast Facts About Pistachios:*
contains 90% healthy unsaturated fat
super high in anti-oxidants
supports cardiovascular health
excellent source of fiber, protein, manganese and copper
high in thiamine, vitamin B-6 and potassium
5 Fast Facts About Medjool Dates:*
natural energy booster
high in iron content
rich in potassium
good source of dietary fiber
excellent source of vegan protein
 5 Fast Facts About Chia Seeds:*
excellent source of healthy omega fatty acids
contains 700% more calcium than salmon
contains more anti-oxidants than flaxseeds or blueberries
contains 500% more calcium than milk
contains 20% easily digestible vegan protein
5 Fast Facts About Almonds (Almond Butter):*
helps to regulate cholesterol and blood pressure
energy booster
loaded with calcium and fiber
1/4 cup contains 8 grams of vegan protein
high in anti-oxidants
5 Fast Facts About Vanilla Bean Powder:*
anti-microbial
high in anti-oxidants
can help reduce inflammation
contains small traces of minerals
1 teaspoon contains 3 g of protein and 3 g of fiber
*These statements have not been evaluated by the Food and Drug Administration.  This information is not intended to diagnose, treat, cure or prevent any disease.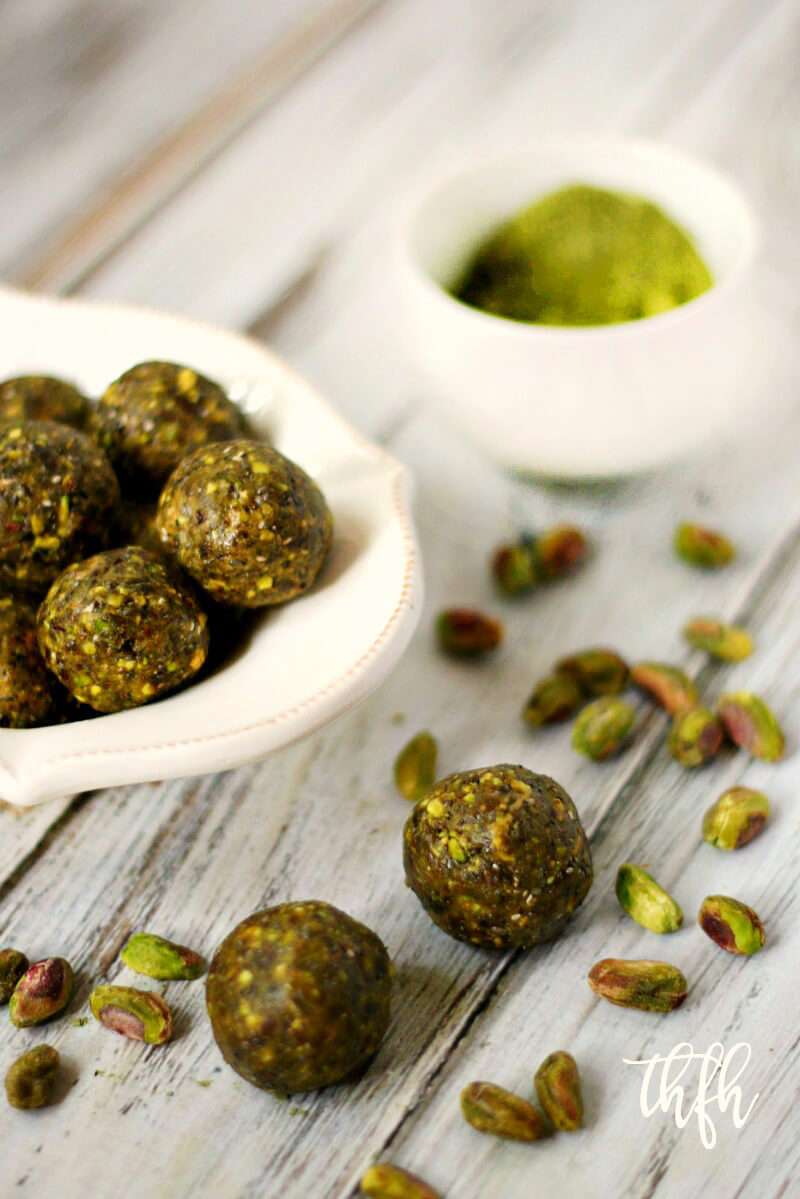 Tip #1:  I've used both organic peanut butter (my favorite!) and organic almond butter to make these, but feel free to use your favorite nut butter.
Print
Gluten-Free Vegan Pistachio and Matcha Truffles
Yield 12 - 14 truffles
Raw / Vegan / Gluten-Free / Dairy-Free / Paleo-Friendly / No Refined Sugar
Instructions
Add all ingredients to a food processor and process until well combined and it has a crumbly texture.
Take out a spoonful at a time, squeeze in the palm of your hand tightly and roll into a ball shape.
Store in the refrigerator until ready to serve.
Enjoy!
Notes
Get all your organic ingredients delivered straight to your door at up to 25 - 50% off retail by cutting out the middleman and retail markups with a Thrive Market Membership and save 15% off on your first order.
  The recipe and photographs for "Gluten-Free Vegan Pistachio and Matcha Truffles" by Karielyn Tillman of The Healthy Family and Home website are licensed under a Creative Commons Attribution Non-Commercial No Derivatives 4.0 International License and cannot be used without my written permission.

Disclaimer: I was provided with Organic Matcha from Kiss Me Organics to review and use in creating a new recipe.   I was under no obligation to give a positive review and was not paid for this review or endorsement.  All thoughts, opinions and comments are my own.
Affiliate Disclosure: This post contains affiliate links. This means that if you were to make a purchase through one of these links, "The Healthy Family and Home" website would receive a small commission at no additional cost to you.
Amazon Disclosure: "The Healthy Family and Home" website is a participant in the Amazon Services, LLC Associates Program, an affiliate advertising program designed to provide a means for sites to earn advertising fees by advertising and linking to Amazon.com.
Thank you for your support of this website!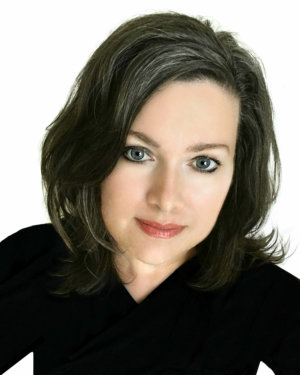 Hi, I'm Karielyn! I'm the published cookbook author of CLEAN DESSERTS and content creator of The Healthy Family and Home™ website since 2012. I specialize in creating easy, healthy plant-based and Medical Medium® compliant recipes that are gluten-free + vegan and made with clean, real food ingredients that you can feel good about eating.