These Raw Chia Seed Nutter Butter Balls are a quick and nutrient-dense snack to have on hand.
They are super easy to make and a perfect snack for adults and kids alike.
I love to use chia seeds whenever I can, because they are a good source of vegan calcium, fiber and keep you feeling full for longer.
These are made with almond butter, but you can use your favorite nut butter.
I've also used peanut butter and they were really good too.
Make sure you read in my tips below about adjusting the amount of almond flour you use depending on the type of nut butter you use because they vary in consistency.
This is a clean eating snack that's ready in about 5 minutes and is raw, vegan, gluten-free, dairy-free, paleo-friendly and contains no refined sugar.
The nut butter I chose in the Raw Chia Seed Nut Butter Ball version was organic almond butter.
Want more healthy dessert recipes? Check out this, Chocolate Peanut Butter Swirl Bark, Clean Eating Copycat Peanut Butter Tagalongs or my Clean Eating Cookbook with an entire chapter of healthy, clean eating dessert recipes just like this one that you will love!
5 Fast Facts About Coconut Flour:*
has the highest dietary fiber found in any flour at 58%
14% coconut oil
19% protein
gluten-free
helps promote blood sugar health
5 Fast Facts About Chia Seeds:*
excellent vegetarian source of omega fatty acids
easily digestible form of protein
full of minerals and vitamins
more anti-oxidants than flaxseed
excellent source of dietary fiber
5 Fast Facts About Almonds (Almond Butter + Almond Flour):*
excellent source of heart-healthy fats
helps lower blood pressure
rich in anti-oxidants
helps control blood sugar
high in magnesium, potassium, iron, zinc, and copper
5 Fast Facts About Maple Syrup:*
contains manganese and zinc
super high in anti-oxidants
helps with inflammation
1/4 cup contains more calcium than the same amount of milk
1/4 cup contains more potassium than a banana
5 Fast Facts About Coconut Oil:*
super high in lauric acid
rich in antioxidants
contains natural microbial and anti-bacterial agents
helps to improve metabolism
improves cholesterol levels
*These statements have not been evaluated by the Food and Drug Administration. This information is not intended to diagnose, treat, cure or prevent any disease.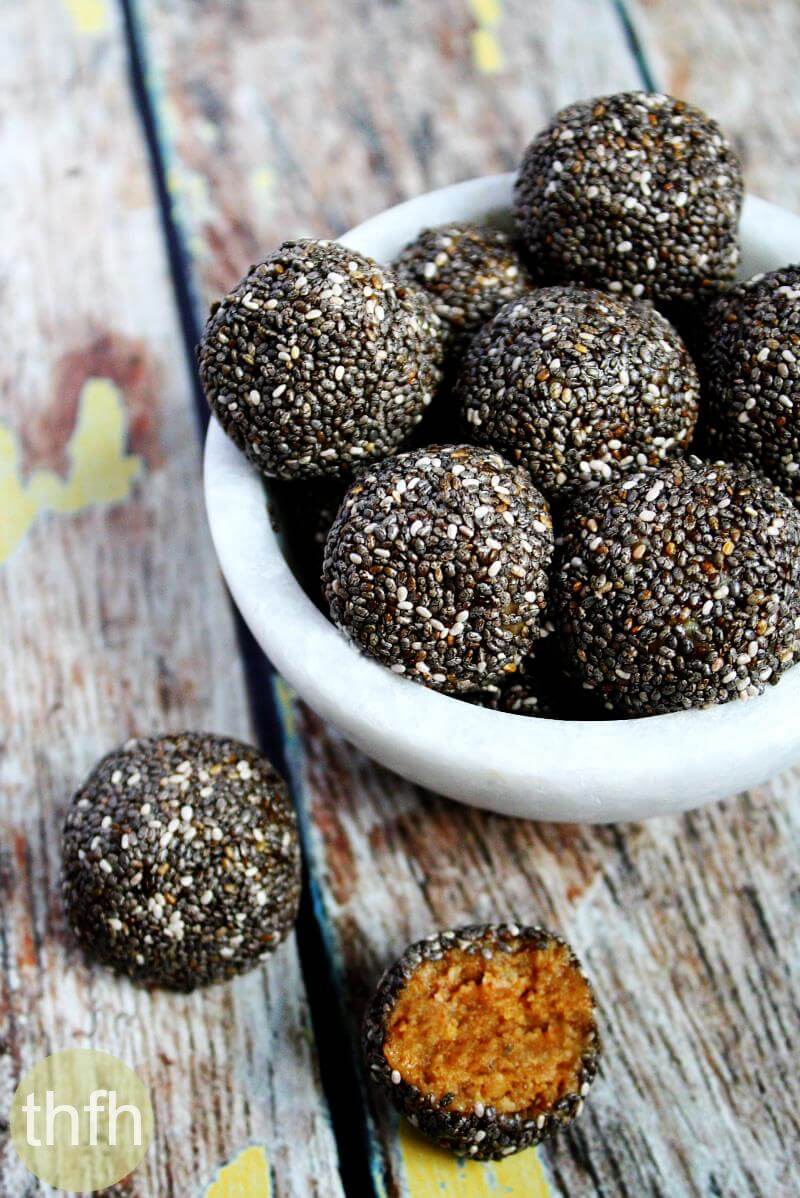 Tip #1: This recipe can be made with homemade almond butter using a Vitamix. For more recipes you can make with a Vitamix, visit my Vitamix Recipe Index page for more inspiration!
Tip #2: I've also made these with homemade peanut butter and they're really good too. You may have to adjust the amount of almond flour you use depending on the brand of nut butter. Store-bought versions tend to be a little more runny than homemade and that will affect how much almond/coconut flour you will need to add.
Tip #3: It's really hard to find true, raw, unpasteurized almond flour, but I've been able to find some here and it's really good.
Raw Chia Seed Nut Butter Balls (Raw, Vegan, Gluten-Free, Dairy-Free, Paleo-Friendly, No Refined Sugar)
Print recipe
Ingredients
1 cup organic almond butter (or other nut butter)
1/4 cup organic maple syrup
2/3 cups organic almond flour
1/4 cup organic coconut flour
1 tablespoon organic coconut oil
1/4 cup organic chia seeds
Directions
Step 1
In a medium size bowl, add all ingredients (EXCEPT the chia seeds) and stir until everything is well combined.

Start with 1/4 cup of coconut flour. If the balls are too soft and don't hold their shape, gradually add a little more coconut flour until they reach a firm consistency.

Take a spoonful out at a time and roll into bite-sized balls with the palms of your hands.

Put the chia seeds in a separate small bowl.

Roll the nut butter balls in the chia seeds until they are completely covered.

Put the balls in the freezer for about 10 - 15 minutes to firm before serving.

They will get soft if left out, so keep in the refrigerator or freezer until ready to eat.

Enjoy!
Note
This recipe will make approximately 20 - 22 small balls.

The recipe and photographs for "Raw Chia Seed Nut Butter Balls" by Karielyn Tillman of The Healthy Family and Home are licensed under a Creative Commons Attribution-NonCommercial 4.0 International License and cannot be used without my written permission.
Affiliate Disclosure:
This post contains affiliate links. This means that if you were to make a purchase through one of these links, "The Healthy Family and Home" website would receive a small commission.