This Raw Vegan Chocolate Banana No-Bake Cheesecake is my submission for the September 2016 theme for The Recipe ReDux.
The theme this month is:
"First Cooking Recollections - Stir up some of your earliest culinary recollections. Did you stand at your grandmother's elbow to learn to cook? Or did you learn by stumbling through a cookbook by yourself? Share a healthy recipe and the accompanying story about one of your first cooking memories."
Well, this one will be really easy for me because I can vividly remember one of the first things I tried to make as a newly married wife many, many years ago.
My earliest culinary recollection was definitely one of stumbling through it blindly.
I remember wanting to make a surprise for my husband but had ~no~ idea what I was doing.
My surprise was going to be a cheesecake. And this cheesecake was going to be something out of a box with an ingredient list like this:
S.A.D. Jell-O No-Bake Homestyle Cheesecake Mix Ingredients
Ingredients: Sugar, Dextrose, Cheese Baker's (Milk Nonfat, Milk Protein Concentrate, Lactose, Lactic Acid, Culture), Corn Syrup Solids, Palm Kernel Partially Hydrogenated, and, Soybeans Oil, Contains less than 2% of, Whey, Buttermilk, Flavors Artificial, Cottonseed Oil Partially Hydrogenated, Sodium Caseinate, Tetrasodium Pyrophosphate, Disodium Phosphate, Lactic Acid, Calcium Lactate, Salt, Mono and Diglycerides, Cellulose Gel, Soy Lecithin Hydroxylated, Annatto (Colors), Yellow 5, Yellow 6, Citric Acid and BHA (Preservative), Crust, Wheat Flour Enriched (Flour, Niacin Vitamin B3, Iron Reduced, Thiamine Mononitrate Vitamin B1, Riboflavin Vitamin B2, Folic Acid Vitamin B9), Sugar, Flavors Artificial, Baking Soda, Calcium Phosphate, Graham Flour, Corn Syrup High Fructose, Honey, Contains less than 2% of, Barley Malted Flour, Soybeans Oil Partially Hydrogenated, Salt
I can't remember if I made a no-bake cheesecake or not, but I do remember running into a little problem.
I knew I could easily follow the instructions on the back of the box of how to make the cheesecake, but being a newlywed with a kitchen stocked with only what we received as wedding gifts, my kitchen equipment, and baking supplies were very limited.
Once I realized I didn't have a "cheesecake" pan, or even a pie pan I began to panic. I was determined to have that cheesecake made and ready by the time my husband got home from work.
So I looked around at what I had to work with and came up with this:
(photo credit: Amazon.com)
It was the glass lid to a casserole dish we had been given as a wedding gift.
So I turned it upside down (and it conveniently doubled as a pedestal!) and made my sad little cheesecake in it.
And guess what? My poor husband didn't complain and happily ate the cheesecake.
Luckily, my cooking and baking skills have improved over the years and now make a completely different and healthier cheesecake.
Like this Raw Vegan Chocolate Banana No-Bake Cheesecake that's raw, vegan, gluten-free, dairy-free, soy-free, egg-free, paleo-friendly and contains no refined sugar.

Want More Plant-Based Vegan No-Bake Dessert Recipes?
Check out these:
Raw Vegan Chocolate Banana Cheesecake (Raw, Vegan, Gluten-Free, Dairy-Free, Soy-Free, Egg-Free, Paleo-Friendly, No Refined Sugar)
Print recipe
Ingredients
For the cheesecake
1 1/2 cup organic raw cashews
3 organic bananas
2 tablespoons organic coconut sugar
2 tablespoons organic raw cacao powder
1 pinch Himalayan pink salt
For the crust
1 cup organic walnuts
6 organic medjool dates (pitted)
2 tablespoons organic coconut flakes
1 tablespoon organic coconut oil
1/8 teaspoon Himalayan pink salt
For the topping
1/4 - 1/2 cup organic raw cacao nibs
Directions
For the crust
Step 1
Add all ingredients for the crust to a food processor and process until it becomes a sticky, crumbly texture.

Transfer to a 4 inch spring form cheesecake pan and press firmly in the bottom of the pan.

Set aside.
For the cheesecake
Step 2
Optional: soak the cashews in purified / filtered water for 30 - 60 minutes. This will make them soft and the mixture extra-creamy and smooth.

Add all the ingredients for the cheesecake to a Vitamix and blend on high-speed until it's creamy and smooth, using the tamper, if needed.

Pour the mixture into the cheesecake pan on top of the crust and gently tap it on the counter top so it settles to the bottom evenly.

Sprinkle the top with raw cacao nibs and place the cheesecake in the freezer for approximately 1 - 2 hours, or until hardened.

Remove it from the freezer and let it sit on the counter top for about 5 - 10 minutes to soften a little before cutting.

Store in the refrigerator or freezer until ready to serve because it will become soft if left out at room temperature.
Note
This recipe will make approximately 4 - 6 small servings.

The recipe and photographs for "Raw Vegan Chocolate Banana Cheesecake" by Karielyn Tillman of The Healthy Family and Home website are licensed under a Creative Commons Attribution Non-Commercial 4.0 International License and cannot be used without my written permission.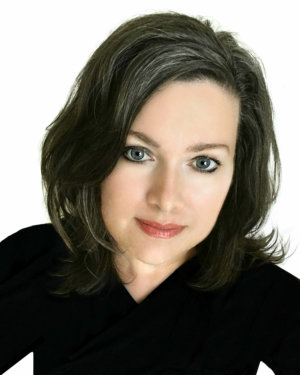 Hi, I'm Karielyn! I'm the published cookbook author of CLEAN DESSERTS and content creator of The Healthy Family and Home website since 2012. I specialize in creating easy, healthy plant-based recipes that are gluten-free + vegan and made with clean, real food ingredients that you can feel good about eating.