These Gluten-Free Vegan Lemon Mousse Tarts are a perfect spring and summer treat because they're so light and airy.
They are based off my Clean Eating Vegan Lemon Mousse recipe and I simply added an easy raw tart shell to them to dress it up.
Much better than eating the Vegan Lemon Mousse straight out of a bowl!
It takes a little advance preparation because the coconut milk used in this recipe needs to be refrigerated before using it, so it's a good idea to always keep a can in the back of the refrigerator so you're ready to use it without delay. And, it only takes less than 15 minutes to make the mousse and the shell!
If you're a fan of this minimal ingredient mousse dessert, make sure you check out my other vegan mousse recipes like Vegan Pumpkin Spice Mousse, Healthy Vegan Chocolate Mousse, Clean Eating Vegan Strawberry Mousse.
Traditional lemon mousse recipes + traditional pie crusts typically contain ingredients like these:
S.A.D. (Standard American Diet) Traditional Lemon Mousse
Ingredients: 8 eggs, 1 1/4 cup sugar, 1 cup heavy cream, lemon, salt, vanilla extract
S.A.D. (Standard American Diet) Traditional Pie Crust
Ingredients: 2 1/2 cups white flour, 1/3 cup sugar, 2 sticks butter, 3 eggs
This healthier version is made with just a few whole food ingredients and is organic, "almost raw", vegan, gluten-free, dairy-free, lectin-free, no-bake, paleo-friendly and contains no refined sugar.
Want more healthy dessert recipes? Check out Vegan Lemon Blueberry Swirl Cheesecake Squares, Gluten-Free Vegan Pecan Pie Bars, Clean Eating Chocolate Crunch Bars or my Clean Eating Cookbook with an entire chapter of 20 healthy, clean eating recipes just like this one that you will love!

5 Fast Facts About Lemons:*
extremely alkaline to the body
blood purifier
excellent for detoxification
balances blood sugar levels
contains powerful anti-bacterial properties
5 Fast Facts About Coconuts:*
2 tablespoons contain 4.6 g RDA of dietary fiber
healthy source of medium-chain fatty acids
can help to decrease cholesterol
high in lauric acid
excellent source of manganese at 60% RDA and iron at 11% RDA
5 Fast Facts About Pecans:*
contains naturally occurring anti-oxidants
helps to lower cholesterol
high quality source of protein
contains more 19 vitamins and minerals
excellent source of vitamin E
5 Fast Facts About Medjool Dates:*
natural energy booster
high in iron content
rich in potassium
good source of dietary fiber
excellent source of vegan protein
5 Fast Facts About Coconut Oil:*
super high in lauric acid
rich in antioxidants
contains natural microbial and anti-bacterial agents
helps to improve metabolism
improves cholesterol levels
*These statements have not been evaluated by the Food and Drug Administration. This information is not intended to diagnose, treat, cure or prevent any disease.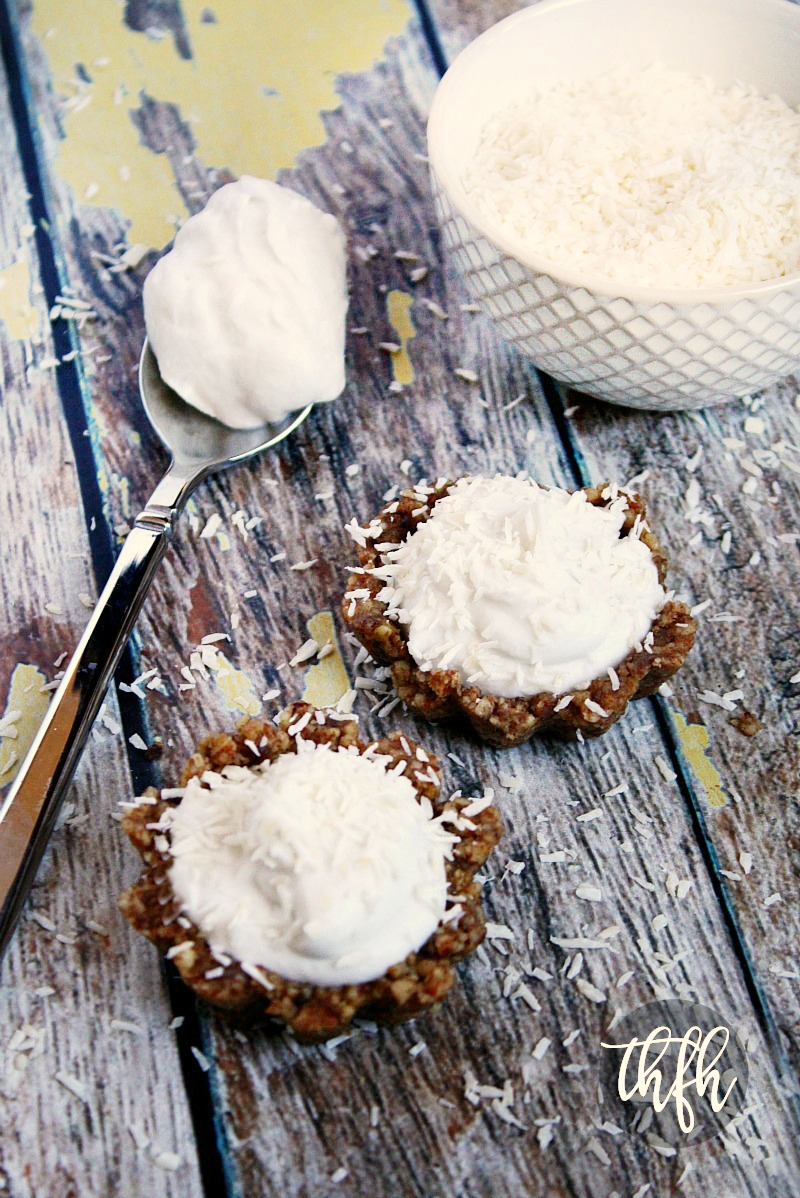 Tip #1: Always keep a can (or two!) of organic full-fat coconut milk in the back of your refrigerator so you can make this recipe at a moments notice. If you don't have a can ready, you will need to leave it in the refrigerator at least 12-24 hours so the fat in the coconut milk can harden, but the longer the better. Once you open your can, the top half should be solid (fat) and the bottom half should be liquid (water). You will be using ONLY the solid part for this recipe (save the liquid part to add to a smoothie!).
Tip #2: You can make this a lectin-free and/or sugar-free dessert by using a sugar substitute like a non-GMO xylitol or xylitol + stevia blend.
Tip #3: These are best right out the refrigerator or freezer.
Tip #4: I used small silicone tart molds and the recipe made enough to fill 4. You can serve them in the silicone mold or remove the mold before serving. Just make sure the crust has had enough time to harden in the freezer before removing the mold or the crust will not hold together. Keep them in the freezer or refrigerator until ready to serve because the crust will get soft and lose it's shape if left out at room temperature.
Print
Gluten-Free Vegan Lemon Mousse Tarts
Yield 4 small
Vegan / Gluten-Free / Dairy-Free / Lectin-Free / Egg-Free / No-Bake / Paleo-Friendly / No Refined Sugar
Ingredients
For the mousse:
For the crust:
*Lectin-Free:  substitute with non-GMO xylitol
Instructions
Advanced Preparation:  Add a can of organic full-fat coconut milk to the back of your refrigerator for at least 12-24 hours before making this recipe.
Prepare the crust:
Add all ingredients for the crust to a food processor and process until well combined an crumbly.
Transfer the crust mixture to small silicone tart molds (or silicone muffin cups) and press down firmly.
Place them in the freezer on a baking sheet while you prepare the mousse.
Prepare the mousse:
Remove the coconut milk from the refrigerator and scoop out the hardened "fat" part of the coconut milk.  The bottom half of the can will be liquid (save this coconut water to add to a smoothie!).
Add the hardened coconut fat, lemon juice and sweetener of your choice to a mixer and mix on high speed until it turns into a fluffy mousse and is thick enough to "peak".
Assembly:
Remove the tart crusts from the freezer.
Fill each tart crust with the mousse filling, dividing it evenly between the tart crusts.
Serve immediately or chill them in the freezer or refrigerator before serving.
Optional:  Garnish with finely shredded coconut.
Store in an air-tight BPA-free container in the freezer or refrigerator until ready to serve because the crust will get soft and lose it's shape if left out at room temperature.
Enjoy!
Notes
Get all your organic ingredients delivered straight to your door at up to 25 - 50% off retail by cutting out the middleman and retail markups with a Thrive Market Membership and save 15% off on your first order.
  The recipe and photographs for "Vegan Lemon Mousse Tarts" by Karielyn Tillman of The Healthy Family and Home website are licensed under a Creative Commons Attribution Non-Commercial No Derivatives 4.0 International License and cannot be used without my written permission.
Recipe Roundups: Food Bloggers are always welcome to use a photo and a link back to my original post to share on recipe roundups without requesting permission.
Affiliate Disclosure: This post contains affiliate links. This means that if you were to make a purchase through one of these links, "The Healthy Family and Home" website would receive a small commission at no additional cost to you.
Amazon Disclosure: "The Healthy Family and Home" website is a participant in the Amazon Services, LLC Associates Program, an affiliate advertising program designed to provide a means for sites to earn advertising fees by advertising and linking to Amazon.com.
Thank you for your support of this website!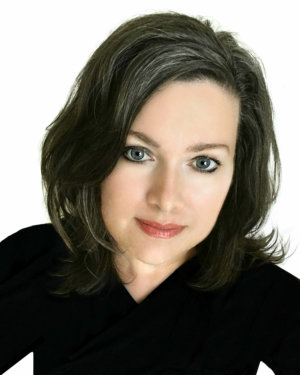 Hi, I'm Karielyn! I'm the published cookbook author of CLEAN DESSERTS and content creator of The Healthy Family and Home website since 2012. I specialize in creating easy, healthy plant-based recipes that are gluten-free + vegan and made with clean, real food ingredients that you can feel good about eating.