These cute little Chocolate Banana Cream Mini Desserts are so easy to make and are perfect individual sized servings.
I intended to make a healthy and vegan banana cream pie dessert, but it didn't go quite as I had planned or envisioned so…I ended up with a chocolate banana cream dessert.
And I think it is actually better than what I was originally trying to create!
I started with a creamy cashew base, add some coconut milk for extra creaminess and of course, bananas.
Then I decided to add mini-chocolate chips to it…which unintentionally melted after I added it to the warm banana mixture coming out of the Vitamix, so it turned chocolate.
And so now we have a chocolate banana cream dessert to enjoy!
Here are the typical ingredients in a store-bought banana cream pie and a homemade banana cream pie recipe:
S.A.D. (Standard American Diet) Traditional Banana Cream Pie | Store-Bought
Ingredients: MILK, WATER, SUGAR, VEGETABLES OIL SHORTENING PARTIALLY HYDROGENATED (SOYBEANS OIL, AND/OR COTTONSEED OIL, AND/OR PALM KERNEL OIL), WHEAT FLOUR ENRICHED (FLOUR, NIACIN, VITAMIN B3, IRON, THIAMINE MONONITRATE, VITAMIN B1, RIBOFLAVIN VITAMIN B2, FOLIC ACID VITAMIN B9), CREAM, TAPIOCA STARCH MODIFIED, SALT, SODIUM CASEINATE, A MILK INGREDIENT, WHEAT STARCH, SOY LECITHIN, POLYSORBATE 60, SORBITAN MONOSTERATE, BAKING SODA, XANTHAN GUM, GUAR GUM, CALCIUM PROPIONATE, BETA CAROTENE (COLORS), SODIUM BISULFITE
S.A.D. (Standard American Diet) Traditional Banana Cream Pie | Homemade
Ingredients: 1 1/4 CUP REFINED SUGAR, 1/3 CUP CORNSTARCH, 1/3 CUP COCOA, 3 CUPS MILK, 3 TABLESPOONS BUTTER, VANILLA EXTRACT, BANANAS, STORE-BOUGHT PIE CRUST, 1 CUP WHIPPED TOPPING (USUALLY COOL-WHIP)
Even the homemade version isn't much better with lots of dairy and highly processed pie crust and whipped topping which will both have a long list of unhealthy ingredients.
This guilt-free version is made with clean ingredients and it's vegan, gluten-free, dairy-free, paleo-friendly and contains no refined sugars.
Want more healthy dessert recipes? Check out Dark Chocolate Cups with Pistachios and Goji Berries, Clean Eating Peanut Butter Brownie Triffle, Raw Vegan Key Lime Cheesecakes or my Clean Eating eCookbook with an entire chapter of 20 healthy, clean eating recipes you will love!
high levels of tryptophan to help combat depression
aids in weight loss
strengthens the immune system
high in fiber and potassium
helps to lower blood pressure
5 Fast Facts About Cashews:*
packed with dietary fiber
rich in "heart friendly" mono-saturated fatty acids
rich source of minerals
high in magnesium and copper
excellent source of antioxidants
5 Fast Facts About Vanilla Bean Powder:*
anti-microbial
high in anti-oxidants
can help reduce inflammation
contains small traces of minerals
1 teaspoon contains 3 g protein and 3 g fiber
5 Fast Facts About Pecans:*
contains naturally occurring anti-oxidants
helps to lower cholesterol
a high-quality source of protein
contains more 19 vitamins and minerals
excellent source of vitamin E
5 Fast Facts About Raw Cacao Powder:*
contains over 300 compounds including protein, calcium, copper, zinc, and iron
super high in anti-oxidants
promotes cardiovascular health
contains essential fats
can help to decrease blood pressure
5 Fast Facts About Coconut Oil:*
super high in lauric acid
rich in antioxidants
contains natural microbial and anti-bacterial agents
helps to improve metabolism
improves cholesterol levels
5 Fast Facts About Medjool Dates:*
natural energy booster
high in iron content
rich in potassium
good source of dietary fiber
excellent source of vegan protein
*These statements have not been evaluated by the Food and Drug Administration. This information is not intended to diagnose, treat, cure or prevent any disease.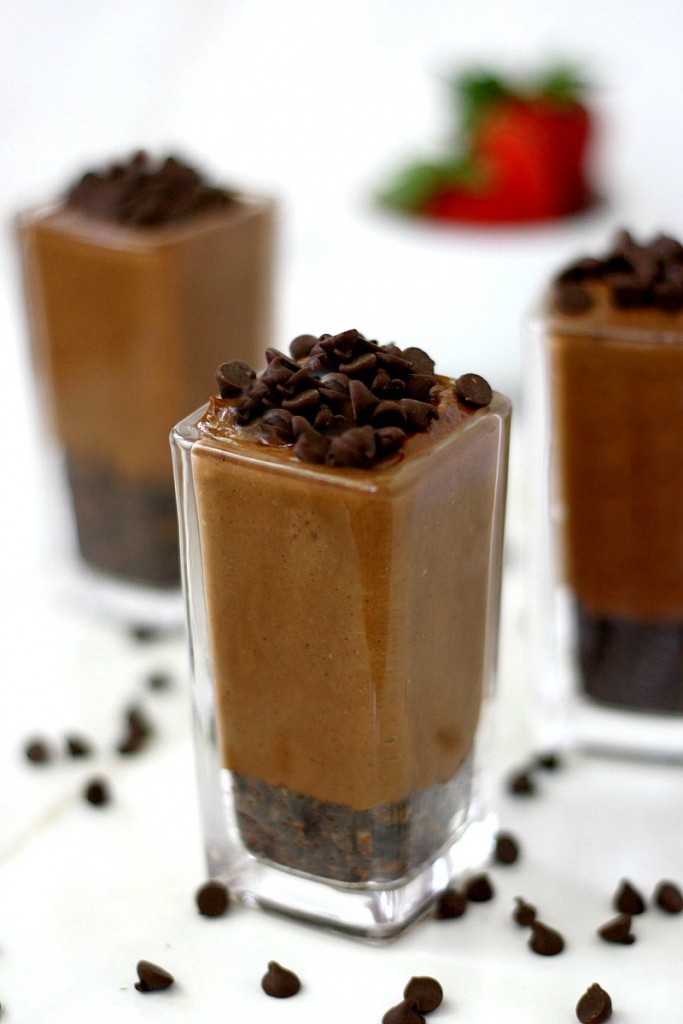 And here's another option for you…if you don't have or can't find some cute mini dessert glasses, you can still make a Chocolate Banana Cream Pie Dessert by using a couple of individual creme brulee ramekin dishes.
The one below is right about 2 servings and the recipe will make two of these so you can make 2 small individual desserts to enjoy or share.
Chocolate Banana Cream Mini Desserts (Vegan, Gluten-Free, Dairy-Free, Paleo-Friendly)
Print recipe
Ingredients
For the banana cream
3 organic bananas
1 can organic full-fat coconut milk (13.5 ounce can)
1 1/2 cup organic raw cashews
1 cup Enjoy Life mini-chocolate chips
For the crust
1 cup organic pecans
6 organic medjool dates (pitted)
1/2 cup organic cacao powder
1 tablespoon organic coconut oil (melted/liquid)
1/2 teaspoon organic vanilla bean powder
Directions
Prepare the banana cream
Step 1
Add all ingredients (EXCEPT the mini-chocolate chips) to a Vitamix and blend until creamy and smooth.

Continue to blend on "high" setting until the mixture becomes warm.

Transfer the banana mixture to a medium sized bowl and add the mini-chocolate chips.

Stir in the mini-chocolate chips until they are all melted and the mixture turns chocolate. Set aside.
Prepare the crust
Step 2
Add all the ingredients for the crust to a food processor and process until it's a crumbly texture.

Divide the mixture between six mini-dessert cups (or 2 individual 4.5 inch creme brulee dishes) and press down firmly.
Assembly
Step 3
Divide the banana cream mixture between the mini-dessert cups (or 2 individual 4.5 inch creme brulee dishes).

Optional: garnish with additional mini-chocolate chips or pecans

Put in the refrigerator for approximately 1 - 2 hours, or until firm.

Enjoy!
Note
This recipe will make approximately (2) large or (4) small desserts.

The recipe and photographs for "Chocolate Banana Cream Mini Desserts" by Karielyn Tillman of The Healthy Family and Home are licensed under a Creative Commons Attribution-NonCommercial 4.0 International License and cannot be used without my written permission.

Affiliate Disclosure
: This post contains affiliate links. This means that if you were to make a purchase through one of these links, "The Healthy Family and Home" website would receive a small commission.
Amazon Disclosure: "The Healthy Family and Home" website is a participant in the Amazon Services, LLC Associates Program, an affiliate advertising program designed to provide a means for sites to earn advertising fees by advertising and linking to Amazon.com.