When I first started eating clean and healthier, this Creamy Raw Vegan Chocolate Pudding was one of the first raw, vegan dessert recipes I used to make.
However, over the years I've tweaked it a little and added something that just takes it over the moon!
While you can find 25,247 (just kidding!) chocolate pudding/mousse recipes on the internet using basically the same ingredients (avocados, chocolate and a sweetener), I changed mine up and added an entire can of full-fat coconut milk.
The difference it makes is unbelievable!
It adds an entirely new layer of creaminess to it that makes it hard to believe it's good for you, unlike highly processed pudding.
Here are the 11 ingredients in a popular brand of traditional store-bought pudding cups:
S.A.D. (Standard American Diet) Kraft Handi-Snacks Chocolate Pudding Cups Ingredients:
Ingredients:  Water, Milk Non-Fat, Sugar, Food Starch Modified, Vegetable(s) Oil Partially Hydrogenated (Soybean(s) Oil Partially Hydrogenated, Canola Oil Partially Hydrogenated), Cocoa Processed with Alkali, Contains Less Than 2% of Salt, Sodium Stearoyl Lactylate, Flavor(s) Artificial (source)

FoodFacts.com Rating:  "F"
This healthier version is made with real, whole food ingredients and is "almost raw", vegan, gluten-free, dairy-free, soy-free, egg-free, paleo-friendly and contains no refined sugar.
Want more healthy dessert recipes?  Check out Pomegranate and Dried Blueberry Chocolate Bark, Healthy Peanut Butter Cups, Flourless Zucchini Brownies or my Clean Eating Cookbook with an entire chapter of 20 healthy, clean eating dessert recipes you will love!
5 Fast Facts About Avocados:*
excellent source of vitamin E
contains 25 essential nutrients
contains 2 – 3 times the potassium as one banana
has anti-inflammatory properties
can help lower cholesterol levels
5 Fast Facts About Coconut Nectar:*
organic, raw, vegan, gluten-free
low-glycemic
good source of 17 amino acids
nearly neutral pH
high in B vitamins
5 Fast Facts About Raw Cacao Powder:*
contains over 300 compounds including protein, calcium, copper, zinc and iron
super high in anti-oxidants
promotes cardiovascular health
contains essential fats
can help to decrease blood pressure
5 Fast Facts About Coconut:*
2 tablespoons contain 4.6 g RDA of dietary fiber
healthy source of medium-chain fatty acids
can help to decrease cholesterol
high in lauric acid
excellent source of manganese at 60% RDA and iron at 11% RDA
*These statements have not been evaluated by the Food and Drug Administration.  This information is not intended to diagnose, treat, cure or prevent any disease.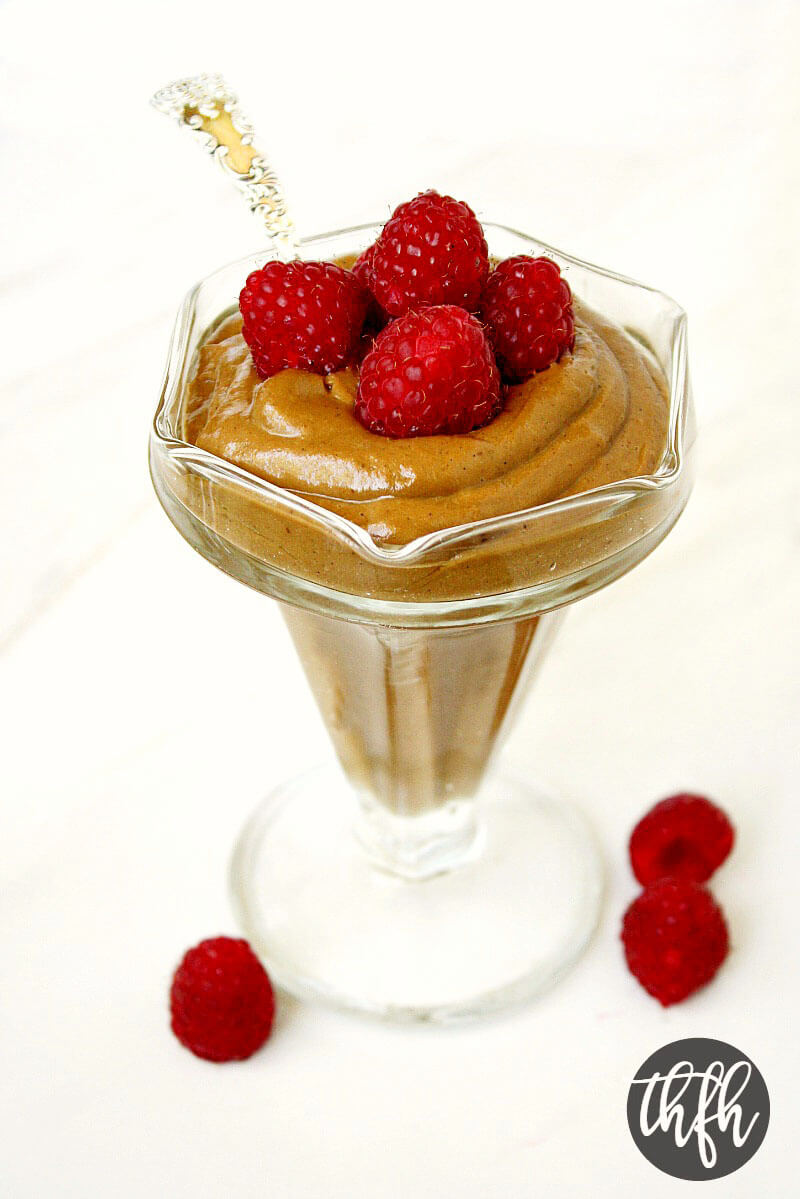 Creamy Raw Vegan Chocolate Pudding (Raw, Vegan, Gluten-Free, Dairy-Free, Paleo-Friendly, No Refined Sugar)
Print recipe
Ingredients
4 organic avocados
1/2 cup organic coconut nectar (or your favorite liquid sweetener)
1/4 cup organic raw cacao powder
1 teaspoon organic vanilla bean powder
1 can organic full-fat coconut milk (13.5 ounce can)
Directions
Step 1
Slice the avocados in half and remove the pit.

Put all ingredients (including the avocados) into a Vitamix and blend until creamy and smooth. Adjust sweetener to your preference.

Serve immediately or refrigerate 15 - 30 minutes prior to serving.

Optional: top with your favorite berries or homemade whipped coconut cream topping.

Enjoy!
Note
This recipe will make approximately 4 - 6 servings.

The recipe and photographs for "Creamy Raw Vegan Chocolate Pudding" by Karielyn Tillman of The Healthy Family and Home are licensed under a Creative Commons Attribution Non-Commercial 4.0 International License and cannot be used without my written permission.
Affiliate Disclosure: This post contains affiliate links. This means that if you were to make a purchase through one of these links, "The Healthy Family and Home" website would receive a small commission.