This is the BEST Homemade Vegan "Hamburger" Bun recipe that's vegan and egg-free. It's so simple to make and I'll show you easy step-by-step instructions so you can enjoy these fluffy buns.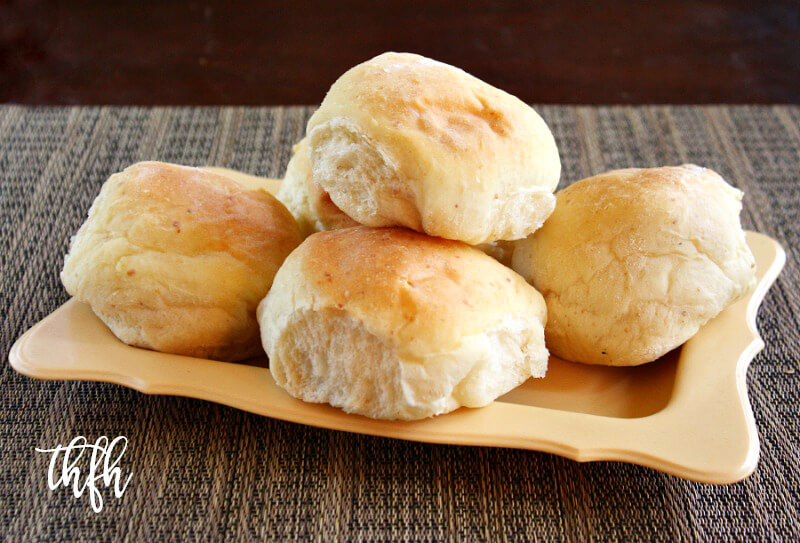 Yes, I do realize that calling this recipe "vegan hamburger" buns is an oxymoron, but I wanted to make sure they weren't mistaken for dinner buns or dinner rolls 🙂
In retrospect, I guess I should have called them "Vegan Veggie Burger Buns".
Now that I'm making everything I possibly can homemade, it was inevitable that Homemade Vegan "Hamburger" Buns would show up on my "to-make" list.
We eat a lot of veggie burgers, and I just recently made these Vegan Black Bean and Quinoa Veggie Burgers for the very first time, and they were pretty good.
Normally, I would buy the regular "Whole Market" buns from Whole Foods to go with our veggie burgers.
Until I realized they weren't organic and had canola oil – which is an unhealthy fat and one of the top 5 GMO ingredients.
And even though I've done it a handful of times, I just can't bring myself to pay $5.00+ for a pack of organic hamburger buns anymore.
Sure, you can get a pack of store-bought hamburger buns at Walmart or the like for a fraction of the cost, but what is really in those buns? Nothing good.
So what do you do?
You make your own homemade vegan "hamburger" buns from scratch!
I was worried they wouldn't pass the "husband + kid approval test", but they passed with flying colors!
They were so soft and fluffy on the inside and sliced very nicely with a bread knife.
I hope you give them a try and enjoy them as much as my family does 🙂
Are Hamburger Buns Vegan?
Yes, they can be!
I know it's strange to have the word "hamburger" and "vegan" in the same sentence, but you can make a vegan version of these buns to go with your favorite veggie burger or even just enjoy by themselves.
Here's what I did to make this Homemade Vegan "Hamburger" Bun recipe vegan:
non-dairy milk (homemade almond milk) to replace cow milk
coconut oil to replace butter
flax egg (ground flax seeds + water) to replace egg
Are These Homemade Vegan "Hamburger" Buns Healthy?
Well, I wouldn't call them "healthy" only due to the white flour in them.
But – they are definitely "healthier" than buying store-bought hamburger buns!
Let's compare the ingredient list in store-bought hamburger buns:
Sample Ingredient List for S.A.D. (Standard American Diet) Hamburger Buns:
Typical Ingredients: Unbleached Enriched Wheat Flour (Flour, Barley Malt, Niacin, Iron, Thiamin Mononitrate, Riboflavin, Folic Acid), Water, High Fructose Corn Syrup, Soybean Oil (Non-Hydrogenated), Yeast, Salt, Contains 2% or Less of the Following: Wheat Gluten, Soy Flour, Dough Conditioners (Monoglycerides, Sodium Stearoyl Lactylate, Ethoxylated Mono and Diglycerides, Ascorbic Acid, Enzymes, Soy Lecithin, Azodicarbonamide, Yeast Nutrients (Ammonium Sulfate, Monocalcium Phosphate), Calcium Sulfate, Calcium Propionate (To Prevent Spoilage), and May Be Topped with Sesame Seeds
Store-bought hamburger buns have a long list of ingredients and not many are good.
Some can contain GMO ingredients like high fructose corn syrup, soy flour, soy lecithin and several different preservatives to keep them fresh for an extended period of time.
This "healthier" recipe is made with a short ingredient list with ingredients that you recognize and can pronounce, like unbleached flour, almond milk, coconut oil, cane sugar, dry yeast and sea salt.
How To Make Homemade Vegan "Hamburger" Buns:
Making homemade buns is really easy!
There is a little prep time involved by letting the dough rest and rise, but just plan ahead for when you need them.
And the time it takes to make them is so worth it!
Here's the step-by-step instructions (with photos) to help you make Homemade Vegan "Hamburger" Buns like a pro:
Step-By-Step Instructions To Make Homemade Vegan "Hamburger" Buns:
1. After mixing everything together,
let the dough rise for about 1 hour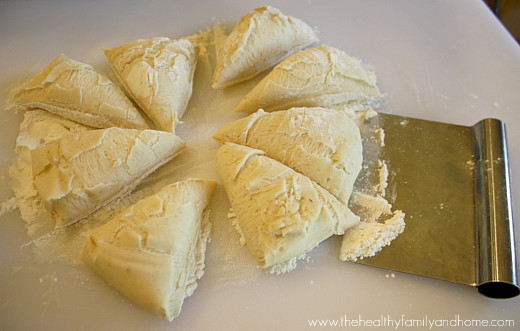 2. After the dough has risen, divide it into 8 equal pieces

3. Roll the pieces into a round ball shape
4. Let the balls of dough rise for about 30-45 minutes
5. Bake at 375 degrees for about 15-18 minutes, then enjoy!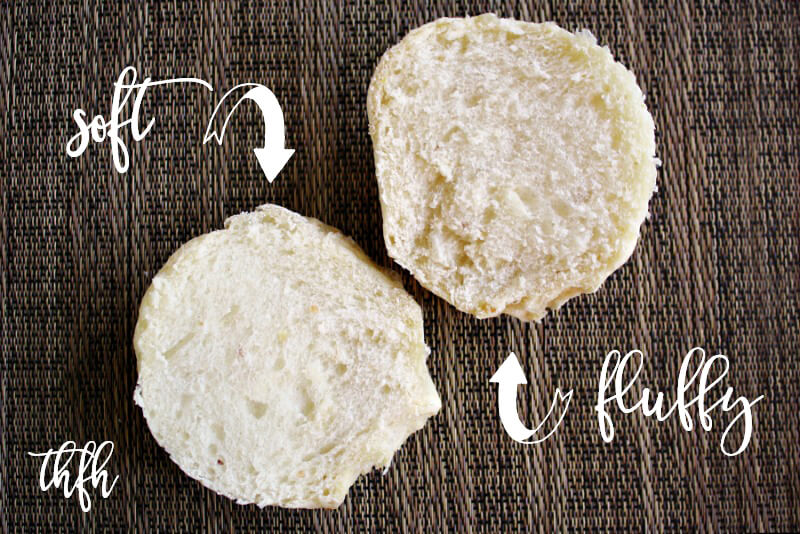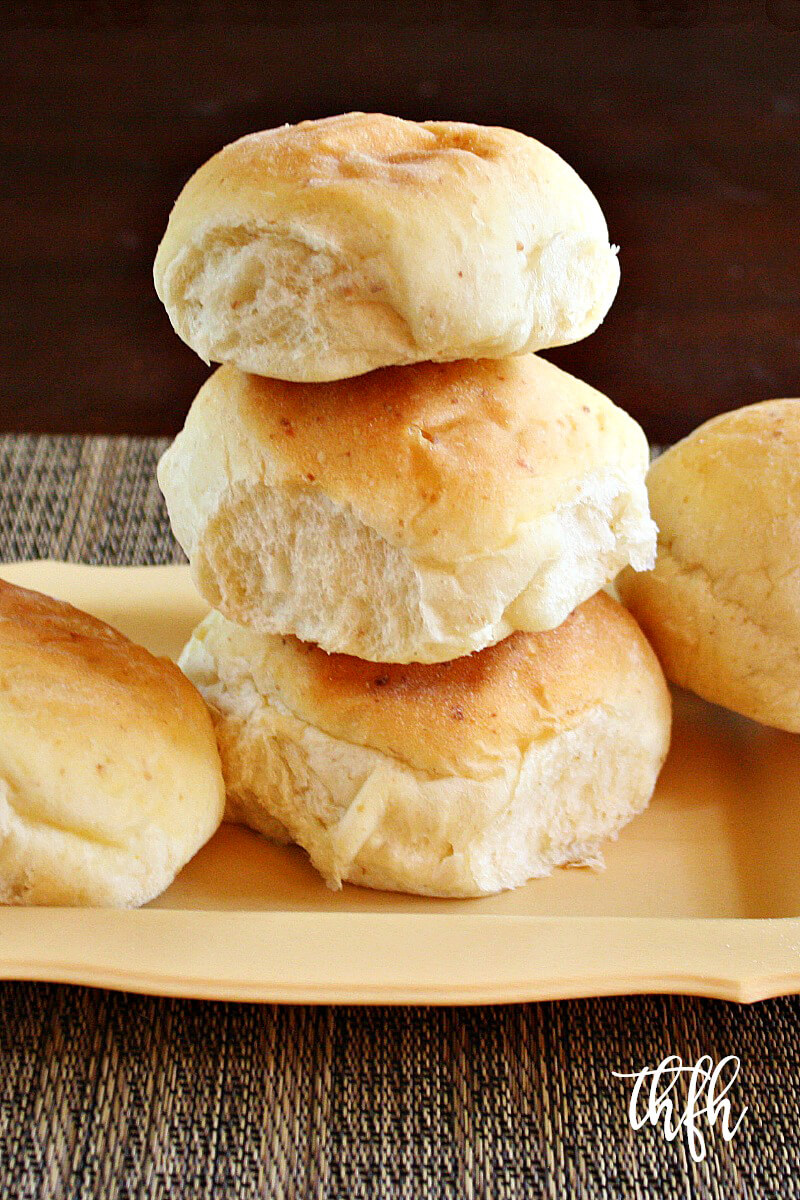 Tips For Making Homemade Vegan "Hamburger" Buns:
Here a few helpful tips that may come in handy when making this recipe:
Tip #1: I used the standing mixer option (using a Kitchen Aid mixer) but if you don't have a mixer you can make and knead them by hand by following the original recipe instructions in the link at the end of the recipe.
Tip #2: Make sure your yeast is fresh! This is important for the dough to rise.
Tip #3: Make sure your kitchen isn't drafty – it can affect the success of the dough rising. Sometimes my kitchen is drafty depending on the time of the year I make these, so to overcome this, I put my mixing bowl in my dehydrator (with all the trays removed) set at 95 degrees for the one hour rising period and it works great!
Tip #4: I'm still trying to figure out how to make these with sesame seeds on top, like store-bought buns, but can't figure out how to get them to come out "toasted" and not burned. Once I figure this out, I'll update!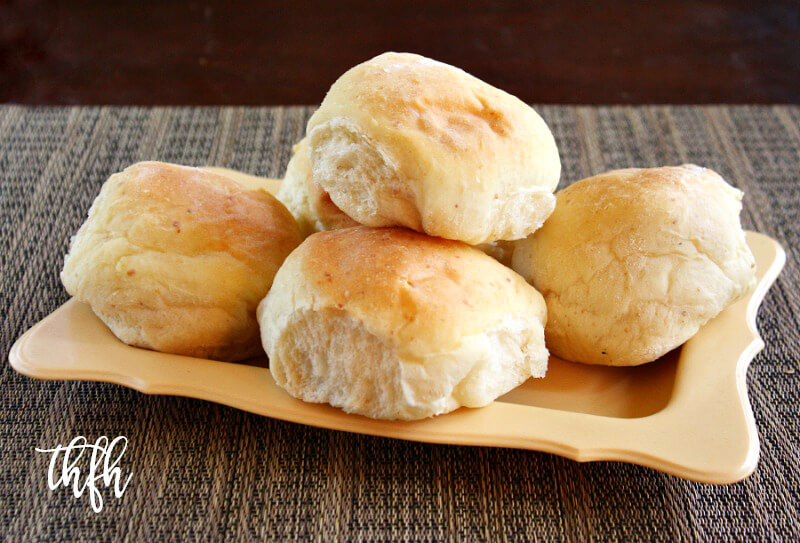 Print
How To Make Vegan "Hamburger" Buns
Yield 8 buns
Vegan / Dairy-Free / Soy-Free
Ingredients
For the dough mixture:
For the flax egg:
Instructions
Prepare the flax egg:
Add all the ingredients for the flax egg to a small bowl and whisk until it's well combined. Set aside while you prepare the dough mixture.
Prepare the dough mixture:
In the bowl of a standing mixer, add the yeast and warm water, stir, then let it sit until it's dissolved.
In a separate medium-sized bowl, whisk together the almond milk, coconut oil, sugar, Himalayan salt and the flax egg (re-whisk before adding it in).
Add the mixture from Step 2 to the mixer bowl with the yeast and water and stir until well combined.
Add the flour and salt to the mixer bowl and stir everything together until it forms a "shaggy" dough.
Using the mixer, knead the dough on low speed for about 10 minutes. The finished dough should be smooth, feel slightly "tacky" and spring back when poked.
Cover the bowl with the dough and let it rise in a warm spot until it's doubled in size (approximately 1 hour).
When the dough has risen, prepare your work area by dusting a little flour on top so the dough doesn't stick.
Transfer the dough from the mixing bowl onto your work area.
Divide the dough into 8 pieces, then shape each piece into a tight ball.
Transfer the balls onto a baking pan lined with parchment paper and let them rise until they look puffy and are the size of a normal hamburger bun (approximately 30-40 minutes).
Lightly brush a little melted coconut oil over the tops of the buns. This helps the tops to brown and keeps the crust soft.
Preheat the oven to 375 degrees and bake for approximately 15-18 minutes, or until the tops are golden.
Let the buns cool at room temperature before slicing and using.
Store in an air tight BPA-free container.
Enjoy!
Notes
Recipe inspiration: https://www.thekitchn.com/how-to-make-your-own-hamburger-153290
Get all your organic ingredients delivered straight to your door at up to 25 - 50% off retail by cutting out the middleman and retail markups with a Thrive Market Membership and save 15% off on your first order.
  The recipe adaptations and photographs for "How To Make Vegan Hamburger Buns" by Karielyn Tillman of The Healthy Family and Home website are licensed under a Creative Commons Attribution Non-Commercial No Derivatives 4.0 International License and cannot be used without my written permission.
Recipe Roundups: Food Bloggers are always welcome to use a photo and a link back to my original post to share on recipe roundups without requesting permission.