Vitamix Recipe:
Learn How To Make Homemade Coconut Milk with your Vitamix Blender that's organic, raw, vegan, gluten-free, dairy-free, paleo-friendly and contains no refined sugar.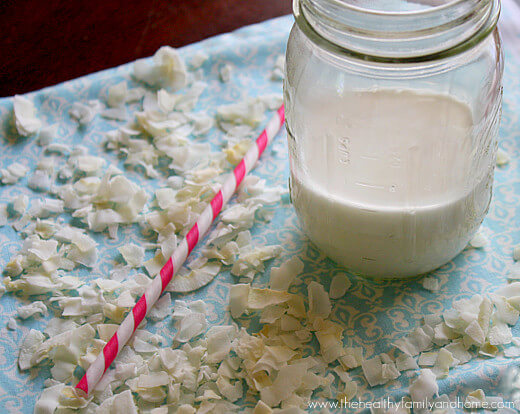 Here is a really simple recipe of how to make 100% pure Homemade Coconut Milk with your Vitamix using only 2 clean ingredients.
I've had quite a journey over the past several years in trying to find the best non-dairy milk alternative.
Here's how my choices have evolved:
Organic Soy Milk (carton)

Organic Almond  Milk (boxed)
Organic Coconut Milk (boxed)
Organic Homemade Almond Milk & Organic Homemade Coconut Milk
I transitioned away from soy because of the health concerns of soy.
Then I transitioned away from the boxed almond and coconut milks because of the questionable additives carrageegan and Vitamin A Palimate.
Now I've recently realized that I really had no reason to not make my own coconut milk because I already had a Vitamix and coconut flakes are fairly inexpensive, especially if you buy them in bulk.
So now I enjoy making my own milk and you can too!
When making your milk don't forget to use the purest water you can.  You don't want to use regular tap water to make your healthy, pure milk.  I always use my Berkey for anything that requires water.
Other than that, just make sure your coconut chips/flakes are organic and you'll be good to go.
Super easy and 100% organic, pure coconut milk!
5 Fast Facts About Coconut Chips/Flakes:
excellent source of manganese (60% dv) and iron (11% dv)

high in lauric acid
can help lower cholesterol
healthy source of medium-chain fatty acids
great source of fiber (2 tablespoons = 4.6 g fiber)
*These statements have not been evaluated by Food and Drug Administration.  This information is not intended to diagnose, treat, cure or prevent any disease.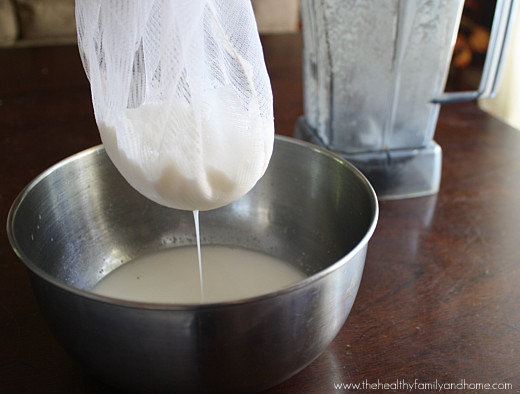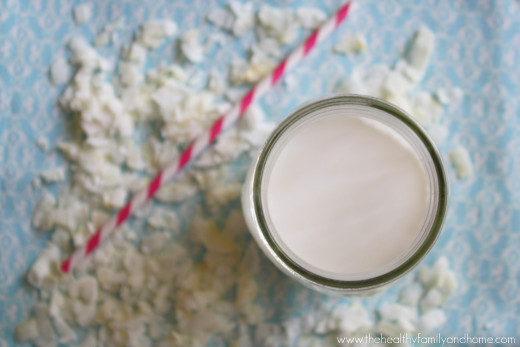 Where to Buy:  I buy my coconut chips/flakes in bulk but you can also order online from Amazon and have them delivered straight to your door:
---
Good News…This is a THFH Vitamix Recipe!
You can make this healthy, clean eating recipe using a Vitamix high-speed blender!
Use my Vitamix affiliate code 06-007276 to get FREE STANDARD SHIPPING
and you can purchase a new or refurbished Vitamix with an easy, interest-free 5 payment plan.
Click here or the ad below to start shopping!
---
Tip #1:  The first time I made it, I didn't follow the recipe in full (I increased the amount of coconut chips/flakes and didn't do the second round of blending/straining) because I didn't see the point of doing it twice.  But then I went back and read the comments and then I realized why it was important to do both steps.  Here is why:   "You blend it twice to extract all the milk so that you have a "regular" coconut milk. The first blending and straining is more like the "cream of coconut" sold in stores. The second time you blend and squeeze gives you the regular coconut milk".  – Posted By Sarah | 6/3/10 12:44 PM (source)
Tip #2:  I used the large chip/flake coconut and increased the amount to 1 cup but didn't realize it wasn't the same as using shredded coconut until I read this comment:   "The measurements would be totally different as the flakes are a different shape and would fill a cup less then shredded would. I would either grind the flakes until they're finer like the shredded or double the amount of coconut, at least. I'm really not sure how much flakes would equal the shredded though, but you can experiment and see what works for you".  – Posted By Sarah | 3/25/10 6:24 PM (source)
Tip #3:  I store my coconut milk in an air-tight, glass container.
Tip #4:  I buy my coconut chips/flakes in bulk to save money.  If you'll be making coconut milk on a regular basis, this is your best option.  Here's where you can buy a 1 gallon container:
1-Gallon Pail – Coconut Flakes
How To Make Homemade Coconut Milk
Print recipe
| | |
| --- | --- |
| www.thehealthyfamilyandhome.com | The Healthy Family and Home |
Ingredients
1 1/2 cup purified or distilled water
1 cup organic dry coconut flakes
Directions
Step 1
Heat the water, but do not bring it to a boil.

Put 1 cup of the hot water and all the coconut flakes in a Vitamix and blend for approximately 2 - 3 minutes or until well blended.

1st Strain: Pour the coconut milk through a nut/milk bag into a bowl, squeezing all of the liquid out with your hands.

Put the coconut pulp from the first strain and remaining 1/2 cup of hot water back into the Vitamix and blend for another 2 - 3 minutes.

2nd Strain: Pour the coconut milk through a nut/milk bag into a bowl, squeezing all of the liquid out with your hands.

Store coconut milk in an air-tight glass container.

Keep refrigerated and best if used within 2 days.

Enjoy!
Note
Recipe source:  http://www.freecoconutrecipes.com/index.cfm/2009/12/11/homemade-coconut-milk

Affiliate Disclosure: This post contains affiliate links. This means that if you were to make a purchase through one of these links, "The Healthy Family and Home" website would receive a small commission.
Amazon Disclosure: "The Healthy Family and Home" website is a participant in the Amazon Services, LLC Associates Program, an affiliate advertising program designed to provide a means for sites to earn advertising fees by advertising and linking to Amazon.com.