This Roasted Cauliflower with Chipotle and Lime recipe is a must-have if you are a fan of chipotle, and you might be tempted to give it a try even if you don't really like cauliflower.
It's because you can't really even tell it's cauliflower with the spicy-smokey seasonings and the tangy flavor from the lime.
This recipe is really simple to make and it works well as a side dish or as an appetizer/snack. And, I may or may not have been know to eat an entire batch by myself as a meal :0
There are so many new recipes using cauliflower now – cauliflower rice (like this one, this one or this one), mashed cauliflower, cauliflower pizza crust, cauliflower potato salad, cauliflower buffalo "wings" just to name a few.
Cauliflower is a good, low-carb alternative to white starchy potatoes and it can adapt to different flavor combinations like chipotle + lime.
This easy, healthy recipe is vegan, gluten-free, dairy-free, soy-free, nut-free, lectin-free, alkaline and paleo-friendly.
Want more healthy side dish recipes?  Check out Spicy Turmeric Twice Baked Potatoes, Acorn Squash with Walnuts and Dried Apricots, Clean Eating Zucchini Boats with Creamy Garlic Sauce or my Clean Eating Cookbook with an entire chapter of 20 healthy, clean eating snack and side dishes just like this one that you will love!

5 Fast Facts About Cauliflower:*
1 cup contains 9.1% DV of potassium
1 cup contains 85.9% of vitamin C
1 cup contains 8.5% DV of fiber
excellent anti-oxidant
contains anti-inflammatory benefits
5 Fast Facts About Avocado Oil:*
healthier cooking with smoke point of 500 degrees
may help reduce the risk of metabolic syndrome
helps maintain healthy blood sugar levels
provides protection from cardiovascular disease
good source of vitamin E
5 Fast Facts About Limes:*
aids in digestion
fat burner
contains more vitamin C than a lemon
anti-oxidant and anti-biotic effects
extremely alkalizing to the body
5 Fast Facts About Chipotle:*
can help reduce cholesterol and triglyceride levels
can help lower the risk of diabetes
a thermogenic food to help energize metabolism
can help improve circulation
rich in vitamin A, vitamin C, iron, magnesium and potassium
5 Fast Facts About Himalayan Pink Salt:*
contains 84 minerals
unrefined, unprocessed, raw
promotes stable pH balance in cells
controls water levels in the body
aids digestion and facilitates better nutrient absorption
*These statements have not been evaluated by the Food and Drug Administration.  This information is not intended to diagnose, treat, cure or prevent any disease.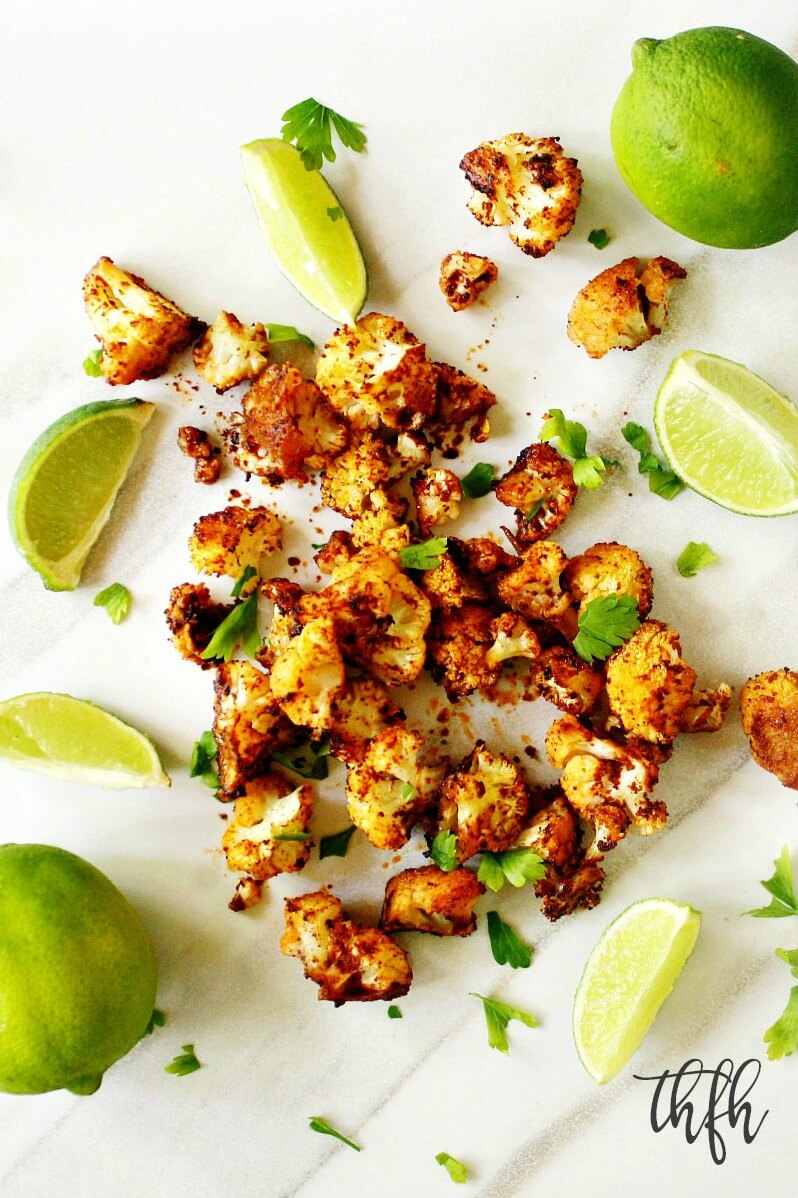 Tip #1:  I've used both frozen and fresh cauliflower and although frozen works, the fresh seems to come out better.
Tip #2: I know it seems like a long time to roast the cauliflower in the oven, but it's worth the extra time. The "slow + low heat" method will give the best results. It only takes a few minutes to prep the recipe and get it in the oven so it's a good recipe to make on a day when you have other things to do and can just leave them in the oven to slowly roast…there's not really any hands-on time needed once they're in the oven.
Tip #3:  I like chipotle ~alot~ so if you don't like too much spicy, just start with 1/2 tablespoon and add more if you prefer.
Print
Roasted Cauliflower with Chipotle and Lime
Yield 2 servings
Vegan / Gluten-Free / Dairy-Free / Nut-Free / Soy-Free / Lectin-Free / Alkaline / Paleo-Friendly 
Ingredients
For the seasoning:
Instructions
Preheat oven to 325 degrees.
Add all the ingredients for the seasoning to a small bowl and stir until well combined. Set aside.
Cut the cauliflower into small bite-sized pieces and add to a medium-sized bowl.
Drizzle the avocado oil over the cauliflower pieces and gently toss until the oil is evenly distributed and all the cauliflower pieces are covered.
Sprinkle the seasoning mixture onto the cauliflower pieces and gently toss, making sure the seasoning is evenly distributed and covering all the cauliflower pieces.
Transfer the seasoned cauliflower pieces to a baking pan lined with parchment paper and bake at 325 degrees for approximately 60-90 minutes, or until the cauliflower is soft on the inside and slightly crispy on the outside, tossing them halfway through.
Remove from oven and squeeze the lime juice over the top of the cauliflower pieces.
Optional:  Garnish with fresh chopped cilantro.
Best when served hot from the oven.
Enjoy!
Notes
Recipe inspired by and adapted from:  https://remcooks.com/2012/02/02/roasted-cauliflower-with-red-chile-cilantro-lime/
Get all your organic ingredients delivered straight to your door at up to 25 - 50% off retail by cutting out the middleman and retail markups with a Thrive Market Membership and save 15% off on your first order.
  The recipe adaptation and photographs for "Roasted Cauliflower with Chipotle and Lime" by Karielyn Tillman of The Healthy Family and Home website are licensed under a Creative Commons Attribution Non-Commercial No Derivatives 4.0 International License and cannot be used without my written permission.
Recipe Roundups: Food Bloggers are always welcome to use a photo and a link back to my original post to share on recipe roundups without requesting permission.

Affiliate Disclosure: This post contains affiliate links. This means that if you were to make a purchase through one of these links, "The Healthy Family and Home" website would receive a small commission at no additional cost to you.
Amazon Disclosure: "The Healthy Family and Home" website is a participant in the Amazon Services, LLC Associates Program, an affiliate advertising program designed to provide a means for sites to earn advertising fees by advertising and linking to Amazon.com.
Thank you for your support of this website!