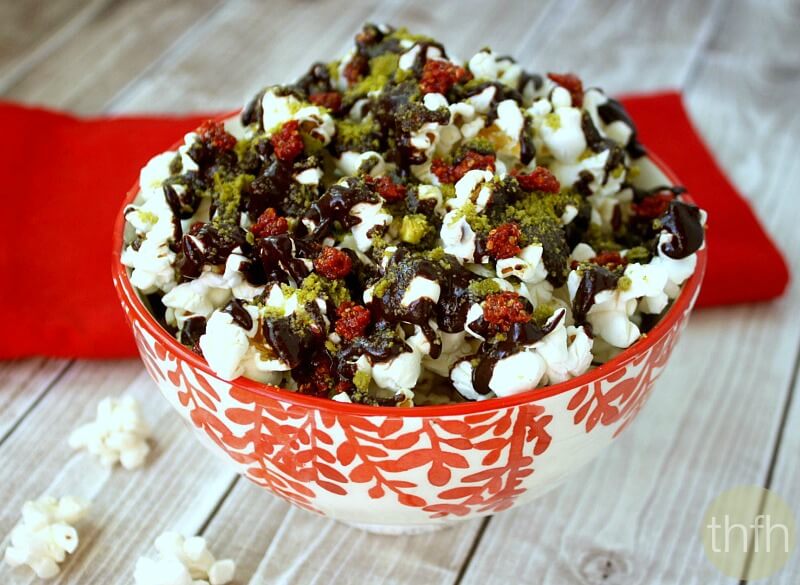 Here's a colorful, festive and most importantly, healthy Clean Eating Cacao Drizzle Holiday Popcorn snack perfect for the holiday season.
I had some leftover crushed pistachios and crushed goji berries from my Dark Chocolate Cups with Pistachio and Goji Berries recipe and was trying to think of what I could do with them (other than add them in a smoothie).
And my boy's had just finished a snack of air-popped popcorn so I decided to make another batch of the popcorn and use the pistachios and goji berries to sprinkle over the top.
I normally use coconut oil on the popcorn when I want to get the seasonings to stick but that wouldn't have tasted well with the toppings.
So the only other choice, of course, was chocolate!
It took less than 5 minutes to make this and probably less before it was gone.
Here's the ingredient list for a store-bought, highly processed chocolate popcorn snack:
S.A.D. (Standard American Diet) Poppycock Chocolate Lovers Popcorn
Ingredients: MILK CHOCOLATE CONFECTIONERS COATING, SUGAR, VEGETABLES OIL, PALM KERNEL OIL, PALM OIL PARTIALLY HYDROGENATED, MILK NONFAT, COCOA, MILK WHOLE, VANILLA, FLAVORS NATURAL AND ARTIFICIAL, SORBITAN TRISTEARATE, SOY LECITHIN EMULSIFIERS, SALT, CORN SYRUP, SUGAR, NUTS MILK, ALMONDS, PECANS, BUTTER, CREAM, SALT, SUGAR BROWN, POPCORN, SOYBEANS OIL, SALT, SOY LECITHIN
It has the typical GMO ingredients: dairy (milk, butter, cream), soybean oil, soybean lecithin, soy lecithin emulsifiers, refined sugars, and salt and non-organic nuts full of pesticides.
This healthier version uses only 6 healthy ingredients and it's vegan, gluten-free, dairy-free and has no refined sugar.
Want more healthy snack ideas? Check out Lemon Dill Kale Chips, Superfood Fruit Nut and Seed Snack Mix, Roasted Chickpeas with Chipotle and Lime or my Clean Eating eCookbook with an entire chapter of 20 healthy, clean eating snack and side dish recipes you will love!
5 Fast Facts About Raw Cacao Powder:*
super high in anti-oxidants
promotes cardiovascular health
contains essential fats
can help to decrease blood pressure
contains over 300 compounds including protein, calcium, copper, zinc, and iron
5 Fast Facts About Coconut Oil:*
super high in lauric acid
rich in antioxidants
contains natural microbial and anti-bacterial agents
helps to improve metabolism
improves cholesterol levels
5 Fast Facts About Maple Syrup:*
contains manganese and zinc
super high in anti-oxidants
helps with inflammation
1/4 cup contains more calcium than the same amount of milk
1/4 cup contains more potassium than a banana
5 Fast Facts About Pistachios:*
contains 90% healthy unsaturated fat
super high in anti-oxidants
supports cardiovascular health
excellent source of fiber, protein, manganese, and copper
high in thiamine, vitamin B-6, and potassium
5 Fast Facts About Goji Berries:*
a high concentration of anti-oxidants
contains 21 trace minerals
contains 18 amino acids
high in essential fatty acids
contains 13% more protein than whole wheat
*These statements have not been evaluated by the Food and Drug Administration. This information is not intended to diagnose, treat, cure or prevent any disease.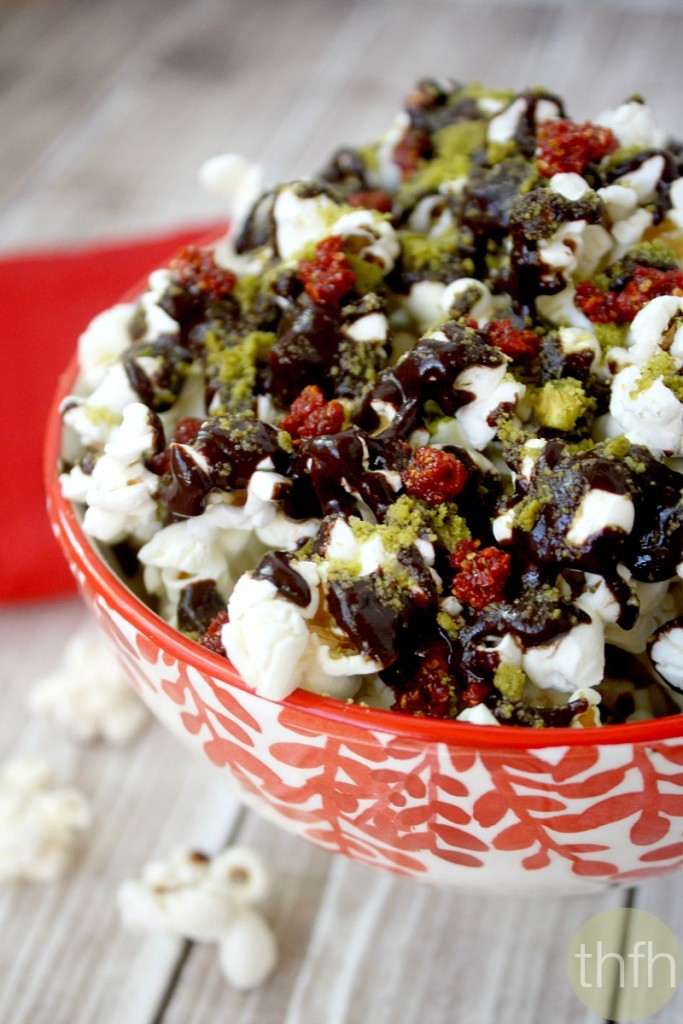 Tip #1: Corn is one of the top GMO produced crops…please make sure you use organic, non-GMO popcorn 😉
Tip #2: The Cacao Drizzle recipe below will make approximately 1 1/2 cups, but you will only need about 1 – 2 tablespoons for one batch of popcorn for this recipe. I would make HALF the recipe (1/4 cacao powder, 1/4 coconut oil, 1/4 maple syrup) or even 1/4 of the recipe (1/8 cacao powder, 1/8 coconut oil, 1/8 maple syrup) if you don't want a lot extra or have anything else to use it for. But if you're like me, I'm sure you can find something yummy to use it on!
Tip #3: I use a coffee grinder to ground up my pistachios and goji berries.
Tip #4: Microwave popcorn is bad, bad bad. Try to use an air-popper popcorn maker or make it on the stovetop.
Stovetop Instructions: 2 tablespoons of organic, non-GMO popcorn kernels + 1 – 2 tablespoons of coconut oil, or just enough to cover the bottom of your pot. Cover the pot and use medium heat and do not leave unattended. After a few minutes when the coconut oil heats up, you will hear the kernels start to pop. Using an oven mitt, hold the handle of the pot and gently shake the pot. The kernels will continue to pop and just continue to shake the pot, keeping the lid on. Do this until all the kernels or popped. Don't leave it on the stove the entire time, the popcorn will burn…it's very important to keep shaking the pot and moving the hot kernels around. The popcorn/oil will be very hot so be careful removing it from the pot.
Clean Eating Cacao Drizzle Holiday Popcorn (Vegan, Gluten-Free, Dairy-Free, No Refined Sugar)
Print recipe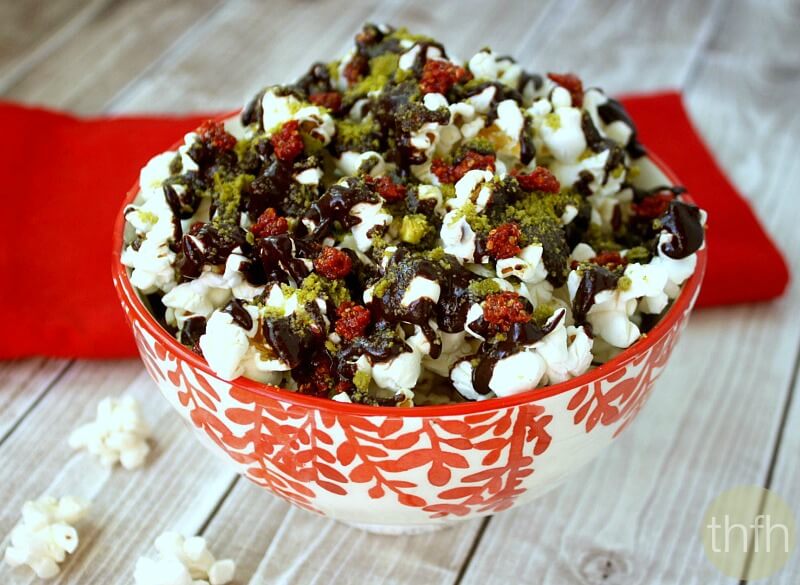 Ingredients
4 cups organic non-GMO popcorn
2 tablespoons Cacao Drizzle (see recipe)
1 - 2 tablespoon organic pistachios (ground)
1 - 2 tablespoon organic goji berries (ground)
Directions
Step 1
Prepare popcorn according to your machine or preferred method.

Prepare the Cacao Drizzle per recipe instructions below.

Spread the popcorn onto a baking pan lined with parchment paper.

Drizzle the Cacao Drizzle evenly over the popcorn.

Sprinkle the ground pistachios and goji berries over the top.

Put the pan in the refrigerator/freezer for about 5 minutes, or just long enough for the Cacao Drizzle to harden.

Eat immediately or keep in an air-tight container in the refrigerator because the Cacao Drizzle will begin to melt if let out a room temperature.

Enjoy!


Note
This recipe will make approximately 1 - 2 servings.

The recipe and photographs for "Clean Eating Cacao Drizzle Holiday Popcorn" by Karielyn Tillman of The Healthy Family and Home are licensed under a Creative Commons Attribution-NonCommercial 4.0 International License and cannot be used without my written permission.
Clean Eating Cacao Drizzle (Raw, Vegan, Gluten-Free, Dairy-Free, Paleo-Friendly, No Refined Sugar)
Print recipe
Ingredients
1/2 cup organic raw cacao powder
1/2 cup organic coconut oil (melted/liquid)
1/2 cup organic maple syrup
Directions
Step 1
Add all ingredients to a small bowl and stir until smooth and creamy.

Store in an air-tight glass or BPA-free container.

The Cacao Drizzle will harden if you store it in the refrigerator or temperature under 75 degrees. You can soften it back up by putting it in a dehydrator at 110 for a few minutes or in a bowl of warm water.

Enjoy!
Note
This recipe will make approximately 1 1/2 cups.
Affiliate Disclosure:
This post contains affiliate links. This means that if you were to make a purchase through one of these links, "The Healthy Family and Home" website would receive a small commission.
Amazon Disclosure: "The Healthy Family and Home" website is a participant in the Amazon Services, LLC Associates Program, an affiliate advertising program designed to provide a means for sites to earn advertising fees by advertising and linking to Amazon.com.