Since summertime is upon us, I have a fresh and light salsa alternative for you today…Homemade Raw Tomatillo Salsa.
I am a lover of all things salsa, tangy and spicy related, so of course this was perfect for me.
It's also the first time I've ever used a tomatillo in a recipe.
What is a "tomatillo"?
"Tomatillo" means "little tomato" in Spanish and they are like small green tomatoes with a tangy, citrus taste.
They come with a protective husk and have a sticky film on them from the husk that needs to be washed off before eating them.
There are many recipes out there that require you to roast the tomatillos before making the salsa, but I always feel guilty about cooking my vegetables.
I feel like I'm cooking the life out of them so I try not to unless I absolutely have to.
So I made this with raw tomatillos and added a habanero pepper instead of a usual jalapeno pepper and it was perfect and ready in less than 5 minutes.
5 Fast Facts About Tomatillos:
excellent anti-oxidant

helps to reduce coronary heart disease
2 small tomatillos provide 15% dv of vitamin C
rich source of vitamin K, potassium and folate
contains more minerals per weight than a tomato
5 Fast Facts About Garlic:
regulates blood sugar levels

lowers high blood pressure
anti-bacterial and analgesic
anti-viral
helps to lower cholesterol levels
5 Fast Facts About Cilantro:
powerful anti-oxidant

helps to remove toxins and heavy metals from the body
promotes healthy liver function
helps to control blood sugar
anti-inflammatory
5 Fast Facts About Lemons:
extremely alkaline

blood purifier
excellent for detoxification
balances blood sugar levels
contains powerful anti-bacterial properties
5 Fast Facts About Habanero Peppers:
provides decreased cancer risk

provides anti-inflammatory benefits
contains capsaicin to prevent obesity
helps to lower cholesterol and blood pressure
excellent anti-oxidant
5 Fast Facts About Onions:
rich source of healthy sulfur compounds

excellent for cardiovascular health
inhibits bone loss in women
reduces blood pressure
lowers blood cholesterol levels
5 Fast Facts About Pink Himalayan Salt:
contains 84 minerals

unrefined, unprocessed, raw
promotes stable pH balance in the cells
controls water levels in the body
aids digestion and facilitates better nutrient absorption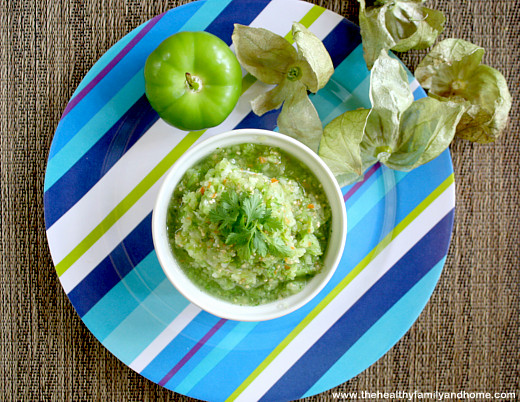 Tip #1:  Tomatillos need to be peeled and the sticky film washed off before using them.
Tip #2:  This recipe is for a single serving size.  If you need more, just double or triple the recipe ingredients.
Tip #3:  I used a habanero pepper but you could use a small jalapeno pepper instead, or omit the peppers if you don't want it too spicy.
Raw Tomatillo Salsa
Print recipe
Ingredients
4 Small tomatillos (peeled, washed and quartered)
2 cloves garlic (crushed)
1 handful organic cilantro
1/2 Small organic lemon (freshly squeezed)
1 Small habanero pepper
1 - 2 tablespoon organic onions
1 pinch pink himalayan salt (or to taste)
Directions
Step 1
Put all ingredients into a food processor and process to a chunky texture (or longer if you prefer less chunky).

Enjoy!
Hello lovely readers...
Never miss a new recipe by subscribing for updates below: