This Blackberry Pomegranate and Hemp Protein Chia Pudding will take your plain chia seed pudding to another level of deliciousness.
And yes, in the food blogging world, "deliciousness" is a real word!
Hemp seeds were one of the first superfoods I fell in love with when I started eating clean and I have been faithfully loyal.
I don't even know where to start with my love for hemp seeds...they are so versatile and can be used in savory dishes, smoothies, desserts or as a topping on just about anything.
The best part about them is their nutritional profile.
They are an excellent source of vegan protein and healthy omega fats.
I've used hemp seed oil, hemp protein powder and of course, plain hemp seeds.
But today, I've got something really special to share with you besides just plain hemp seeds...how about some upgraded flavored hemp protein!
I was contacted by Natera to try out some of their hemp seed products and am impressed beyond words.
The packs I received were:
Blackberry Pomegranate Hemp Protein - 15 g protein / 2 g omegas 3 & 6 / 5 g fiber
Dark Chocolate Hemp Protein - 15 g protein / 2 g omegas 3 & 6 / 5 g fiber
Maple Hemp Seeds - 7 g protein / 9 g omegas 3 & 6 / 1 g fiber
Himalayan Pink Salt Hemp Seeds / 7 g protein / 9 g omegas 3 & 6 / 1 g fiber
While they all looked amazing, I immediately went for the Blackberry Pomegranate...what a great combination!
So for the recipe I made to share with you today, I used the Blackberry Pomegranate Hemp Protein packet.
Want more healthy dessert recipes? Check out Vanilla Bean and Blueberry Chia Pudding, Raspberry and Banana Chia Pudding, Pineapple Protein Chia Seed Pudding or my Clean Eating Cookbook with an entire chapter of 20 healthy, clean eating recipes just like this one that you will love!
5 Fast Facts About Hemp Seeds:*
healthy inflammatory 3:1 ratio of omega-6 to omega-3 fats
contains 10 essential amino acids
contains 11 g of raw vegan protein
helps to reduce blood cholesterol
natural appetite suppressant
5 Fast Facts About Almonds (Almond Milk):*
helps to regulate cholesterol and blood pressure
energy booster
loaded with calcium and fiber
1/4 cup contains 8 grams of vegan protein
high in anti-oxidants
5 Fast Facts About Chia Seeds:*
excellent source of healthy omega fatty acids
contains 700% more calcium than salmon
contains more anti-oxidants than flaxseeds or blueberries
contains 500% more calcium than milk
contains 20% easily digestible vegan protein
5 Fast Facts About Blackberries:*
1 cup contains 35% dv of vitamin C
1 cup contains 20% dv of fiber
excellent source of anti-oxidants
contains anti-cancer properties
contains 36% dv vitamin K
5 Fast Facts About Pomegranate:*
excellent source of anti-oxidants
good source of potassium with 1 cup containing 10% dv
good source of vitamin C with 1 cup containing 26% dv
1/2 cup contains 3.5 g fiber
1 cup contains 2.6 g plant-based protein
*These statements have not been evaluated by the Food and Drug Administration. This information is not intended to diagnose, treat, cure or prevent any disease.
Blackberry Pomegranate Hemp Seed Chia Pudding (Vegan, Gluten-Free, Dairy-Free, Paleo-Friendly, No Refined Sugar)
Print recipe
Ingredients
For the chia pudding
1 cup homemade almond milk
1 tablespoon organic granular sweetener
1 tablespoon organic chia seeds
1 tablespoon Natera Blackberry Pomegranate Hemp Protein
For the topping
1/2 cup organic blackberries
1/2 cup organic pomegranate seeds
Directions
Step 1
Add all the ingredients for the chia seed pudding to a mason jar, seal the lid tightly, and shake vigorously until everything is blended together.

Put the jar in the refrigerator for about 30 - 60 minutes, or until the chia pudding firms up.

Remove the chia pudding from the refrigerator, stir, then add the blackberries and pomegranate seeds to the top.

Enjoy!
Note
This recipe will make approximately (1) serving.

The recipe and photographs for "Blackberry Pomegranate Hemp Protein Chia Pudding" by Karielyn Tillman of The Healthy Family and Home are licensed under a Creative Commons Attribution Non-Commercial 4.0 International License and cannot be used without my written permission.

Affiliate Disclosure: This post contains affiliate links. This means that if you were to make a purchase through one of these links, "The Healthy Family and Home" website would receive a small commission.
Disclaimer: I was given samples of Natera hemp products to review and use in creating a new recipe. I was under no obligation to give a positive review and was not paid for this review or endorsement. All thoughts, opinions and comments are my own.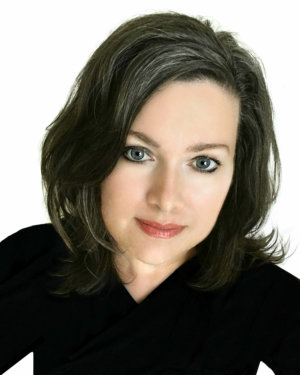 Hi, I'm Karielyn! I'm the published cookbook author of CLEAN DESSERTS and content creator of The Healthy Family and Home website since 2012. I specialize in creating easy, healthy plant-based recipes that are gluten-free + vegan and made with clean, real food ingredients that you can feel good about eating.