This Gluten-Free Vegan Roasted Cauliflower "Steaks" with Lemon Dill Tahini Dressing recipe is a healthy, easy recipe made with clean, real food ingredients and needs only about 5 minutes prep time.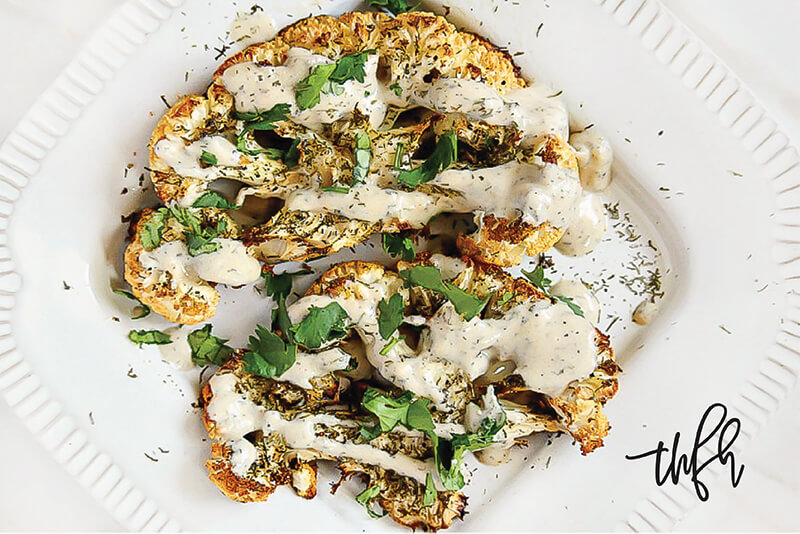 I know these may not be the most appealing photos to look at to convince you that you really, really need to make these, but I PROMISE they taste 110% better than they look!
They are lightly coated with pure avocado oil, generously sprinkled with a dill spice combination, then roasted in the oven for about 60 minutes.
Once they come out of the oven, both soft on the inside and golden + slightly crispy on the outside (!!!), they are drizzled with a homemade lemon dill tahini dressing that is tangy and goes perfectly with the dill seasoning on the cauliflower.
What is a "Cauliflower Steak"?
Don't worry – it's not meat-related! 🙂
A cauliflower steak is another way to enjoy roasted and seasoned cauliflower by slicing it into thick strips instead of the traditional floret pieces.
One large head of cauliflower will make about 4 "steaks" and you'll more than likely have enough leftover floret pieces to make an 8 x 8 pan of roasted cauliflower using the same instructions. See the "Tip" at the end of the recipe.
And, if you like seasoned roasted cauliflower as much as I do, make sure you try Roasted Cauliflower with Chipotle and Lime recipe…it's really good too! You can make this recipe as cauliflower "steaks" using the chipotle and lime seasonings instead.
What To Serve with Gluten-Free Vegan Roasted Cauliflower Steaks?
Well, this is easy!
I happen to enjoy roasted cauliflower steaks as a meal and will often make all 4 for myself. But they are also excellent as a side dish to a main meal or paired with a salad.
Some recipes these would go well with this recipe are:
This healthy recipe is vegan, gluten-free, dairy-free, lectin-free, soy-free, nut-free and paleo-friendly and the ingredients are included in the Medical Medium list of healing foods.
Want more healthy side dish recipes? Check out Spicy Turmeric Twice Baked Potatoes, Roasted Potatoes with Habanero and Basil Pesto, Lectin-Free Vegan Basil Pesto and Cauliflower Rice Dip or my Clean Eating Cookbook with healthy, clean eating snack and side dish recipes just like this one that you will love!
What Ingredients Do You Need To Make Gluten-Free Vegan Roasted Cauliflower Steaks?
5 Fast Facts About Cauliflower:*
1 cup contains 9.1% DV of potassium
1 cup contains 85.9% of vitamin C
1 cup contains 8.5% DV of fiber
excellent anti-oxidant
contains anti-inflammatory benefits
5 Fast Facts About Avocado Oil:*
healthier cooking with a smoke point of 500 degrees
may help reduce the risk of metabolic syndrome
helps maintain healthy blood sugar levels
provides protection from cardiovascular disease
good source of vitamin E
5 Fast Facts About Cumin:*
high in anti-oxidants
aids in digestion
1 tablespoon contains 20% DV of iron
1 tablespoon contains 6% DV of magnesium
can help lower cholesterol and triglycerides
5 Fast Facts About Dill:*
excellent anti-oxidant
anti-bacterial
aids in digestion
acts as a diuretic to flush out toxins
good source of calcium, manganese, and iron
5 Fast Facts About Lemons:*
extremely alkaline to the body
blood purifier
excellent for detoxification
balances blood sugar levels
contains powerful anti-bacterial properties
5 Fast Facts About Sesame Seeds (Tahini):*
high in calcium at 35% RDA
excellent anti-oxidant
lowers cholesterol
reduces inflammation
high in phytosterol
5 Fast Facts About Himalayan Pink Salt:*
contains 84 minerals
unrefined, unprocessed, raw
promotes stable pH balance in cells
controls water levels in the body
aids digestion and facilitates better nutrient absorption
*These statements have not been evaluated by the Food and Drug Administration. This information is not intended to diagnose, treat, cure or prevent any disease.
How Long Does It Take To Roast Cauliflower Steaks?
The secret to getting the cauliflower steaks to be soft on the inside and crispy on the outside is to roast them at a low temperature for a longer time.
Although you can roast them at a higher temperature for a shorter period of time, roasting the cauliflower steaks at 350 degrees for about an hour is perfect and so worth the wait!
How Do You Cut Cauliflower Into A "Steak"?
Normally, cauliflower is cut off the stem into bite-sized "florets".
To make cauliflower "steaks", you will cut the cauliflower into thick slices, resembling a slab of "steak", hence the name "cauliflower steak".
First, remove the outer leaves and trim the base.
Second, set the base of the cauliflower on your cutting board, with the crown (top) of the cauliflower facing upward. Cut into the cauliflower from the top all the way down to the bottom, like you would if you were cutting a loaf of bread into slices. They should be thick enough that they hold together well after they've been cut and you should get at least 4 slices from a large head of cauliflower.
How To Make Gluten-Free Vegan Roasted Cauliflower Steaks:
Prepare the cauliflower – The first step is preparing the cauliflower and should take just a few minutes. You'll want to get a large head of fresh cauliflower for this recipe. With the crown of the cauliflower facing upward and the stem facing downward, you are going to slice the cauliflower from the top to bottom to get about 4 thick slices. Don't worry if you have some small florets that fall off or break off – just save them to roast separately (see tip below). After you've cut the cauliflower into slices, you'll place them on a cookie sheet lined with parchment paper and lightly drizzle both sides with avocado oil.
Prepare the seasoning – This is the second step and should take just a few minutes. You're going to add all the seasonings for the cauliflower to a small bowl and stir together. Feel free to adjust the amount of seasonings to your preference. Once you're finished, you'll sprinkle the seasoning on both sides of each cauliflower slice before roasting them.
Prepare the Lemon Dill Tahini Dressing – This is the third step of the recipe and should take just a few minutes to prepare. While your cauliflower is roasting in the oven, you can mix up the ingredients for the dressing and set it aside.