If you're looking for a no-bake, nutrient-dense snack, this Clean Eating No-Bake Raw Hemp and Chia Seed Bars recipe is just for you!
They pretty much have all of my favorite ingredients…hemp seeds, chia seeds, coconut oil, and nut butter and they can be prepared in under 10 minutes.
Loaded with protein, calcium, healthy fats and fiber, these bar are perfect for snacks and even as a breakfast bar.
After separating the wet and dry ingredients, all you need to do is mix everything together in a bowl and then let them firm in the refrigerator before enjoying. No baking or oven needed!
This healthy recipe is raw, vegan, gluten-free, dairy-free, egg-free, soy-free, no-bake and contains no refined sugar.
Want more healthy dessert recipes? Check out Gluten-Free Vegan No-Bake Caramel Apple Bars, Gluten-Free Vegan Chewy Nut and Seed Bars, Gluten-Free Vegan Pecan Pie Bars or my Clean Eating Cookbook with 3 entire chapters of healthy, clean eating recipes just like this one that you will love!

5 Fast Facts About Hemp Seeds:*
healthy inflammatory 3:1 ratio of omega-6 to omega-3 fat

contains 10 essential amino acids
contains 11 g of raw vegan protein
helps to reduce blood cholesterol
natural appetite suppressant
5 Fast Facts About Chia Seeds:*
excellent source of healthy omega fatty acids

contains easily digestible protein
has more antioxidants that flaxseeds or blueberries
excellent source of dietary fiber at 6 g
contains 500% more calcium than milk
5 Fast Facts About Flax Seeds:*
high in omega-3 essential acids

contains soluble and insoluble fiber
super high in lignans
provides anti-oxidant and anti-inflammatory benefits
provides cardiovascular benefits
5 Fast Facts About Oats:*
provides excellent source of fiber

helps control blood sugar levels
can reduce hypertension and high blood pressure
increases appetite control hormones
helps to lower bad cholesterol
5 Fast Facts About Almonds:*
regulates cholesterol and blood pressure

energy booster
loaded with protein, calcium and fiber
high in antioxidants
reduces the risk of heart disease
5 Fast Facts About Maple Syrup:*
contains manganese and zinc
super high in anti-oxidants
helps with inflammation
1/4 cup contains more calcium than the same amount of milk
1/4 cup contains more potassium than a banana
5 Fast Facts About Coconut Oil:*
super high in lauric acid

rich in anti-oxidants
contains natural microbial and anti-bacterial agents
improves metabolism and helps to prevent fatigue
can help improve cholesterol
*These statements have not been evaluated by the Food and Drug Administration.  This information is not intended to diagnose, treat, cure or prevent any disease.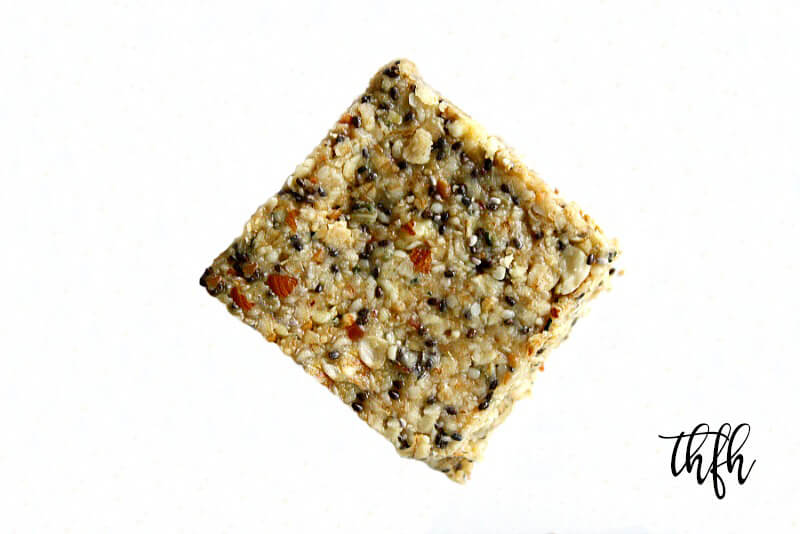 Tip #1:  Add an extra 1/4 cup of melted coconut oil if you want yours to be more compact and dense (as in the photos) as opposed to a more granola type bar.
Tip #2:  The recipe makes 6 large granola size bars or 12 squares (shown in the photos) or 48 tiny squares (cutting the 12 squares into 4 pieces each).  My husband, who can eat 5,000 calories a day and not gain one pound gets the large size, my boys who have no problems with extra calories and healthy fats gets the square size and I get the tiny bite size pieces.  I usually take one of the squares and cut it into 4 tiny pieces and nibble on it throughout the day.  One of my favorite afternoon treats is one of the tiny pieces with a cup of herbal tea.
Tip #3:  They will freeze or refrigerate well – just keep them in an air-tight BPA-free container and store in the refrigerator or freezer until you are ready to eat them.  They will get soft if left out at room temperature.
Print
Clean Eating No-Bake Raw Hemp and Chia Seed Bars
Yield 16 squares
Raw / Vegan / Gluten-Free / Dairy-Free / Egg-Free / Soy-Free / No-Bake / No Refined Sugar
Ingredients
Dry Ingredients:
Wet Ingredients:
Instructions
Prepare the almonds:
Add the almonds to a food processor and process until they are chopped into tiny pieces, taking care not to over process. Set aside.
Prepare the bars:
Add all the dry ingredients to a medium-sized bowl and stir until well combined.  Set aside.
Add all the wet ingredients to a separate medium-sized bowl and stir until well combined.
Add the wet ingredient mixture and the almond pieces to the bowl of dry ingredients and stir until well combined, using your hands to mix if needed.
Transfer the mixture to an 8 x 8 baking dish lined with parchment paper.
Spread the mixture evenly and press it down firmly into the bottom of the baking dish.
Put the baking pan in the refrigerator for about 30-60 minutes, or until the mixture is firm.
Cut into even size bars or smaller squares.
Store in the refrigerator in an air-tight BPA-free container until ready to serve because they will get soft if left out at room temperature.
Enjoy!
Notes
Recipe source:  https://kitchen.nutiva.com/raw-hemp-chia-granola-bars/
Get all your organic ingredients delivered straight to your door at up to 25 - 50% off retail by cutting out the middleman and retail markups with a Thrive Market Membership and save 15% off on your first order.
  The recipe and photographs for "Clean Eating No-Bake Raw Hemp and Chia Seed Bars" by Karielyn Tillman of The Healthy Family and Home website are licensed under a Creative Commons Attribution Non-Commercial No Derivatives 4.0 International License and cannot be used without my written permission.
Recipe Roundups: Food Bloggers are always welcome to use a photo and a link back to my original post to share on recipe roundups without requesting permission.
Affiliate Disclosure: This post contains affiliate links. This means that if you were to make a purchase through one of these links, "The Healthy Family and Home" website would receive a small commission at no additional cost to you.
Amazon Disclosure: "The Healthy Family and Home" website is a participant in the Amazon Services, LLC Associates Program, an affiliate advertising program designed to provide a means for sites to earn advertising fees by advertising and linking to Amazon.com.
Thank you for your support of this website!