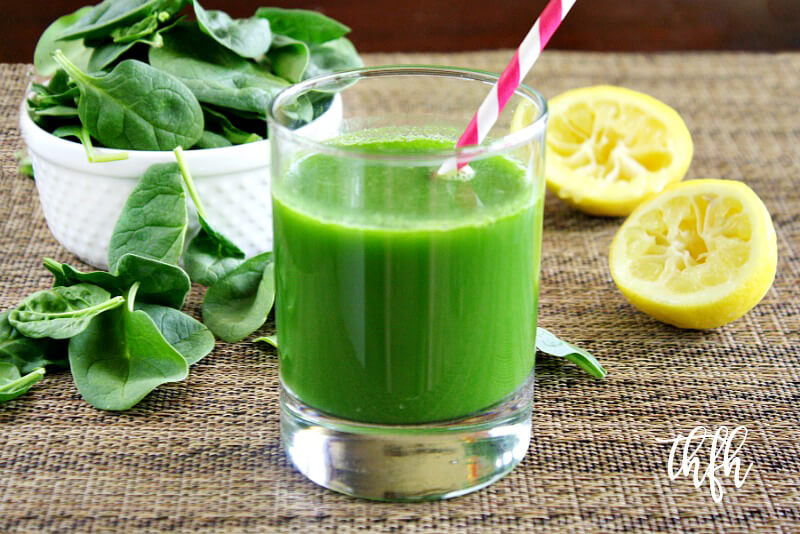 This Spinach Cucumber and Celery Juice is my most favorite juice combination that I make with my Omega Juicer.
I have other juice combos that I use, but they aren't too easy on the eyes after I add beets to them and the juice ends up having a brownish color to it.
But this one is very basic and refreshing and has such a fresh look and taste to it.  I am in awe at the bright green color!
Juice is always best when you drink it immediately after juicing, but sometimes you may need to take it on the go.
If you store it in an air-tight glass bottle like this one or this one and drink it within the same day, you should be fine, especially if you add a lemon to it.
This healthy recipe is organic, raw, vegan, gluten-free, dairy-free and paleo-friendly.
Want more healthy juice recipes?  Check out Clean Eating Bloody Mary (Non-Alcoholic), Beet and Celery Juice, Carrot Apple and Celery Juice or my Clean Eating Cookbook with over 140 healthy, clean eating recipes you will love!
5 Fast Facts About Spinach:*
contains anti-inflammatory properties

high in anti-oxidants
super high in vitamins A (377.3% dv) and vitamin K (1,110.6% dv)
phytonutrients provide anti-cancer benefits
can help to improve cardiovascular health
5 Fast Facts About Cucumbers:*
helps body to eliminate toxins

promotes joint health
aids in weight loss
high source of vitamin B
skins have 10% DV of vitamin C
5 Fast Facts About Celery:*
improves immune system
reduced blood pressure
alkalizing food
anti-inflammatory
helps to lower cholesterol
5 Fast Facts About Lemons:*
extremely alkaline to the body
blood purifier
excellent for detoxification
balances blood sugar levels
contains powerful anti-bacterial properties
*These statements have not been evaluated by the Food and Drug Administration.  This information is not intended to diagnose, treat, cure or prevent any disease.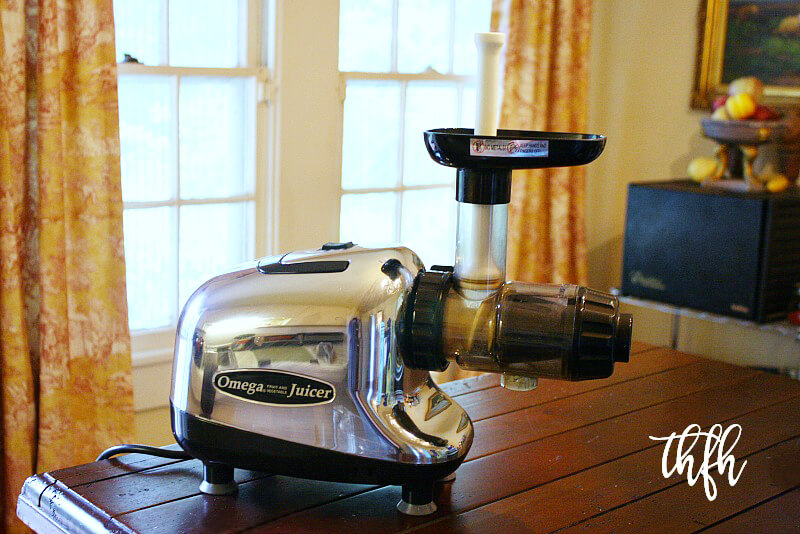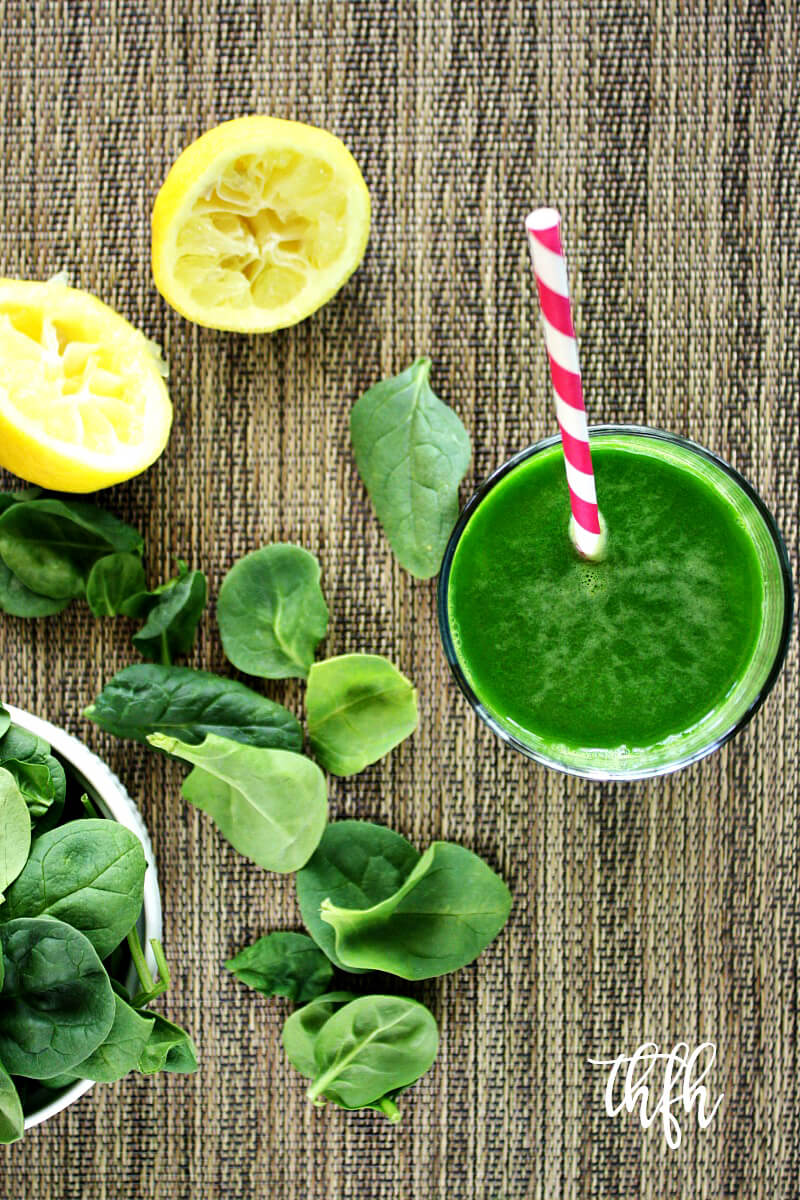 Tip #1:  My favorite "to-go" containers are these glass bottles with BPA-free lids from Aquasana.  They come in a 6-pack of 18 ounce bottles and store easily in the refrigerator and standard-size vehicle cup holders.
And, they are easy to clean with a bottle brush which I also use to clean our LifeFactory glass water bottles that we use to drink from when at home.
This recipe makes approximately 16 ounces, or enough to fill an Aquasana bottle about 3/4 full.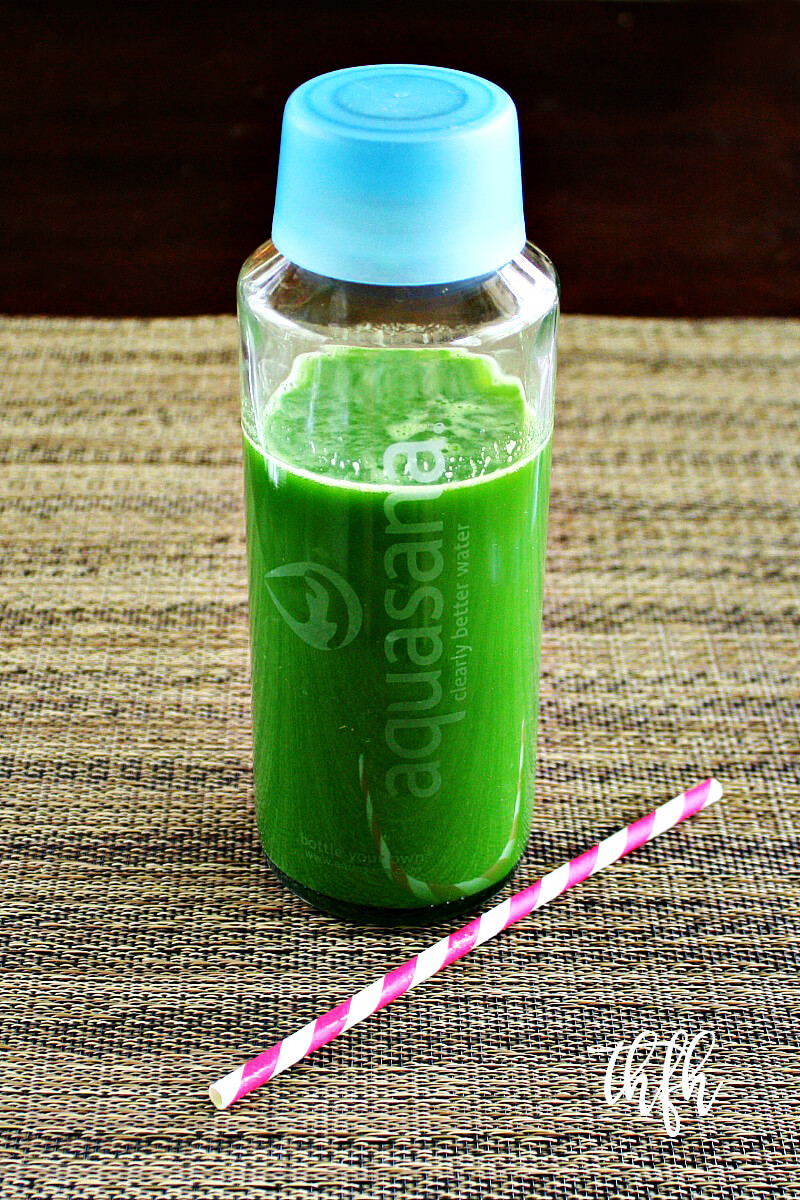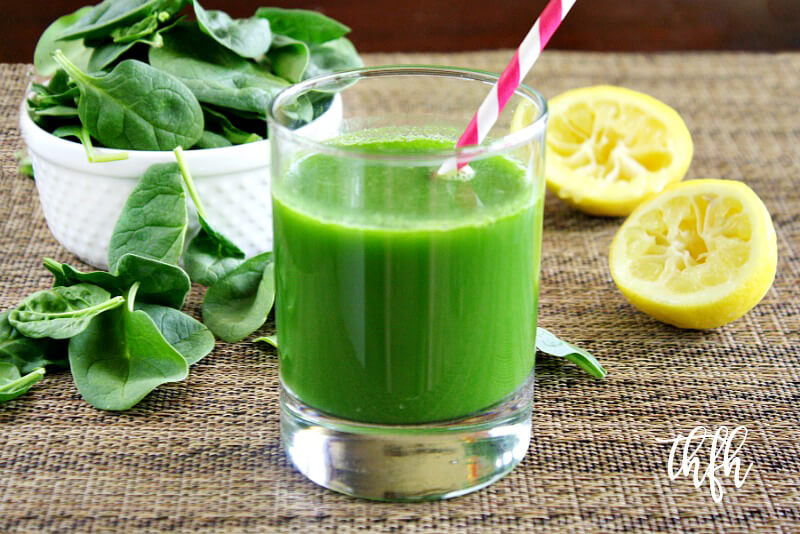 Print
Spinach Cucumber and Celery Juice
Yield 2 cups
Raw / Vegan / Gluten-Free / Dairy-Free / Nut-Free / Paleo-Friendly
Ingredients
1 large organic cucumber
6 stalks organic celery
3 cups organic baby spinach
1 organic lemon
Instructions
Prep the veggies: Cut the cucumber and celery into pieces that will fit into your juicer's chute.
Add the cucumber, celery and spinach to your juicer and juice.
Strain the juice through a fine mesh strainer to remove any foam.
Squeeze the lemon into the green juice and stir until it's well combined.
Drink immediately or store in an air-tight glass bottle (keep refrigerated).
Enjoy!
Notes
Get all your organic ingredients delivered straight to your door at up to 25 - 50% off retail by cutting out the middleman and retail markups with a Thrive Market Membership and save 15% off on your first order.
  The recipe and photographs for "Spinach Cucumber and Celery Juice" by Karielyn Tillman of The Healthy Family and Home website are licensed under a Creative Commons Attribution Non-Commercial No Derivatives 4.0 International License and cannot be used without my written permission.
Recipe Roundups: Food Bloggers are always welcome to use a photo and a link back to my original post to share on recipe roundups without requesting permission.
Affiliate Disclosure: This post contains affiliate links. This means that if you were to make a purchase through one of these links, "The Healthy Family and Home" website would receive a small commission at no additional cost to you.
Amazon Disclosure: "The Healthy Family and Home" website is a participant in the Amazon Services, LLC Associates Program, an affiliate advertising program designed to provide a means for sites to earn advertising fees by advertising and linking to Amazon.com.
Thank you for your support of this website!