This is a sponsored post brought to you by Spiral Spring.  Thank you for supporting the brands who make this website possible!
---
Spirulina is an important ingredient to add to a clean, healthy diet and a must-have for vegans.  It's an amazing powerhouse of nutrients!
It surpasses the protein, calcium and iron in animal products, like meat and dairy, many times over.
In addition to being an excellent source of 70% high quality vegan protein, it also contains amino acids, vitamins, minerals, antioxidants, as well as, omega-3 and omega-6.
But the quality of your spirulina is just as important as the health benefits you get from it.
Spiral Spring brings you a unique variety of the most potent spirulina that you can't find anywhere else.
---
What is Spirulina? 
A cyanobacterium (blue-green algae) consumed for thousands of years for its nutritional properties

One of the most potent nutrient sources available

Benefits include: strengthens immune system, improves eye health, improves digestive system, lowers cholesterol, and helps detox the body*

Spiral Spring Spirulina Maxima is Gluten-Free, Certified Kosher, USDA Organic, non-GMO
---
What Makes Spiral Spring different?
A.  Species
Did you know there are two different Spirulina species?
 Spirulina Maxima (Arthrospira Maxima)
Spirulina Platensis (Arthrosphira Platensis)
Spiral Spring is the only one in the world who produce "Spirulina Maxima" and this is certified by PhycoTech Institute in the USA.
Most of the Spirulina in the world is "Spirulina Platensis", which is not as complete as "Spirulina Maxima" in terms of content of protein, chlorophyll and phycocyanin, therefore the better for nutritional and therapeutic purposes.
Many distributors say they have "Spirulina Maxima", but they cannot prove it.
B.  Source:
Not only are you getting the highest quality of spirulina from Spiral Spring, but the cleanest.  Another thing I love about Spiral Spring is their production process.
"Our products are grown and harvested in one of the purest ecosystems in our planet, the pampa aquifer in the Atacama Desert in northern Chile.

 The water used in growing our spirulina comes from the melting of the Andes mountains and along with the purity of the world's driest desert this combination produces an unparalleled standard of excellence.

When we choose the site for our facility in Chile, we reviewed myriad factors, even though it meant to cut off from urban centers, we choose the pristine environment of the Atacama Desert, an unpolluted place to produce Spirulina Maxima, thereby guaranteeing the optimal quality of our product for our customers. "
This makes me feel good to know that I'm getting the highest quality and cleanest spirulina on the market.
Now about the recipe I made with Spiral Spring Spirulina Maxima!
While I normally just add spirulina to my smoothies, I decided to show you a different way to incorporate spirulina into your diet by making a Raw Vegan Spirulina Cheesecake.
Yes, it's true…a spirulina cheesecake!
You have a clean, whole food dessert made with only 8 nutrient-dense ingredients and all the benefits of spirulina.
And, this has to be one of the prettiest colored cheesecakes I think I've ever made…the color is amazing!
This dessert is organic, raw, vegan, gluten-free, dairy-free, soy-free, egg-free, no-bake, paleo-friendly and contains no refined sugar.

5 Fast Facts About Spirulina:*
high in chlorophyll and an excellent detoxifier
contains 4x the antioxidants of blueberries
rich protein content with 50 -70% protein by weight
contains 3x as much protein as beef, by weight
contains all essential amino acids
5 Fast Facts About Cashews:*
packed with dietary fiber
rich in "heart friendly" mono-saturated fatty acids
rich source of minerals
high in magnesium and copper
excellent source of antioxidants
5 Fast Facts About Maple Syrup:*
contains manganese and zinc
super high in anti-oxidants
helps with inflammation
1/4 cup contains more calcium than the same amount of milk
1/4 cup contains more potassium than a banana
5 Fast Facts About Coconut Oil:*
super high in lauric acid
rich in antioxidants
contains natural microbial and anti-bacterial agents
helps to improve metabolism
improves cholesterol levels
5 Fast Facts About Walnuts:*
high quality vegan protein
high in anti-oxidants
rich in omega-3 fatty acids
high in vitamin C
improves blood lipids and other cardiovascular risk factors
5 Fast Facts About Coconut Flakes:*
2 tablespoons contain 4.6 g RDA of dietary fiber
healthy source of medium-chain fatty acids
can help to decrease cholesterol
high in lauric acid
excellent source of manganese at 60% RDA and iron at 11% RDA
5 Fast Facts About Medjool Dates:*
natural energy booster
high in iron content
rich in potassium
good source of dietary fiber
excellent source of vegan protein
*These statements have not been evaluated by the Food and Drug Administration.  This information is not intended to diagnose, treat, cure or prevent any disease.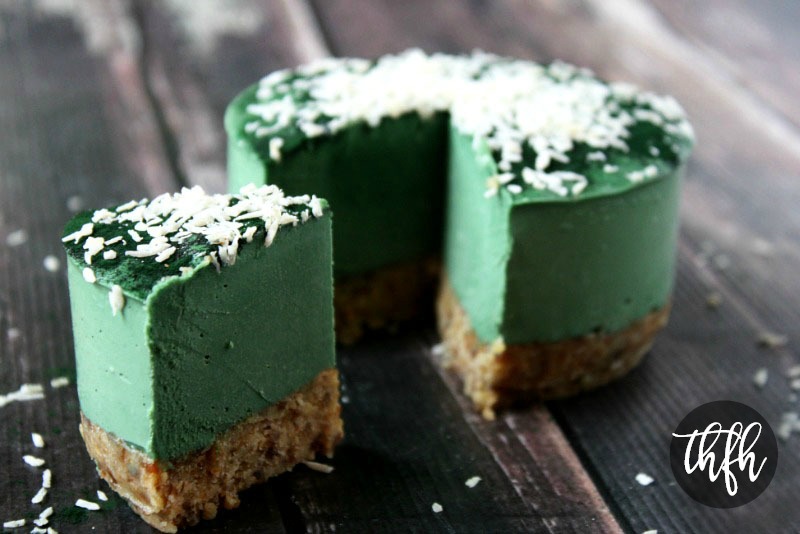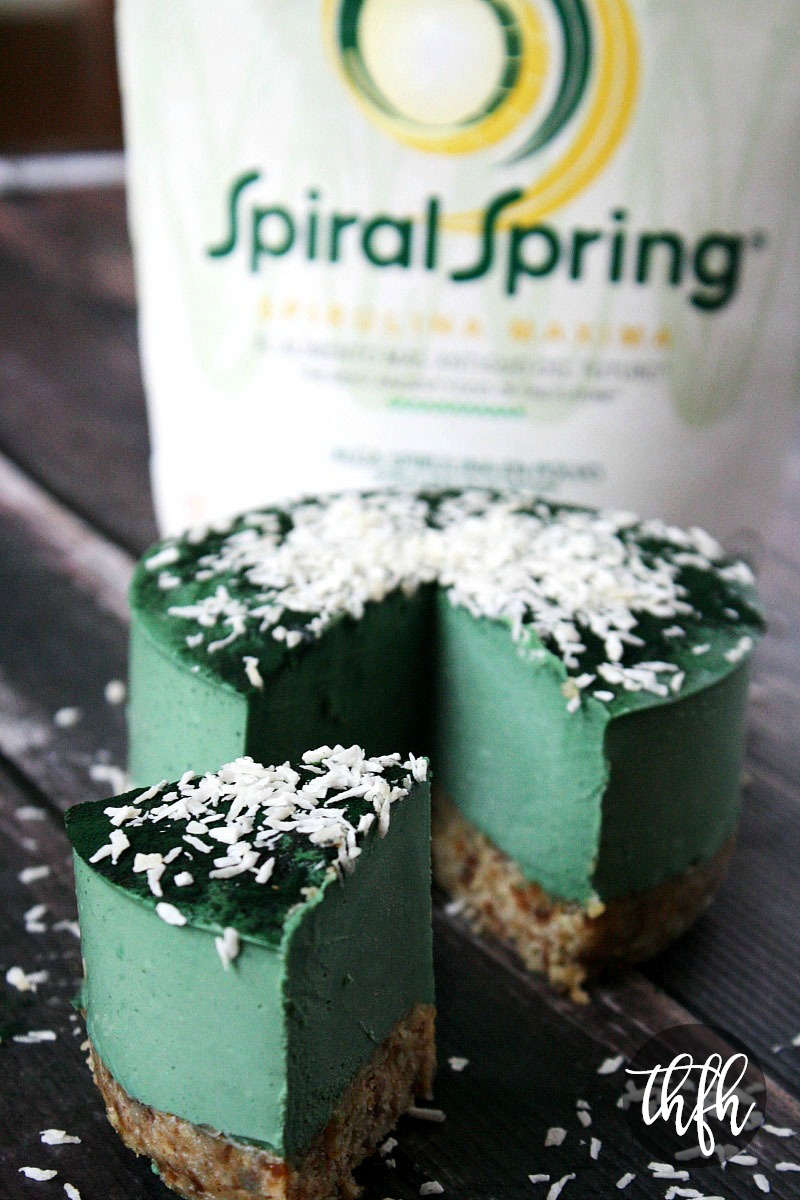 Print
Raw Vegan No-Bake Spirulina Cheesecake with Spiral Spring Spirulina Maxima
Yield 6 - 8 small servings
Raw / Vegan / Gluten-Free / Dairy-Free / Egg-Free / Soy-Free / No Bake / Paleo-Friendly / No Refined Sugar
Ingredients
For the filling:
For the crust:
Instructions
For the crust:
Add all the ingredients for the crust to a food processor and process until it becomes a sticky, crumbly texture.
Transfer the mixture to a 6-inch spring form cheesecake pan and press firmly in the bottom of the pan.  Set aside.
For the cheesecake:
Optional:  Soak the cashew in filtered/purified water for 15-30 minutes.  This will make them soft and the mixture extra creamy.
Add all the ingredients for the filling to a Vitamix and blend on high speed until it is creamy and smooth.
Pour the filling into the cheesecake pan on top of the crust and gently tap it on the counter so it settles to the bottom evenly.
Optional:  Sprinkle the top with organic shredded coconut, extra spirulina, organic hemp seeds, organic chia seeds, organic cacao nibs, etc.
Put the cheesecake pan in the freezer for 1-2 hours, or until it hardens.
Remove it from the freezer and let it sit on the counter for about 5-10 minutes to soften it slightly before cutting and serving.
Store in an air-tight BPA-free container in the refrigerator or freezer until ready to serve because it will become soft and lose it's shape if left out at room temperature.
Enjoy!
Notes
Get all your organic ingredients delivered straight to your door at up to 25 - 50% off retail by cutting out the middleman and retail markups with a Thrive Market Membership and save 15% off on your first order.
  The recipe and photographs for "Raw Vegan No-Bake Spirulina Cheesecake with Spiral Spring Spirulina Maxima" by Karielyn Tillman of The Healthy Family and Home website are licensed under a Creative Commons Attribution Non-Commercial No Derivatives 4.0 International License and cannot be used without my written permission.
Recipe Roundups: Food Bloggers are always welcome to use a photo and a link back to my original post to share on recipe roundups without requesting permission.
General Disclosure: This post is sponsored by Spiral Spring.  I received product to review and use in creating a new recipe.  I was under no obligation to give a positive review and was compensated for my time. All thoughts, opinions and comments are my own.  Thank you for supporting the brands who make this website possible!
Affiliate Disclosure: This post contains affiliate links. This means that if you were to make a purchase through one of these links, "The Healthy Family and Home" website would receive a small commission at no additional cost to you.
Amazon Disclosure: "The Healthy Family and Home" website is a participant in the Amazon Services, LLC Associates Program, an affiliate advertising program designed to provide a means for sites to earn advertising fees by advertising and linking to Amazon.com.
Thank you for your support of this website!