This Gluten-Free Vegan Chocolate Peanut Butter No-Bake Cheesecake is not only a show stopper, but it tastes as good as it looks!
Gluten-Free Vegan Chocolate Peanut Butter No-Bake Cheesecake
It's based off my Vegan No-Bake Peanut Butter Cheesecake that I posted a couple of years ago and is a peanut butter lovers dream come true.
It's also one of my husband's favorite cheesecakes I make since he is definitely a peanut butter lover.
Today is our anniversary, and I wanted to make him a really special treat, something new that I had never made before.
So instead of making him my regular peanut butter cheesecake, I decided to change it up a little and add more emphasis on the chocolate than peanut butter...and more than on my original recipe.
Here's what's going on in this chocolate + peanut butter dessert:
Bottom Layer: I used the same chocolate raw, pecan based crust naturally sweetened with Medjool dates
Middle Layer: Instead of a plain peanut butter cheesecake filling, I made it chocolate - so it's chocolate peanut butter!
Top Layer: Instead of the chocolate drizzle, I made a layer of thick, chocolate peanut butter that covers the entire top of the cheesecake
Garnish: My original cheesecake didn't have any type of garnish, but on this one, I made tiny balls of peanut butter rolled in raw cacao powder to decorate the top of the cheesecake
Since this one has more chocolate in it than my original recipe, it kind of tastes like a "Reese's Peanut Butter Cup" cheesecake.
Needless to say, he loved it and said this cheesecake is now his new favorite!
This healthier recipe is raw, vegan, gluten-free, dairy-free, egg-free, no-bake and contains no refined sugar.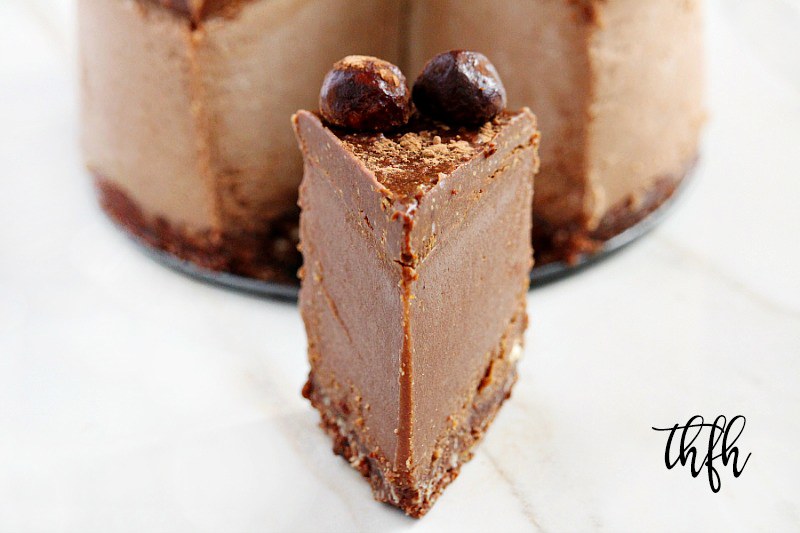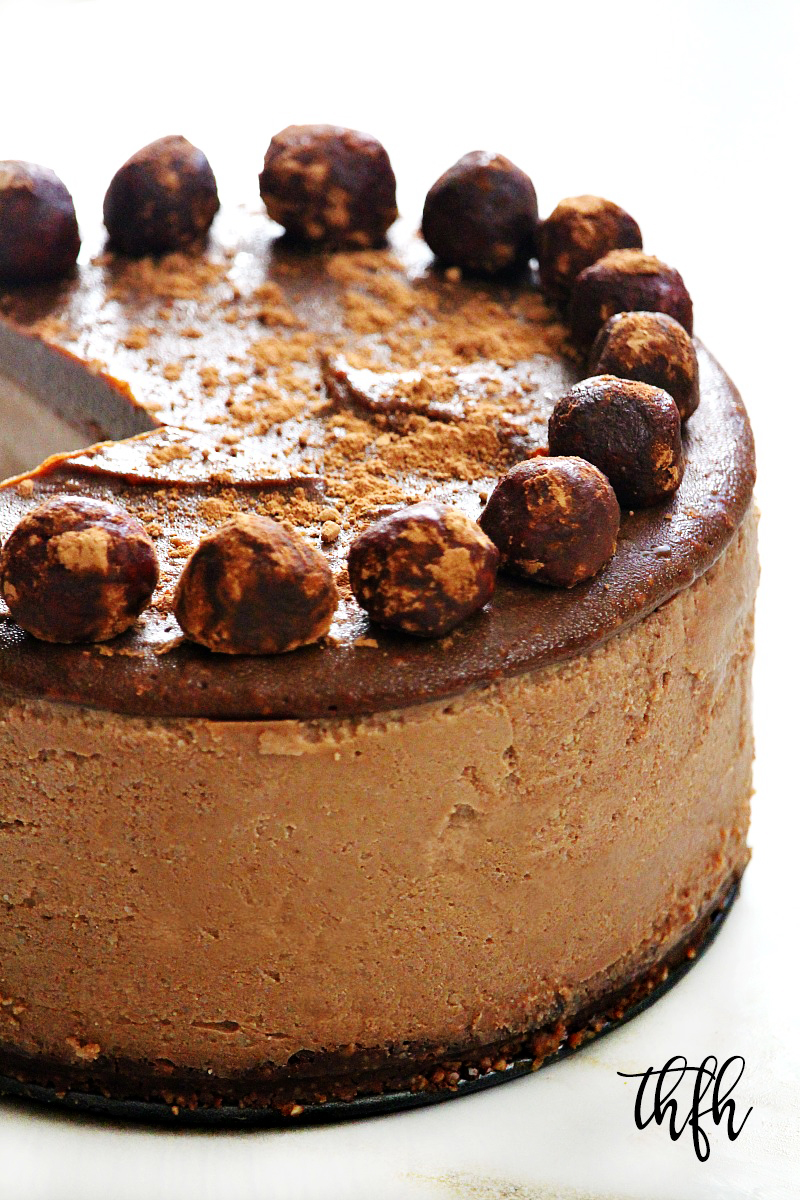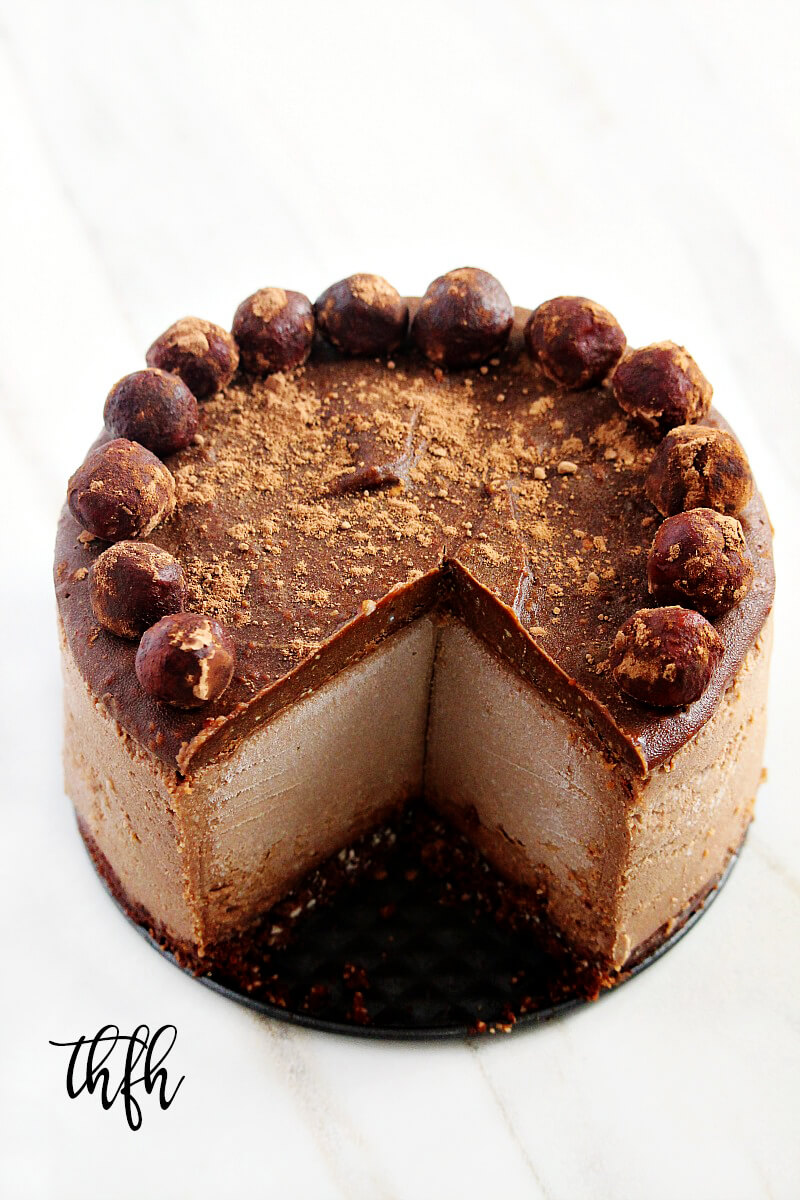 Want More Healthy No-Bake Vegan Dessert Recipes?
Check out these:
Print
Gluten-Free Vegan No-Bake Chocolate Peanut Butter Cheesecake
Yield 8 - 10 small servings
Raw / Vegan / Gluten-Free / Dairy-Free / Egg-Free / Soy-Free / No Refined Sugar
Ingredients
For the crust:
For the cheesecake:
For the topping:
For the garnish:
Instructions
For the crust:
Add all the ingredients for the crust to a food processor and process until it is a wet, crumbly texture.
Transfer the mixture to a 6-inch spring form cheesecake pan, spread it evenly on the bottom of the pan, then press it down tight.  Set aside.
For the cheesecake:
Optional:  Soak the cashews in filtered/purified water for 15-30 minutes, then drain and rinse.  This will make them soft which will make the mixture extra creamy.
Add all the ingredients for the cheesecake to a Vitamix and blend until it's creamy and smooth, using the tamper if necessary.  
Transfer the mixture into the cheesecake pan and pour it on top of the crust.  Once you have all the mixture in the cheesecake pan, tap it lightly a couple of times on your counter top so it will settle. 
Put the cheesecake pan in the freezer for about 30 minutes so it can start to firm.
For the topping:
Add all the ingredients for the topping to a small saucepan and melt on lowest heat until it's well blended, stirring the entire time to make sure it doesn't burn.
Allow to cool completely before adding to the cheesecake.
For the garnish:
Take about a 1/2 a spoonful out at a time and roll it into a small ball shape between the palms of your hands.
Add the raw cacao powder to a small bowl and roll each peanut butter ball in the raw cacao powder until they are coated.  Some of the raw cacao powder will be absorbed into the peanut butter balls, but it gives it a nice visual effect.  You can re-roll them if you want them to be completely covered with the raw cacao powder right before serving.
Assembly:
Once the cheesecake has started to firm and the topping has cooled off, remove the cheesecake from the freezer and pour the topping evenly over the top.
Add the raw cacao powder covered peanut butter balls on top of the topping on the outer edge of the cheesecake.
Optional: Sprinkle raw cacao powder over the top as an extra garnish.
Return the cheesecake back to the freezer for 1-2 hours for it to harden.
When ready to serve, remove the cheesecake from the freezer and put it in the refrigerator until it's soft enough to cut.
Store in the freezer or refrigerator until ready to serve because it will get soft and lose it's shape if left out at room temperature.
Enjoy!
Notes
Get all your organic ingredients delivered straight to your door at up to 25 - 50% off retail by cutting out the middleman and retail markups with a Thrive Market Membership and save 15% off on your first order.
  The recipe and photographs for "Gluten-Free Vegan No-Bake Chocolate Peanut Butter Cheesecake" by Karielyn Tillman of The Healthy Family and Home website are licensed under a Creative Commons Attribution Non-Commercial No Derivatives 4.0 International License and cannot be used without my written permission.
Recipe Roundups: Food Bloggers are always welcome to use a photo and a link back to my original post to share on recipe roundups without requesting permission.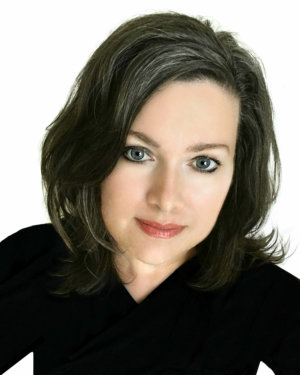 Hi, I'm Karielyn! I'm the published cookbook author of CLEAN DESSERTS and content creator of The Healthy Family and Home™ website since 2012. I specialize in creating easy, healthy plant-based and Medical Medium® compliant recipes that are gluten-free + vegan and made with clean, real food ingredients that you can feel good about eating.