Clean Eating Spicy Lemon Sauteed Broccolini…a clean eating recipe made with just a few real food ingredients and it's vegan, gluten-free, dairy-free and paleo-friendly.
Broccoli is a well liked vegetable in our home…especially by my youngest son.  He will eat it raw and several stalks at a time!
But I decided to change things up a little with this Spicy Lemon Sauteed Broccolini instead of our regular broccoli.
Why?  Because the broccolini is cuter, of course!
I just like the long, thin stalks on them for some reason.
I normally lightly steam our broccoli when I make it and have always enjoyed a squeeze of fresh lemon over it, but today I decided to change it up a little.
I sauteed the broccolini for just a few minutes, added lemon juice as usual but this time sprinkled in some red pepper flakes to make it spicy.
So if you like the tangy flavor of lemon, a little spicy kick and broccolini (or broccoli), you will love this.
And, it was ready in only a matter of minutes!
Want more healthy side dish recipes?  Check out Roasted Smashed Potatoes with Creamy Habanero Dressing, Rosemary and Garlic Sweet Potato Medallions, Clean Eating Zucchini Boats with Creamy Garlic Sauce or my Clean Eating eCookbook with an entire chapter of 20 healthy, clean eating snack and side dish recipes you will love!
5 Fast Facts About Broccoli:*
contains powerful anti-oxidants
high in beta-carotene
contains more calcium than dairy
detoxifier that removes free radicals
helps to regulate blood sugar and blood pressure
5 Fast Facts About Olive Oil:*
lowers blood cholesterol levels
rich in anti-oxidants
improves bone mineralization and calcification
excellent protection from heart attack and stroke
contains anti-inflammatory benefits
5 Fast Facts About Lemons:*
extremely alkaline
blood purifier
excellent for detoxification
balances blood sugar levels
contains powerful anti-bacterial properties
5 Fast Facts About Himalayan Pink Salt:*
contains 84 minerals
unrefined, unprocessed, raw
promotes stable pH balance in cells
controls water levels in the body
aids digestion and facilitates better nutrient absorption
5 Fast Facts About Sesame Seeds:*
high in calcium at 35% RDA
excellent anti-oxidant
lowers cholesterol
reduces inflammation
high in phytosterol
*These statements have not been evaluated by Food and Drug Administration.  This information is not intended to diagnose, treat, cure or prevent any disease.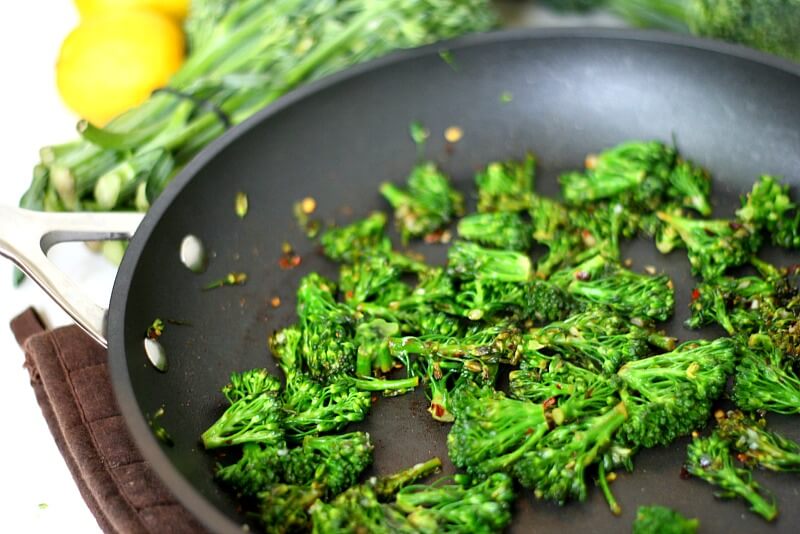 Where to Buy:  If you have trouble finding any of the ingredients to make this recipe, you can order online from Amazon and have them delivered straight to your door:
Tip #1:  It is pretty spicy with 1/2 teaspoon of red pepper flakes…adjust to your preference.
Tip #2:  This recipe will make approximately 1 – 2 servings…just double or triple the servings if you need more.
Tip #3:  I've made this with both broccolini and regular broccoli and both worked fine so you can use whichever you have or prefer.
Spicy Lemon Sauteed Broccolini (Vegan, Gluten-Free, Paleo-Friendly)
Print recipe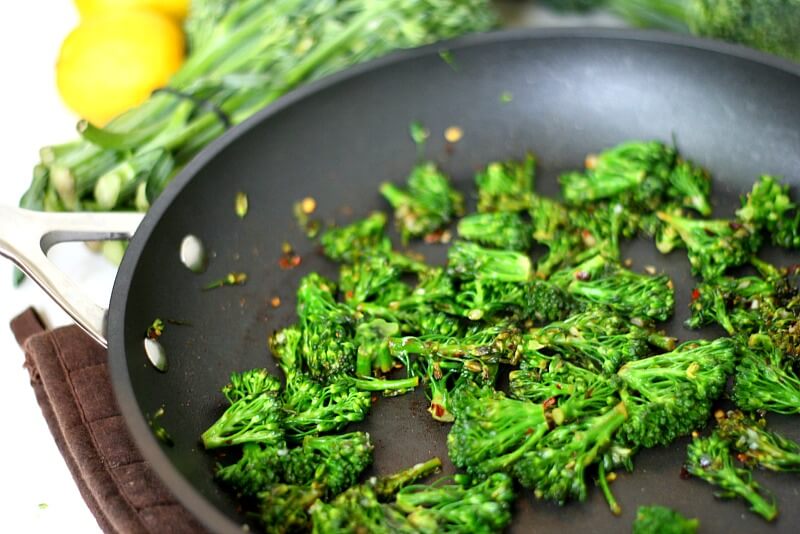 Ingredients
2 cups organic broccolini
2 tablespoons organic lemon juice (freshly squeezed)
2 cloves organic garlic (freshly crushed)
1 teaspoon organic extra virgin olive oil
1/4 teaspoon Himalayan pink salt
1/4 - 1/2 teaspoon red pepper flakes
Directions
Step 1
Cut the stems off the broccolini.

Add the broccolini and all other ingredients to a skillet and mix together.

Lightly sautee' on medium-high heat for approximately 2 - 3 minutes, or just enough to warm it up.

Optional: garnish with sesame seeds or nutritional yeast.

Enjoy!
Note
This recipe will make approximately 1 - 2 servings.

The recipe and photographs for "Spicy Lemon Sauteed Broccolini" by Karielyn Tillman of The Healthy Family and Home are licensed under a Creative Commons Attribution-NonCommercial 4.0 International License and cannot be used without my written permission.
Affiliate Disclosure: This post contains affiliate links. This means that if you were to make a purchase through one of these links, "The Healthy Family and Home" website would receive a small commission.
Amazon Disclosure: "The Healthy Family and Home" website is a participant in the Amazon Services, LLC Associates Program, an affiliate advertising program designed to provide a means for sites to earn advertising fees by advertising and linking to Amazon.com.