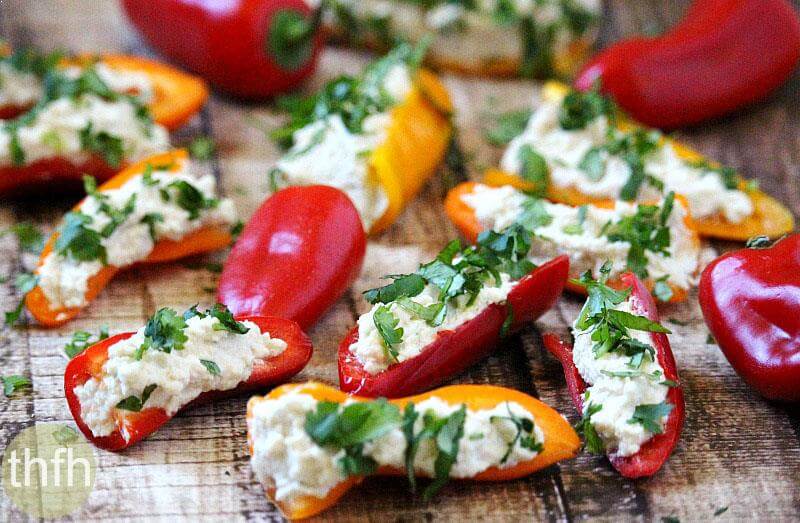 Stuffed Mini Peppers with Vegan Garlic Cashew Spread
Here is the recipe I promised you last week...Stuffed Mini Peppers with Vegan Garlic Cashew Spread that I made with my Vegan Garlic Cashew Spread recipe.
I received two bags of these beautiful yellow, orange and red organic mini peppers in my delivery from Farmbox Direct (they deliver organic fruits and veggies to your door) and I wasn't really sure what I wanted to make with them.
Then I remembered the traditional "stuffed mini pepper" recipes that usually have a cream cheese filling and decided to make a vegan version of that.
Normally, this is something my two boys would never eat, but I was surprised to find 90% of them were eaten by my youngest son so that officially makes them kid-approved!
These would be great to make for an appetizer for a party or get together and they are ready in less than 15 minutes, including assembly, using a Vitamix to prepare the filling.
They are made with only 6 clean, whole food ingredients and they're organic, raw, vegan, dairy-free, soy-free, no-cook and paleo-friendly.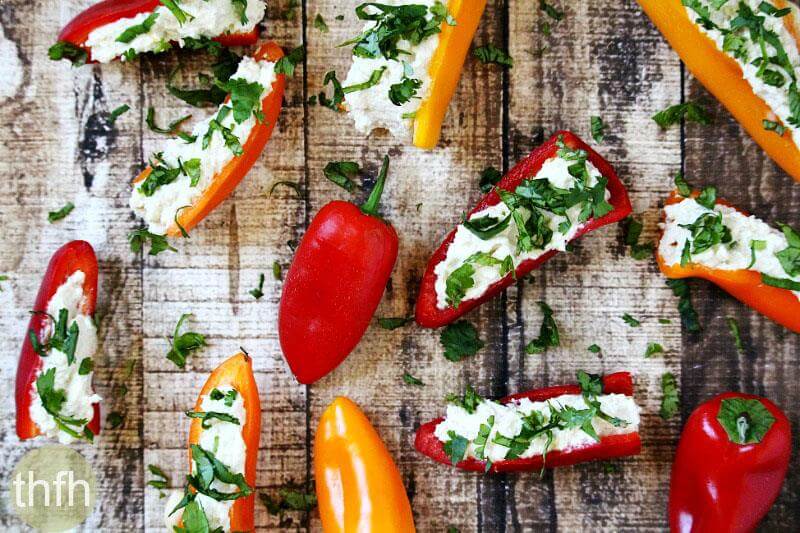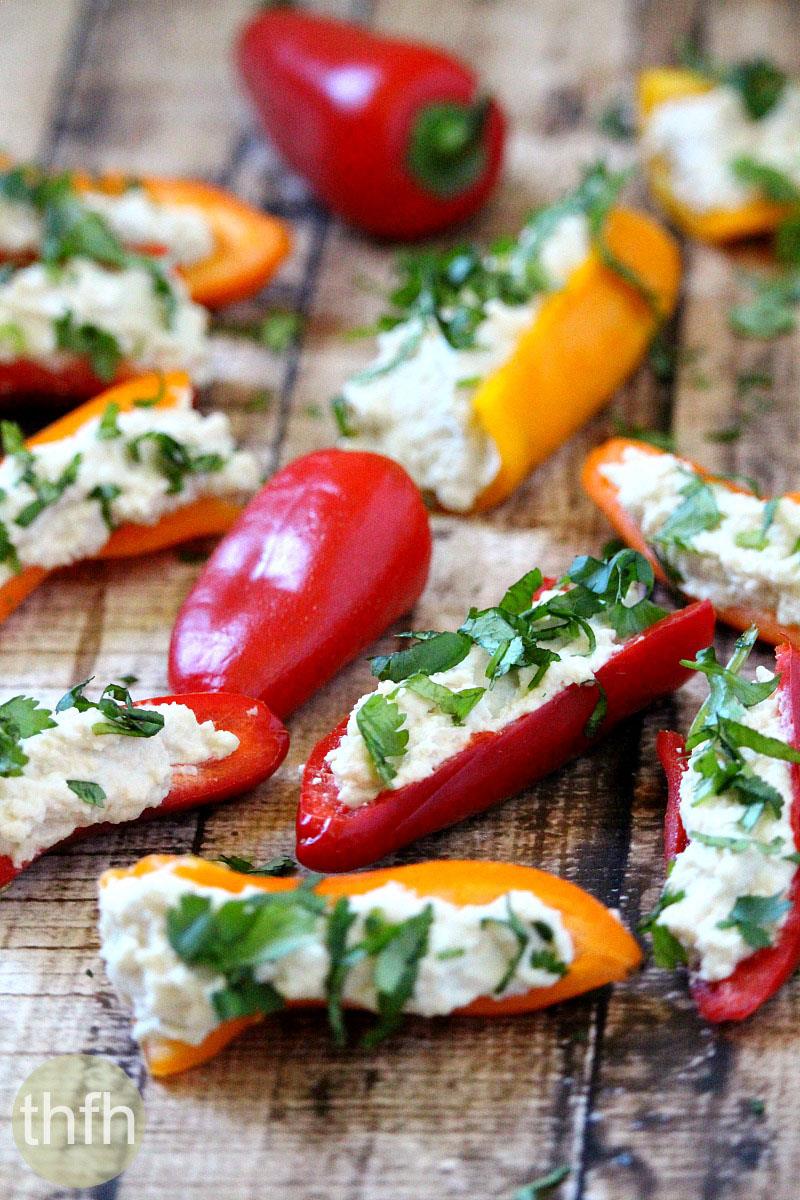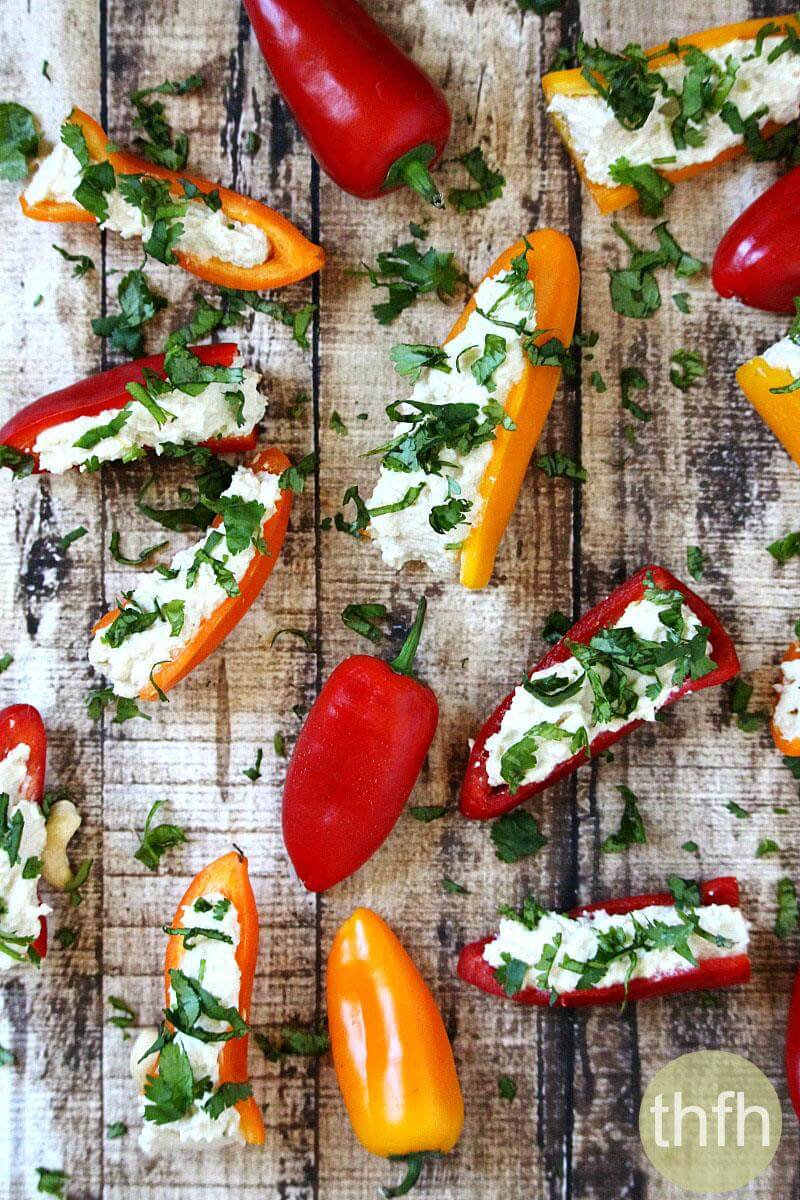 Want More Healthy Plant-Based Snack Recipes?
Check out these: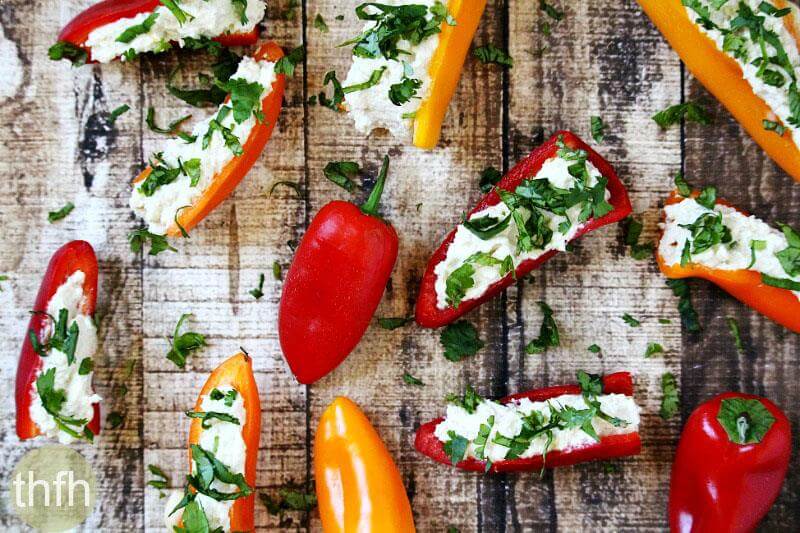 Print
Gluten-Free Vegan Stuffed Mini Peppers with Vegan Garlic Cashew Spread
Yield 12 - 16 pieces
Raw / Vegan / Gluten-Free / Dairy-Free / Soy-Free / No-Cook / Paleo-Friendly / Medical Medium
Ingredients
6 - 8 organic mini peppers
For the filling:
1 cup organic raw cashews
2 cloves organic garlic 
1/4 cup organic lemon juice 
1 teaspoon organic apple cider vinegar
1/4 teaspoon Himalayan pink salt
Instructions
Prepare the peppers:
Cut the top end off the mini peppers, then cut them in half long-wise.  Set aside.
Prepare the filling:
Optional: Soak the cashews in filtered/purified water for 15-30 minutes, then rinse and drain. This will make them soft and the filling extra smooth.
Add all ingredients for the filling to a Vitamix and blend until everything is well combined, but still thick, taking care not to over blend it into a liquid consistency. Adjust seasonings to your preference.
Assembly:
Take a spoonful of the filling and fill the inside of each pepper.
Optional: Garnish with fresh chopped cilantro or parsley.
Store in an air-tight BPA-free container.
Enjoy!
Notes
*Medical Medium. Omit the apple cider vinegar to make this recipe 100% Medical Medium compliant.
Courses Snacks
Cuisine American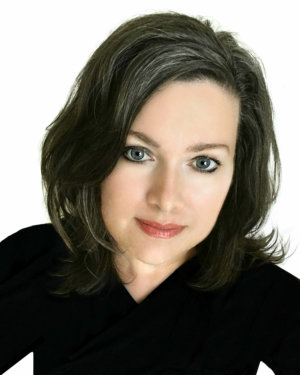 Hi, I'm Karielyn! I'm the published cookbook author of CLEAN DESSERTS and content creator of The Healthy Family and Home website since 2012. I specialize in creating easy, healthy plant-based recipes that are gluten-free + vegan and made with clean, real food ingredients that you can feel good about eating.