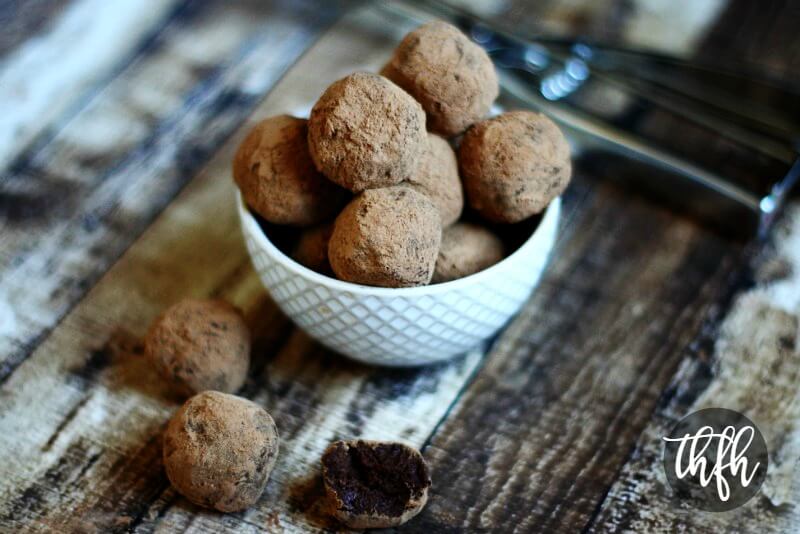 These Gluten-Free Vegan Chocolate Fudge Truffles were inspired by their close truffle relative, my Clean Eating Strawberry Fudge Truffles that I made a couple of weeks ago.
I used the same creamy base of organic avocados but for these, I sweetened them with organic medjool dates to keep them 100% raw.
They are soft, fudgy and not overly sweet, which how I like them.
I made them in my Vitamix and they were mixed up and ready to firm up in about 5 mintues.
Traditional store-bought truffles contain many unhealthy ingredients like these:
S.A.D. (Standard American Diet) Lindt's Dark Chocolate Truffles Ingredients:
Ingredients:  Dark Sweet Chocolate [Sugar, Chocolate, Cocoa Butter, Skim Milk, Milk fat, Soya Lecithin (Emulsifier), Vanillin (Artificial Flavoring)], Vegetable Oil (Coconut,Palm Kernel), Sugar, Chocolate, Cocoa Butter, Milk, Soya Lecithin (Emulsifier), Barley Malt Powder, Artificial Flavors. (source)
FoodFacts.com Rating:  "F"
They contain GMO ingredients (soy lecithin) and GMO dairy (skim milk, milk fat, milk), refined white sugar, unhealthy oils and artificial flavors.
Even homemade truffle recipes contain dairy and refined sugar.
This healthier version is made with real, whole food ingredients and it's organic, raw, vegan, gluten-free, dairy-free, soy-free, paleo-friendly and contains no refined sugar.
Want more healthy truffle and balls recipes?  Check out Clean Eating Vegan Raspberry Truffles, Pecan Cranberry Truffles, Cacao Nib Superfood Truffles, or my Clean Eating Cookbook with an entire chapter of 20 healthy, clean eating truffle and ball recipes just like this one that you will love!
5 Fast Facts About Avocados:*
excellent source of vitamin E
contains 25 essential nutrients
contains 2 – 3 times the potassium as one banana
has anti-inflammatory properties
can help lower cholesterol levels
5 Fast Facts About Raw Cacao Powder:*
super high in anti-oxidants
promotes cardiovascular health
contains essential fats
can help to decrease blood pressure
contains over 300 compounds including protein, calcium, copper, zinc and iron
5 Fast Facts About Coconut Oil:*
super high in lauric acid
rich in antioxidants
contains natural microbial and anti-bacterial agents
helps to improve metabolism
improves cholesterol levels
5 Fast Facts About Almonds (Almond Milk):*
helps to regulate cholesterol and blood pressure
energy booster
loaded with calcium and fiber
1/4 cup contains 8 grams of vegan protein
high in anti-oxidants
*These statements have not been evaluated by the Food and Drug Administration.  This information is not intended to diagnose, treat, cure or prevent any disease.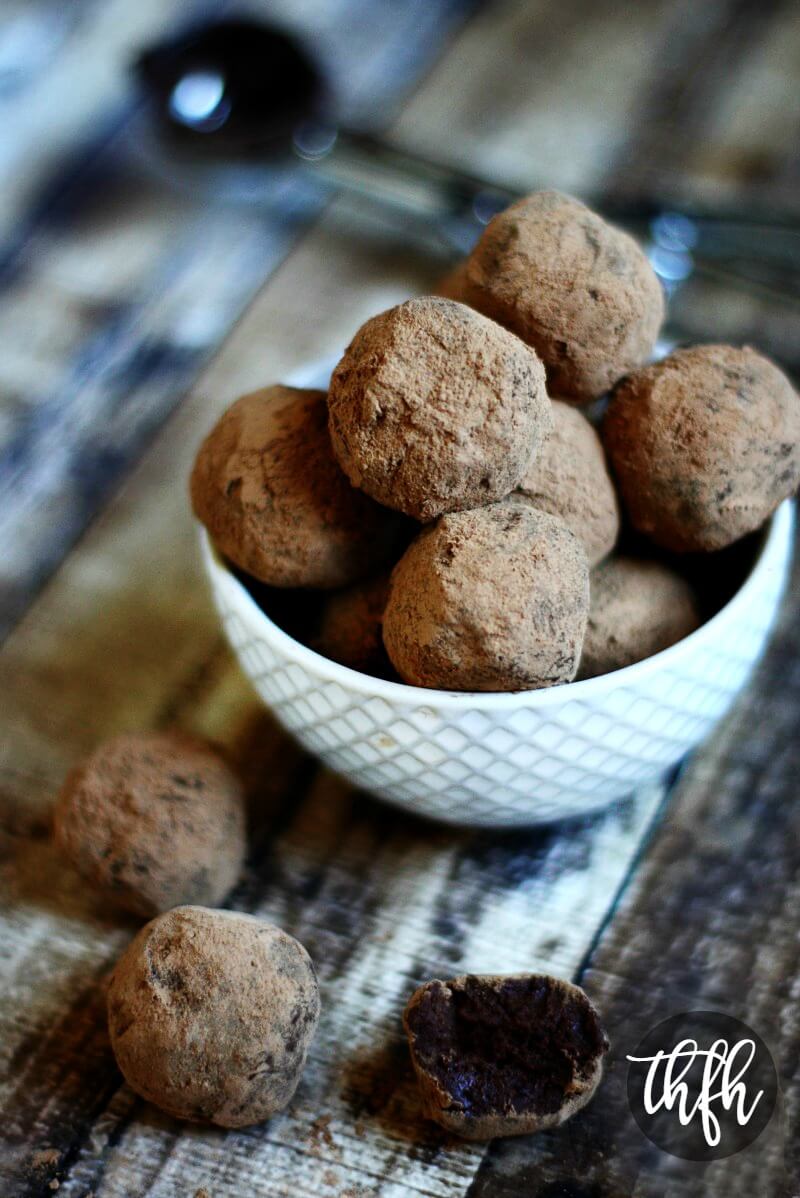 homemade almond milk made with a Vitamix.  For more recipes you can make with a Vitamix, visit my Vitamix Recipe Index page for more inspiration.  I like to make my own homemade almond milk because I have control over the ingredients (organic, raw, unpasteurized almonds) and there are no added ingredients to it like with boxed almond milk.
Vegan Chocolate Fudge Truffles (Raw, Vegan, Gluten-Free, Dairy-Free, Soy-Free, Paleo-Friendly, No Refined Sugar)
Print recipe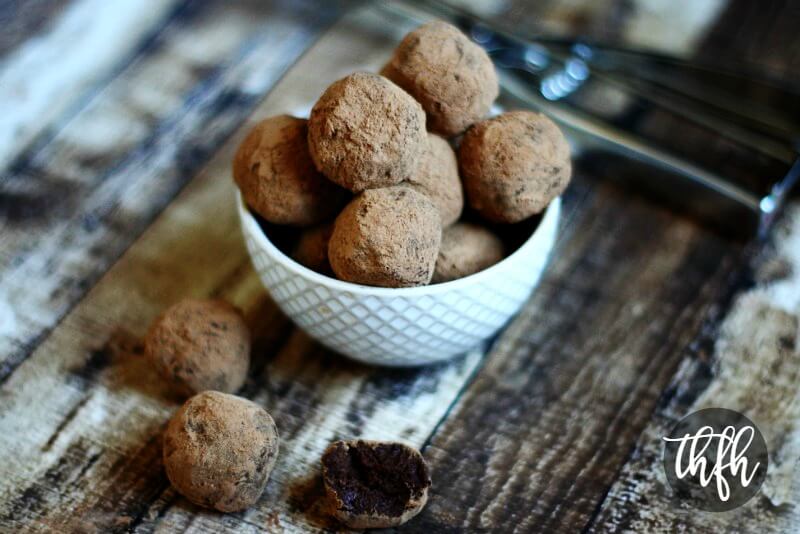 | | |
| --- | --- |
| Serves | 26 |
| Prep time | 10 minutes |
| Cook time | 2 hours |
| Total time | 2 hours, 10 minutes |
| www.thehealthyfamilyandhome.com | The Healthy Family and Home |
Ingredients
For the truffle
2 organic avocados
8 organic medjool dates (pitted)
1/4 cup organic raw cacao powder
3 tablespoons homemade almond milk
2 tablespoons organic coconut oil
1 pinch Himalayan pink salt
For the coating
1/4 cup organic raw cacao powder
Directions
Step 1
Add all ingredients to a Vitamix and blend on high speed until it is creamy and smooth. You may have to stop and scrap the sides a couple of times. Add an extra tablespoon of almond milk, if needed, if it's too thick.

Transfer the mixture to an air-tight BPA-free container and put in the freezer for approximately 1 - 2 hours, or until it becomes firm enough to hold a ball shape.

Remove the mixture from the freezer and using a small cookie scoop, scoop out the mixture and place on a baking pan lined with parchment paper or a Silpat mat. Use your fingertips to shape them into a rounder and neat ball shape.

Take each truffle and gently drop into a small bowl of raw cacao powder, gently rolling around to make sure it's completely covered, and return to the baking pan.

Put the baking pan back in the freezer for approximately 30 - 60 minutes to firm up again.

Store in the freezer until ready to serve because they will get soft if left out at room temperature.

Enjoy!
Note
This recipe will make approximately (26) small truffles.

The recipe and photographs for "Vegan Chocolate Fudge Truffles" by Karielyn Tillman of The Healthy Family and Home are licensed under a Creative Commons Attribution Non-Commercial 4.0 International License and cannot be used without my written permission.
Affiliate Disclosure: This post contains affiliate links. This means that if you were to make a purchase through one of these links, "The Healthy Family and Home" website would receive a small commission.