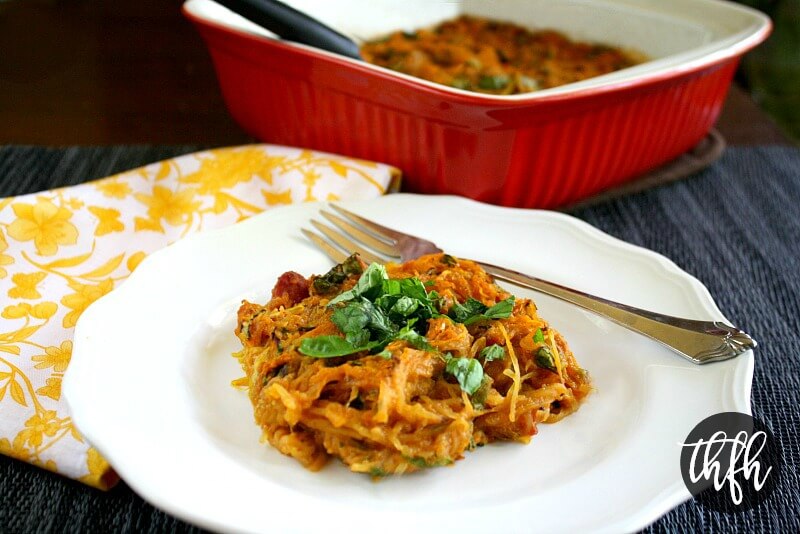 It's been a long, long time since I've had pasta, which I ate a lot of when my diet consisted of high-carbohydrate and high-processed foods.
And since I've been trying to eat wheat/grain/gluten-free, I honestly thought I'd never be able to eat pasta again.
Until now.
I was so excited when I came across this recipe for an Italian-Style Spaghetti Squash Bake from my blogger friend Lexi, at Lexi's Clean Kitchen.
I liked the ingredient list and already had everything on hand, except for the spaghetti squash which I picked up on my next grocery trip.
And, I made a few changes to "vegan-ize" it and came up with this Vegan Italian Spaghetti Squash Bake version.
This is a really simple meal (or side dish) to make once you have your squash baked and after that's done, it takes less than 10 minutes to get it in the oven.
It's made with clean ingredients and is vegan, gluten-free, dairy-free, soy-free, nut-free and paleo-friendly.
Want more healthy meal and entree recipes?  Check out Spaghetti Squash with Creamy Lemon Garlic Sauce, Spaghetti Squash with Basil and Creamy Cauliflower Alfredo Sauce, Spaghetti Squash with Creamy Vegan Cilantro and Lime Tahini Dressing or my Clean Eating Cookbook with an entire chapter of 20 healthy, clean eating meal and entree recipes just like this one that you will love!

5 Fast Facts About Spaghetti Squash:*
excellent anti-oxidant

contains anti-inflammatory agents
1 cup contains 214.1% DV of vitamin A
1 cup contains 22.9% DV of fiber
1 cup contains 19% DV of magnesium
5 Fast Facts About Tomatoes* (Pasta Sauce):
contains the cancer fighting agent lycopenes 

high in beta-carotene
anti-oxidant
high in vitamin A & K
high in chromium which helps control blood sugar
5 Fast Facts About Spinach:*
contains anti-inflammatory properties

high in anti-oxidants
super high in vitamin A & K
can help improve cardiovascular health
good source of vegan calcium
5 Fast Facts About Garlic:*
regulates blood sugar levels

lowers high blood pressure
anti-bacterial and anti-fungal properties
helps to lower cholesterol levels
anti-viral
5 Fast Facts About Cayenne Pepper:*
increases metabolism

improves high blood pressure
has anti-fungal properties
anti-inflammatory
circulatory stimulant which aids in detoxification
5 Fast Facts About Nutritional Yeast:*
vegan source of vitamin B12

a complete protein that includes 18 amino acids
boosts immune system
excellent anti-oxidant
contains 18 minerals
5 Fast Facts About Himalayan Pink Salt:*
contains 84 minerals
unrefined, unprocessed, raw
promotes stable pH balance in cells
controls water levels in the body
aids digestion and better nutrient absorption
*These statements have not been evaluated by the Food and Drug Administration.  This information is not intended to diagnose, treat, cure or prevent any disease.
Tip #1:  You could use homemade or ready-made pasta sauce to make this.  Homemade pasta sauce is one thing I just haven't tackled yet.  I used the 365 Brand Organic Tomato Basil Pasta Sauce which blended in really well because it had little chunks of diced tomatoes and a hint of basil which complimented the fresh basil garnish on top.
The ingredient list:  Organic Tomato Puree, Organic Diced Tomatoes, Organic Basil, Organic Expeller Pressed Soybean Oil, Salt, Organic Chopped Onions, Organic Garlic Powder, Organic Oregeno, Organic Chopped Garlic.
Even though it's an organic pasta sauce, the only thing I'm not happy about on the ingredient list is the soybean oil and the salt.   Be on the lookout for a homemade pasta sauce recipe…I can see one coming in the future!
Vegan Italian Spaghetti Squash Bake (Vegan, Gluten-Free, Dairy-Free, Egg-Free, Paleo-Friendly)
Print recipe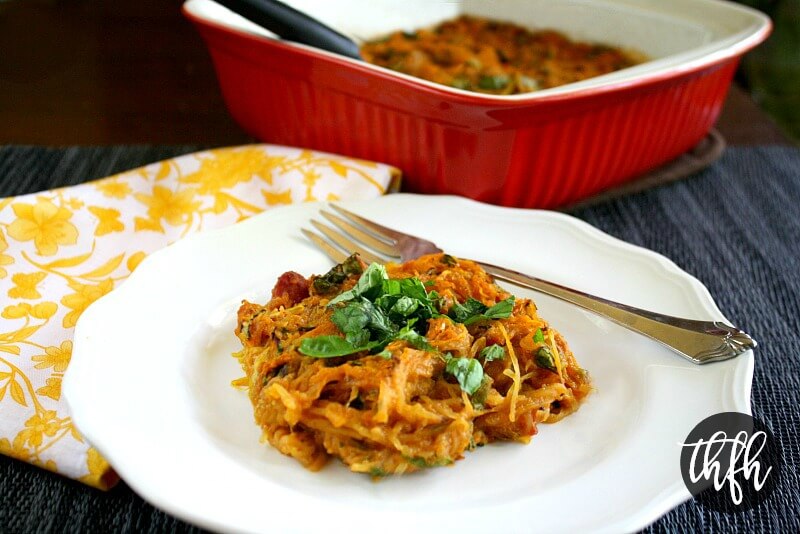 Ingredients
1 organic spaghetti squash
1 teaspoon organic extra-virgin olive oil
1 cup organic pasta sauce
3 cups organic baby spinach (diced in strips)
1 flax egg (1 tablespoon ground flax seed + 3 tablespoons water)
3 cloves organic garlic (freshly crushed)
1/2 cup nutritional yeast
1/2 teaspoon organic ground cayenne pepper
1/4 - 1/2 teaspoon Himalayan pink salt
For Garnish (Optional)
organic basil leaves (fresh, diced in strips)
Directions
Prepare the spaghetti squash
Step 1
Cut the spaghetti squash in half.

Scrape out all the seeds from the inside.

Rub olive oil on the inside of the spaghetti squash.

Bake face down at 350 degrees for approximately 45 - 50 minutes.

Use a fork to scrape the inside of the squash out to use as "pasta".
Step 2
Prepare the flax egg (1 tablespoon of ground flax seeds + 3 tablespoons of water).

Combine cooked spaghetti squash and all other ingredients (including the flax egg) into a medium sized bowl and stir well.

Put the mixture in an 8 x 8 glass or ceramic dish and bake at 375 for about 10 -15 minutes.

Change oven setting to broil and bake for another 5 minutes or until the top becomes crispy.

Garnish with fresh basil and serve hot from the oven.

Enjoy!
Note
This recipe will make approximately 4 - 6 servings.
Recipe inspired by and adapted from:  https://lexiscleankitchen.com/2013/05/25/italian-style-spaghetti-squash-bake/

The recipe adaptation and photographs for "Vegan Italian Spaghetti Squash Bake" by Karielyn Tillman of The Healthy Family and Home are licensed under a Creative Commons Attribution Non-Commercial 4.0 International License and cannot be used without written permission.
Affiliate Disclosure: This post contains affiliate links. This means that if you were to make a purchase through one of these links, "The Healthy Family and Home" website would receive a small commission.