In my Bolthouse Farms "Green Goodness" Fruit Smoothie Review, I break down the ingredient list from a nutritional and content perspective so you can decide if this product fits into your healthy diet lifestyle.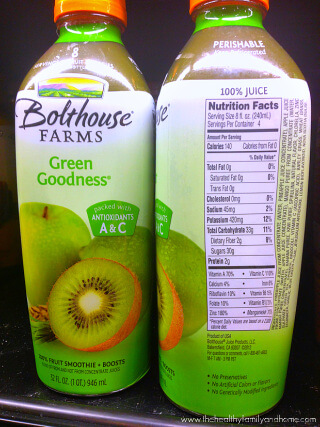 Bolthouse Farms "Green Goodness" Fruit Smoothie Review
As an introduction before you read any further, I would like to say that I am not promoting this beverage or discouraging anyone from buying and consuming Bolthouse Farms "Green Goodness" Fruit smoothies.
This post is simply about my experience with them and sharing what I have learned since I first started buying them.
I used to purchase the Bolthouse Farms Green Goodness Fruit Smoothies for my youngest son.
He would drink them by the glassful and immediately ask for more.
The reason I didn't mind buying the Bolthouse Smoothies was that they were loaded with ingredients he wouldn't regularly get from the other healthy beverages that he drinks throughout the day.
Even though the Bolthouse Farms line has lots of flavors to choose from, my thoughts were that I'd rather get the one that gives me the biggest bang for my buck in terms of nutrition - which is why the only Bolthouse Smoothie I used to buy was the "Green Goodness" - for it's "green" ingredients.
Yes, they have the "Strawberry and Banana Fruit Smoothies" and other similar flavors which would certainly appeal to children and actually look quite delicious.
But if my children are going to drink a store-bought fruit smoothie (a very rare occasion), I would rather them drink one that contains ingredients they wouldn't typically get - like spirulina, chlorella, barley grass, wheatgrass, and blue-green algae.
I can basically make them a strawberry and banana smoothie at home.
---
But this is a "green" drink. Surely it's loaded with lots and lots of "green" ingredients, right?
You may already know this, but ingredients are listed on a nutrition label in the order of their content in the product.
For example, the first ingredient has the most and the last ingredient has the least.
The first five ingredients in this product are: Pineapple Juice from Concentrate, Apple Juice from Concentrate, Mango Juice from Concentrate, Banana Puree and Kiwi Puree.
This would explain the 27 grams of sugar.
The top 5 ingredients in this "Green" Goodness drink are not even "green" - they are sugary fruit juices.
But let's take a look at the amount of the "green" ingredients that it does contain.
A while back, I received some interesting information on 1/23/13 from a reader named Luke (thank you!) who brought to my attention the actual content of the "green" ingredients.
When you see the amounts in "mg", it looks like a lot. But he converted the "mg" amounts to a teaspoon amount and the results were even surprising to me.
I went to this website and confirmed all the figures myself.
I had previously converted them from "mg" to "teaspoons", but the more accurate way to convert them would be from "mg" to "g" which I have updated below.
Spirulina - 5,130 mg equals 5.1300 g
Chlorella - 1,580 mg equals 1.5800 g
Barley Grass - 290 mg equals 0.29000 g
Wheatgrass - 290 mg equals 0.29000 g
Blue-Green Algae - 200 mg equals 0.20000 g
As an example, the daily recommended intakes of the "green" ingredients listed above are:
Spirulina - 3 - 5 grams per day

(source

)
Chlorella - 3 - 4 grams per day
Barley Grass - 1 teaspoon per day
Wheatgrass - 3.5 grams per day
Blue-Green Algae - 1 tablespoon (

source

)
While you may be getting the daily recommended intake of spirulina, the other 4 green ingredients fall short of their daily recommended intake.
You will need to ask yourself:
Does the recommended intake and health benefits of spirulina offset the 27 grams of sugar (or 54 grams if you drink an entire 16-ounce bottle) and pesticides you are drinking with it?
Would you be better off just taking a spirulina supplement and grabbing a piece of organic fruit instead?
Basically, this is a pineapple, apple and mango juice fruit drink. From concentrate. With 27 grams of sugar (or 54 grams if you drink an entire 16-ounce bottle). Full of pesticides.
---
What's wrong with 27 g of sugar...it's from fruit so it's ok, right?
Since this particular drink is marketed as a "green" drink, you wouldn't expect it to have the sugar content that it does. In a fruit beverage maybe, but not a "green" drink.
In all fairness, 27 g of fructose from fruit is definitely better than 27 g of high fructose corn syrup or white refined sugar in a Coke or other soft drink.
But what you have to be careful about though, is the serving size. The 27 g of sugar in this product is for an 8-ounce serving…which isn't very much and probably an unrealistic serving size for most adults.
If you drank two servings, or one 16 ounce bottle of Bolthouse, at one time (which is the same amount in average-sized bottled water) that would be 54 g of sugar.
(The newer bottles (12/2013) show 30 grams of sugar and the older bottles (5/2012) showed 27 grams of sugar. Since there are no other ingredients that would increase the sugar content, I have to wonder if they have increased the fruit juice content and lowered the "green" ingredients?)
---
Do Bolthouse Farms "Green Goodness" Smoothies Contain GMO's?
Bolthouse used to have this as an FAQ on their website but have since removed it. They now have a statement on their label that states: "No Genetically Modified Ingredients".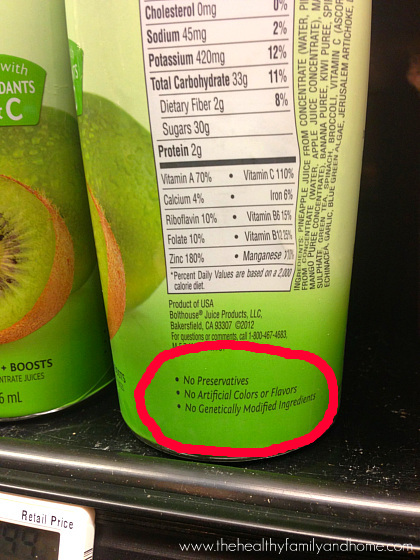 Finding and buying non-GMO foods is very important and it's very good news to see "No Genetically Modified Ingredients" on the new products labels (which means none of the ingredients were genetically modified), but it doesn't have anything to do with whether or not pesticides were used on those ingredients.
Just how important is it to worry about pesticides or if a product is organic or not?
Here is a list of the 3 main ingredients in the "Green Goodness Fruit Smoothie" and the potential toxins from pesticides:
Pineapples - 6 potential pesticide residues
Apples - 42 potential pesticide residues
Bananas - 12 potential pesticide residues
---
I Want Organic and I Support GMO Labeling. What Are My Options?
There are several things you can do if you want a healthy organic smoothie and don't want to support companies who are trying to prevent you from knowing which foods you buy contain GMO's.
1. Make your own smoothies! Yes, a Vitamix is unparalleled when it comes to making smoothies but if you can't afford a Vitamix a basic blender will serve you just fine. By making your own smoothies, you will have control over the costs, ingredients, fruit and vegetable combinations and best of all, organic produce. Some of my favorite green smoothies are my Peachy Green Smoothie, Green Power Smoothie Kale and Banana Green Smoothie.
2. Make your own fresh juices! It's really simple too and you have 100% control over the ingredients that are used. There are many juicers out there to choose from in different price ranges, but the one I use is an Omega J8005, which I've had for almost 10 years. There's a juicer to fit everyone's budget.
3. Buy an organic brand! If you like Bolthouse Smoothies for their "on-the-go" convenience, consider buying other brands that are certified organic and from companies that do not oppose GMO labeling. Below is a list of some I have personally tried and enjoy. Some are already bottled up like a Bolthouse Smoothie and you just grab one and take it with you. A couple are superfood powders you can use to make your own green smoothie, even in individual packs so you can just add it to a bottle of water.
There is no reason to purchase a non-organic smoothie loaded with pesticides.
Here are some ORGANIC and non-GMO healthy juice alternatives:
Cell-nique Organic Supergreen Pomegranate Drink
"Amazing Grass" Green Superfood Drink Powders
Sambazon Acai with Blueberry +Pomegranate Superfood Drink Blend
SueroViv Green Probiotic Cultured Whey Beverage
"Raaw Foods" Passion Fruit Wheatgrass Juice
Vibrant Health "Green Vibrance" Concentrated Superfoods
ALOHA Green Superfoods Drink
itWorks! "Greens On The Go"
---
But I Don't Care About Organic Foods and I Don't Care About GMO Labeling...
If you are not concerned with organic foods or financially supporting companies that oppose GMO labeling, I have listed the product information for the Bolthouse Green Goodness Fruit Smoothie below. I had this information on hand because I personally USED to buy them.
Even though the big 52 ounce bottles are rather pricey, I've searched on eBay in the past for "Bolthouse Farms Coupons" and have found $1.00 off coupons in 10-20 lots. If this is something you think you would buy a lot of, then you could try to find some coupons and save some money. I used to buy mine at Whole Foods only because I don't shop at Walmart anymore, but back in May 2012, Walmart carried this brand and they are a little cheaper by maybe a dollar or so. So if you shop at Walmart, you might do better getting your Bolthouse Farm Smoothies there. And, I've even seen them at Target. For me, the savings were just not worth the extra trip to Walmart just to buy that one item.
Benefits:
Anti-Oxidant Rich
13 Servings of Fruit and Veggies per bottle
4 1/2 Apples (from concentrate) per bottle
3/4 Pineapple (from concentrate) per bottle
1 1/2 Mangos (from concentrate) per bottle
1 1/2 Bananas (from puree) per bottle
1 1/2 Kiwis (from puree) per bottle
Drawbacks:
Not organic
All the "green" ingredients do not meet daily requirement intake
Pricey for not even being organic (look for coupons on eBay or purchase from Walmart, Target, etc.)
High in sugar - 27 grams in (1) 8-ounce serving
Flash Pasteurized (some loss of nutrients from the heating process)
Can't be purchased online
The plastic bottle isn't BPA-free
Bolthouse Farms is part of Campbell's Soup Family (important if you oppose GMO's and support GMO labeling)
Nutritional Information (from old product label dated 5/31/12):
This is for one (8) ounce serving:
Calories: 140
Saturated Fat: 0 g
Trans Fat: 0 g
Cholesterol: 0 mg
Sodium: 25 mg
Potassium: 470 mg
Total Carbohydrates: 33 g
Dietary Fiber: 1 g
Sugars: 27 g
Protein: 2 g
Vitamin A: 120%
Vitamin C: 105%
Calcium: 2%
Iron: 15%
Folic Acid: 30%
Riboflavin: 7%
Vitamin B6: 15%
Vitamin B12: 30%
Manganese: 150%
Zinc: 120%
Other Nutrients (from old product label dated 5/31/12):
Spirulina: 5130 mg - (or 5.1300 g)
Chlorella: 1580 mg - (or 1.5800 g)
Green Tea: 405 mg - (or 0.40500 g)
Broccoli: 390 mg - (or 0.39000 g)
Spinach: 390 mg - (or 0.39000 g)
Barley Grass: 290 mg - (or 0.29000 g)
Wheat Grass: 290 mg - (or 0.29000 g)
Blue-Green Algae: 200 mg - (or 0.20000 g)
Echinacea: 200 mg - (or 0.20000 g)
Garlic: 200 mg - (or 0.20000 g)
Jerusalem Artichoke: 17 mg - (or 0.017000 g)
Lemon Bioflavonoids: 17 mg - (or 0.017000 g)
Nova Scotia Dulce: a hint
Zinc: 115 mg
Manganese: 19 mg
Iron: 17 mg
Folic Acid: 765 mcg
Vitamin A: 23 mg
Vitamin B6: 190 mcg
Vitamin B12: 11 mcg
Vitamin C: 400 mg
Ingredients (from old product label dated 5/31/12): Pineapple Juice From Concentrate (Water, Pineapple Juice Concentrate), Apple Juice From Concentrate (Water, Apple Juice Concentrate), Mango Puree From Concentrate (Water, Mango Puree Concentrate), Banana Puree, Kiwi Juice, Spirulina, Natural Flavor, Chlorella, Zinc Monohydrate, Green Tea, Spinach, Broccoli, Ascorbic Acid, Barley Grass, Wheat Grass, Echinacea, Garlic, Blue-Green Algae, Jerusalem Artichoke, Lemon Bioflavonoids, Nova Scotia Dulce.
Note: New, updated labeling, nutritional information and ingredient list from a current bottle dated 12/10/12 can be found in the photos shown above. They removed all the detailed information about the "green" ingredients on the new labels.
My takeaway is this: There are better things you could choose to drink, and there are worse things you could choose to drink. Sometimes you may be in a situation where you have to choose the "lesser of two evils". We are all on a different path. Everyone is different and everyone has different priorities and concerns about the foods they buy. You will need to decide for yourself what is important to you.
I hope the information I have provided, as well as other research you find on the internet, will help you in your food choices and purchases 🙂
---
Affiliate Disclosure: This post contains affiliate links. This means that if you were to make a purchase through one of these links, "The Healthy Family and Home" website would receive a small commission at no additional cost to you.
Amazon Disclosure: "The Healthy Family and Home" website is a participant in the Amazon Services, LLC Associates Program, an affiliate advertising program designed to provide a means for sites to earn advertising fees by advertising and linking to Amazon.com.
Thank you for your support of this website!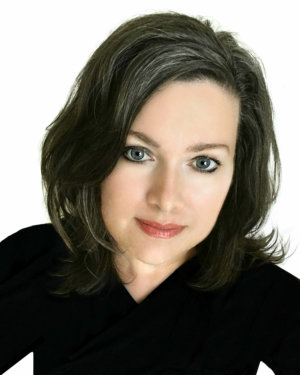 Hi, I'm Karielyn! I'm the published cookbook author of CLEAN DESSERTS and content creator of The Healthy Family and Home™ website since 2012. I specialize in creating easy, healthy plant-based and Medical Medium® compliant recipes that are gluten-free + vegan and made with clean, real food ingredients that you can feel good about eating.