Don't let the innocent appearance of this Creamy Habanero Dressing  fool you.
It just might be the one of the hottest of all the dressing recipes I have ever made, which is a good thing if you like "hot" foods.
I have used this dressing on everything from kale salad, over steamed broccoli, mixed with quinoa, a dip for veggies and even made Habanero Kale Chips with it.
You can make it in less than 5 minutes with a Vitamix and only 5 clean ingredients.
It's also raw, vegan, gluten-free, dairy-free and paleo-friendly too!
Want more healthy dressing recipes?  Check out Healthy Honey Mustard Dressing, Clean Eating Watermelon Vinaigrette, Creamy Jalapeno Dressing or my Clean Eating eCookbook with an entire chapter of 20 healthy, clean eating recipes just like this one that you will love!

5 Fast Facts About Habanero Peppers:*
provides anti-inflammatory benefits
helps decrease cancer risk
contains capsaicin to help prevent obesity
helps to lower cholesterol and blood pressure
excellent anti-oxidant
5 Fast Facts About Cashews:*
packed with dietary fiber
rich in "heart friendly" mono-saturated fatty acids
rich source of minerals
high in magnesium and copper
excellent source of antioxidants
5 Fast Facts About Lemons (Lemon Juice):*
extremely alkaline
blood purifier
excellent for detoxification
balances blood sugar levels
contains powerful anti-bacterial properties
5 Fast Facts About Himalayan Pink Salt:
contains 84 minerals
unrefined, unprocessed, raw
promotes stable pH balance in cells
controls water levels in the body
aids digestion and facilitates better nutrient absorption
*These statements have not been evaluated by Food and Drug Administration.  This information is not intended to diagnose, treat, cure or prevent any disease.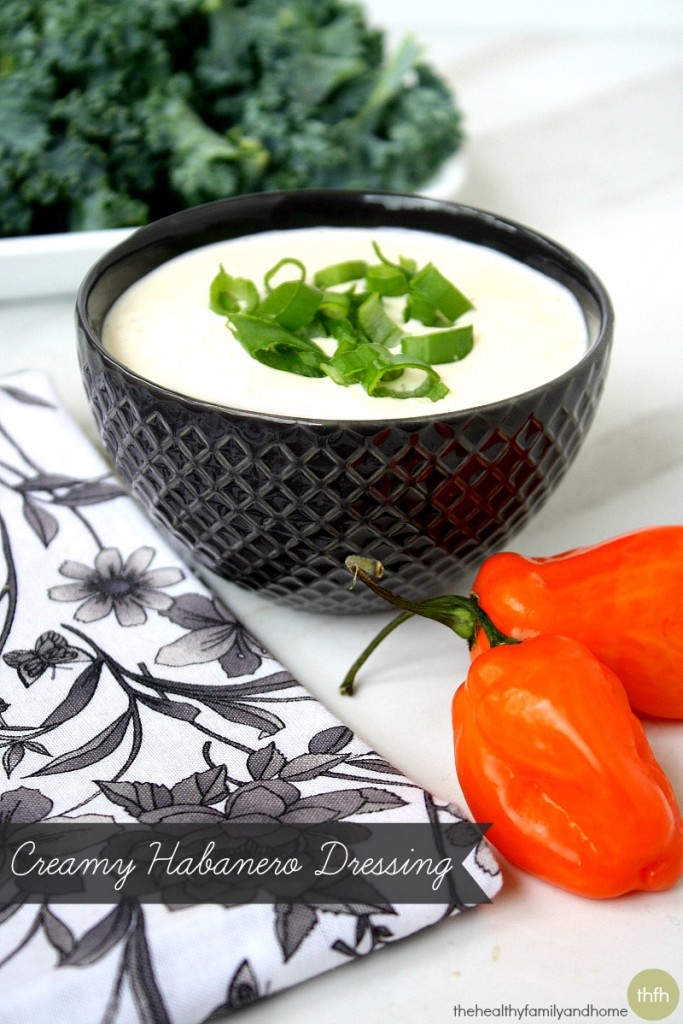 Tip #1:  Important:  If you don't like hot foods, this may not be a good recipe to try.  If you have never eaten a habanero pepper, they are ~very~ hot and I would only use one pepper to start out with.  If you haven eaten habanero peppers before, use either 1 or 2 depending on your preference (I use two when I make it).
Tip #2:  I like to store my homemade dressings in an air-tight glass container.
Tip #3:  This recipe will make 1 -2 servings.
Creamy Habanero Dressing (Raw, Vegan, Gluten-Free, Dairy-Free, Paleo-Friendly)
Print recipe
Ingredients
1 1/4 cup organic cashews
1 1/4 cup purified or distilled water
1/4 cup organic lemon juice (fresh squeezed)
1 - 2 habanero peppers
1/2 - 1 teaspoon Himalayan pink salt
Directions
Step 1
Cut the stem off the habanero peppers and put all ingredients into a Vitamix and blend until creamy and smooth.

Store in an air-tight glass container in the refrigerator.

Enjoy!
Note
This recipe will make approximately (2) servings.

The recipe and photographs for "Creamy Habanero Dressing" by The Healthy Family and Home are licensed under a Creative Commons Attribution-NonCommercial 4.0 International License and cannot be used without my written permission.
Affiliate Disclosure: This post contains affiliate links. This means that if you were to make a purchase through one of these links, "The Healthy Family and Home" website would receive a small commission.
Amazon Disclosure: "The Healthy Family and Home" website is a participant in the Amazon Services, LLC Associates Program, an affiliate advertising program designed to provide a means for sites to earn advertising fees by advertising and linking to Amazon.com.