This Superfood Fruit Nut and Seed Snack Mix is probably one of the easiest and healthiest snacks to throw together.
I often send a jar of plain cashews or almonds to work with my husband to snack on during the day.
Since my cabinets are full of other goodies like superfoods, nuts, seeds and dried fruit, I decided to upgrade his jar this time and make this addictive power packed snack.
What's so great about this is you can change it up and add whatever you have on hand, or prefer.
It's perfect for traveling, taking to work, or just having on hand when healthy snack options aren't available.
And, I have a feeling his jar will come back to be refilled much sooner than it was before!
Want more healthy snack recipes?  Check out Cheezy Kale Chips, Roasted Cauliflower with Chipotle and Lime, Vegan Oven Baked Zucchini Chips or my Clean Eating eCookbook with an entire chapter of 20 healthy, clean eating snack and side recipes you will love!
5 Fast Facts About Almonds:*
helps to regulate cholesterol and blood pressure
energy booster
loaded with calcium and fiber
1/4 cup contains 8 grams of vegan protein
high in anti-oxidants
5 Fast Facts About Cashews:*
packed with dietary fiber
rich in "heart friendly" mono-saturated fatty acids
rich source of minerals
high in magnesium and copper
excellent source of antioxidants
5 Fast Facts About Sunflower Seeds:*
rich source of vitamin E
finest source of B complex group vitamins
incredible source of folic acid
rich in magnesium
provides anti-inflammatory benefits
5 Fast Facts About Goji Berries:*
high concentration of anti-oxidants
contains 21 trace minerals
contains 18 amino acids
high in essential fatty acids
contains 13% more protein than whole wheat
5 Fast Facts About Cacao Nibs:*
excellent source of anti-oxidants
contains one of the highest dietary sources of magnesium
one ounce has 9 g of fiber
one ounce contains 4 g of raw vegan protein
one ounce contains 6% DV of iron
5 Fast Facts About Dried Mulberries:*
1 ounce contains 12% DV of fiber
1 ounce contains 140% DV of vitamin C
contains the anti-aging nutrient "resveratrol"
1 ounce contains 20% DV of iron
good source of vegan calcium at 8% dv
5 Fast Facts About Dried Blueberries:*
packed with vitamin C at 25% RDA
excellent source of dietary fiber
high in anti-oxidants
help to boost immunity
can enhance brain health and improve memory
5 Fast Facts About Coconut Flakes:*
2 tablespoons contain 4.6 g RDA of dietary fiber
healthy source of medium-chain fatty acids
can help to decrease cholesterol
high in lauric acid
excellent source of manganese at 60% RDA and iron at 11% RDA
*These statements have not been evaluated by Food and Drug Administration.  This information is not intended to diagnose, treat, cure or prevent any disease.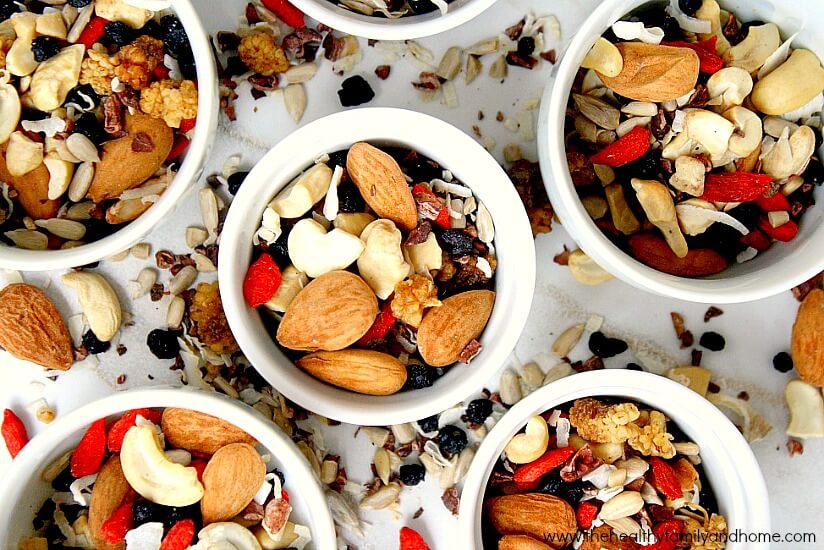 Where to Buy:  If you have any trouble finding the ingredients to make this recipe, you can order online from Amazon and have them delivered straight to your door!
Tip #1:  I used a variety of nuts, seeds and dried fruits that I had on hand…feel free to substitute with your own favorites.
Tip #2:  This isn't a very sweet snack mix so if you'd like to add a little sweetness to it, you could add some vegan/gluten-free chocolate chips.
Tip #3:  My almonds, cashews and sunflower seeds were all soaked/dehydrated before adding them to the mix.
Superfood Fruit Nut and Seed Snack Mix (Raw, Vegan, Gluten-Free, Paleo-Friendly, No Refined Sugar)
Print recipe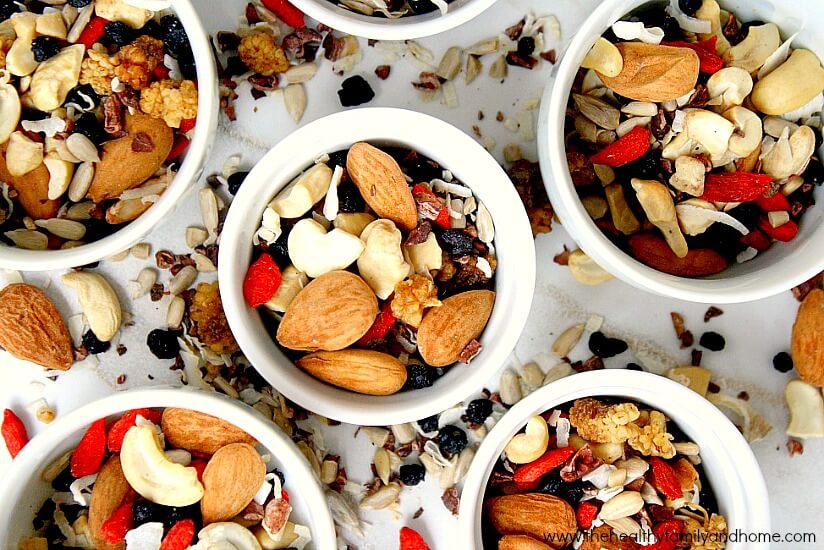 Ingredients
1 cup organic almonds
1 cup organic cashews
1/2 cup organic goji berries
1/2 cup organic dried mulberries
1/2 cup organic dried blueberries
1/2 cup organic sunflower seeds
1/2 cup organic cacao nibs
1/2 cup organic coconut flakes
Directions
Step 1
Put all ingredients into a medium sized bowl and toss well.

Store in a air-tight glass container until ready to eat.

Enjoy!
Note
This recipe will make approximately 1 - 2 servings.

The recipe and photographs for "Superfood Fruit Nut and Seed Snack Mix" by Karielyn Tillman of The Healthy Family and Home are licensed under a Creative Commons Attribution-NonCommercial 4.0 International License and cannot be used without my written permission.
Affiliate Disclosure: This post contains affiliate links. This means that if you were to make a purchase through one of these links, "The Healthy Family and Home" website would receive a small commission.
Amazon Disclosure: "The Healthy Family and Home" website is a participant in the Amazon Services, LLC Associates Program, an affiliate advertising program designed to provide a means for sites to earn advertising fees by advertising and linking to Amazon.com