This Healthy Holiday Fudge recipe is probably the healthiest version of fudge you will ever find.
In fact, there are only 4 clean ingredients needed to make it.
It's the perfect holiday treat to be able to enjoy and share, especially since it takes less than 5 minutes to prepare.
Here are the typical ingredients in store-bought fudge and homemade fudge recipes:
Russell Stover Walnut Fudge Candy

Ingredients: Sugar, Cream Dairy, Walnuts, Corn Syrup, Chocolate (Sugar, Chocolate Processed with Alkali, Cocoa Butter, Butter Fat, Soy Lecithin, An Emulsifier, Vanilla, Vanillin, An Artificial Flavor), Sugar Brown, Palm Kernel Oil Partially Hydrogenated, Sorbitol, Salt, Potassium Sorbate, Flavors Natural (source)

FoodFacts.com Rating:  "F"
S.A.D. (Standard American Diet) Traditional Homemade Fudge Recipe

Ingredients:  2 3/4 cups sugar, 4 ounces unsweetened chocolate, 3 tablespoons butter, 1 cup half-and-half, 1 tablespoon corn syrup, and 1 tablespoon vanilla extract

I've even seen versions using an entire jar of marshmallow cream (corn syrup, sugar, water, egg whites, artificial flavor, cream of tartar, xanthan gum, artificial color blue 1) (source) and even margarine (liquid and partially hydrogenated soybean oil, water, buttermilk, contains less than 2% of salt, soy lecithin, potassium sorbate (preservative), mono and diglycerides (emulsifier), lactic acid, natural and artificial flavor, vitamin A palmitate, beta carotene color) (source).
Do people really still use margarine?
These are highly processed ingredients full of GMO's, preservatives and food colorings and they are loaded with refined sugar and GMO-dairy.
Plus, you have to heat, cook, boil, use a candy thermometer, etc. to make traditional fudge.
This healthy version is full of clean, unprocessed ingredients and is raw, vegan, gluten-free, dairy-free, paleo-friendly and no refined sugars.
Want more healthy dessert recipes?  Check out Clean Eating Chocolate Crunch Bars, Healthy Peanut Butter Cups, Raw Snickers Bars or my Clean Eating eCookbook with an entire chapter of 20 healthy, clean eating recipes just like this one that you will love!
5 Fast Facts About Raw Cacao Powder:*
contains over 300 compounds including protein, calcium, copper, zinc and iron
super high in anti-oxidants
promotes cardiovascular health
contains essential fats
can help to decrease blood pressure
5 Fast Facts About Coconut Oil:*
super high in lauric acid
rich in antioxidants
contains natural microbial and anti-bacterial agents
helps to improve metabolism
improves cholesterol levels
5 Fast Facts Maple Syrup:*
contains manganese and zinc
super high in anti-oxidants
helps with inflammation
1/4 cup contains more calcium than the same amount of milk
1/4 cup contains more potassium than a banana
5 Fast Facts About Almonds (Almond Butter):*
helps to regulate cholesterol and blood pressure
energy booster
loaded with calcium and fiber
1/4 cup contains 8 grams of vegan protein
high in anti-oxidants
*These statements have not been evaluated by Food and Drug Administration.  This information is not intended to diagnose, treat, cure or prevent any disease.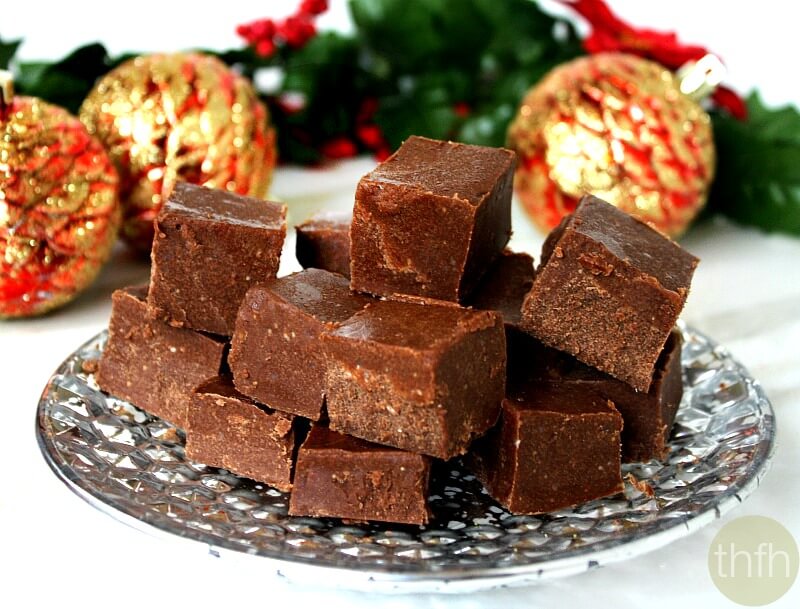 Where to Buy:  If you have any trouble finding the ingredients to make this recipe, you can order online from Amazon and have them delivered straight to your door!
Tip #1:  The only sacrifice you will have to make to enjoy this healthy version instead of the evil traditional version is they will need to be kept refrigerated until they are ready to be served.  They can't be left out at room temperature because they will become soft because of the coconut oil.  This could make a challenge if you were traveling with them or were going to be somewhere that you couldn't refrigerate them so just keep that in mind.
Tip #2:  This recipe will make approximately 18 – 20 small, thick squares using a 5 x 9 glass dish.  You can get more servings if you use an 8 x 8 glass dish but they will be thinner.
Tip #3:  This is basic fudge recipe, you can also add walnuts, other nuts or even mint.
Tip #4:  This would be a good recipe to use with homemade almond butter.  I buy my raw, organic unpasteurized almonds in bulk from Terrasoul.
Healthy Holiday Fudge (Raw, Vegan, Gluten-Free, Dairy-Free, Paleo-Friendly, No Refined Sugar)
Print recipe
Ingredients
1 cup organic coconut oil (melted/liquid)
1/4 cup organic raw cacao powder
1/4 cup homemade almond butter
1/4 cup organic maple syrup
1 tablespoon organic vanilla extract
Directions
Step 1
Put all ingredients in a medium sized bowl and stir until well combined.

Pour into a 5 x 9 glass bread pan (for thicker pieces) or an 8 x 8 glass baking dish (for thinner pieces and more servings).

Put in freezer for approximately 1 hour or until hard and firm.

Keep in refrigerator until ready to serve because they will become soft and lose their shape if left out at room temperature.

Enjoy!
Note
This recipe will make approximately 18 - 20 small pieces.

The recipe and photographs for "Healthy Holiday Fudge" by Karielyn Tillman of The Healthy Family and Home are licensed under a Creative Commons Attribution-NonCommercial 4.0 International License and cannot be used without my written permission.
Affiliate Disclosure: This post contains affiliate links. This means that if you were to make a purchase through one of these links, "The Healthy Family and Home" website would receive a small commission.
Amazon Disclosure: "The Healthy Family and Home" website is a participant in the Amazon Services, LLC Associates Program, an affiliate advertising program designed to provide a means for sites to earn advertising fees by advertising and linking to Amazon.com.