Gluten-Free Vegan Raw No-Cook Broccoli Balls are an easy and healthy recipe to make with only 7 clean, real food ingredients and they're ready in about 10 minutes!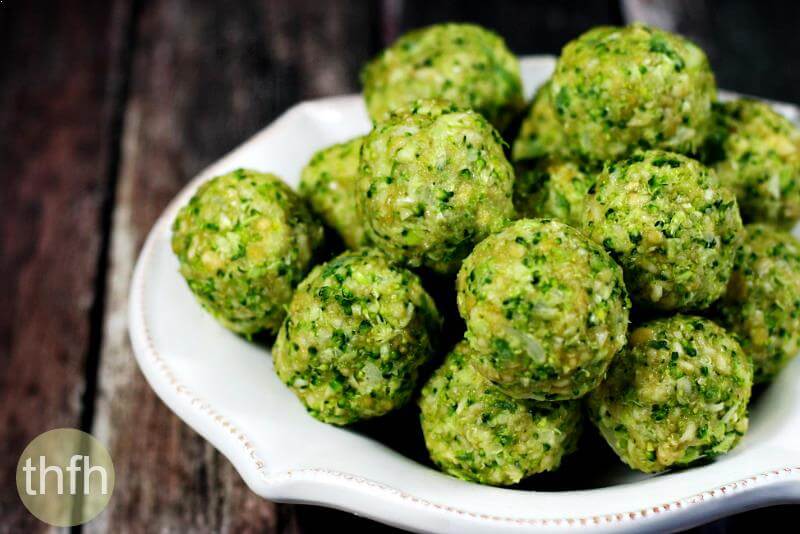 Today, I have for you an easy, clean eating, raw food recipe for Gluten-Free Vegan Raw Broccoli Balls that is so easy to make and it's also a great way to let your little ones help – especially making the balls!
I also have another healthy vegetable ball recipe that's really good too…my Clean Eating Vegan Sweet Potato and Pecan Balls, which are perfect during the holiday season.
But this Raw Broccoli Balls recipe would make a great side dish for a family meal, appetizer for a party or a super healthy snack.
You can eat them plain or dip them in your favorite raw dressing or dip. My favorites are my Raw Creamy Jalapeno Dressing and my Raw Spinach and Avocado Dip.

Can I Bake these Gluten-Free Vegan Raw No-Bake Broccoli Balls?
The great thing about this recipe is you can make them two different ways:
You can make them and roll them into bite-size balls, and because they are raw, enjoy them immediately. They have a softer and moister texture, but are delicious!
You can put them in a dehydrator if you prefer a little crispier texture.
Are These Gluten-Free Vegan Raw No-Bake Broccoli Balls Keto?
Yes! This recipe is keto-friendly with approximately 5 net carbs per ball and they are fine to enjoy in moderation.
Are These Gluten-Free Vegan Raw No-Bake Broccoli Balls Healthy?
In my opinion, yes!
Let's compare the ingredients in this recipe with traditional broccoli balls that usually have dairy and/or meat in them:
Gluten-Free Vegan Raw No-Bake Broccoli Ball Ingredients: organic broccoli, organic raw cashews, organic onion, organic garlic, organic extra-virgin olive oil, organic jalapeno, nutritional yeast, Himalayan pink salt
S.A.D. (Standard American Diet) Parmesan Broccoli Balls Ingredients: broccoli, Parmesan cheese, eggs, butter or margarine, sausage or ground meat, onions, salt, pepper
This healthier version is made with clean, real food ingredients and is not only raw but vegan, gluten-free, dairy-free, egg-free, keto-friendly, paleo-friendly and made with Medical Medium healing food ingredients.

How To Make Gluten-Free Vegan Raw No-Cook Broccoli Balls: Step-by-Step Instructions
This is a really simple recipe to make (and your kids will love to help too!) and all you need is a food processor!
Step 1: Prepare the Broccoli
The first thing you'll need to do is de-stem your broccoli and cut it into bite-size pieces. You don't have to get too crazy with this step because it's all going into the food processor but it will make it easier to process if the pieces are small.
Process #1: Here you'll add the broccoli pieces and the cashews to the food processor and process until they are broken down into small pieces, but take care not to over-process.
Process #2: Next, you'll add the remaining ingredients to the food processor and instead of processing them, this time you will pulse them about 30-40 times. You want the mixture to have a paste-like consistency.
Step 2: Adjust the Seasonings
Take a taste of the mixture and see if you want to add a little extra salt, garlic, nutritional yeast or jalapeno. If you don't like spicy or will be serving these to children, you may want to leave out the jalapenos.
Step 3: Make the Balls
Take out a spoonful of the mixture at a time and squeeze it together tightly in your fist and then shape them into a round ball shape with your fingertips.
Step 4: Dehydrator Option
If you decide to dehydrate the broccoli balls, just put them on a mesh tray and dehydrate them at 115 degrees for 10-12 hours, or until slightly "crispy" on the outsides. The difference between the two? The dehydrated ones will have more of a drier texture and will be slightly "crispier" and won't be as moist and sticky as the non-dehydrated ones. They also won't have the same bright green color, but are still raw and delicious!
Step 5: How To Store the Broccoli Balls
Store the balls in an air-tight BPA-free container in the refrigerator.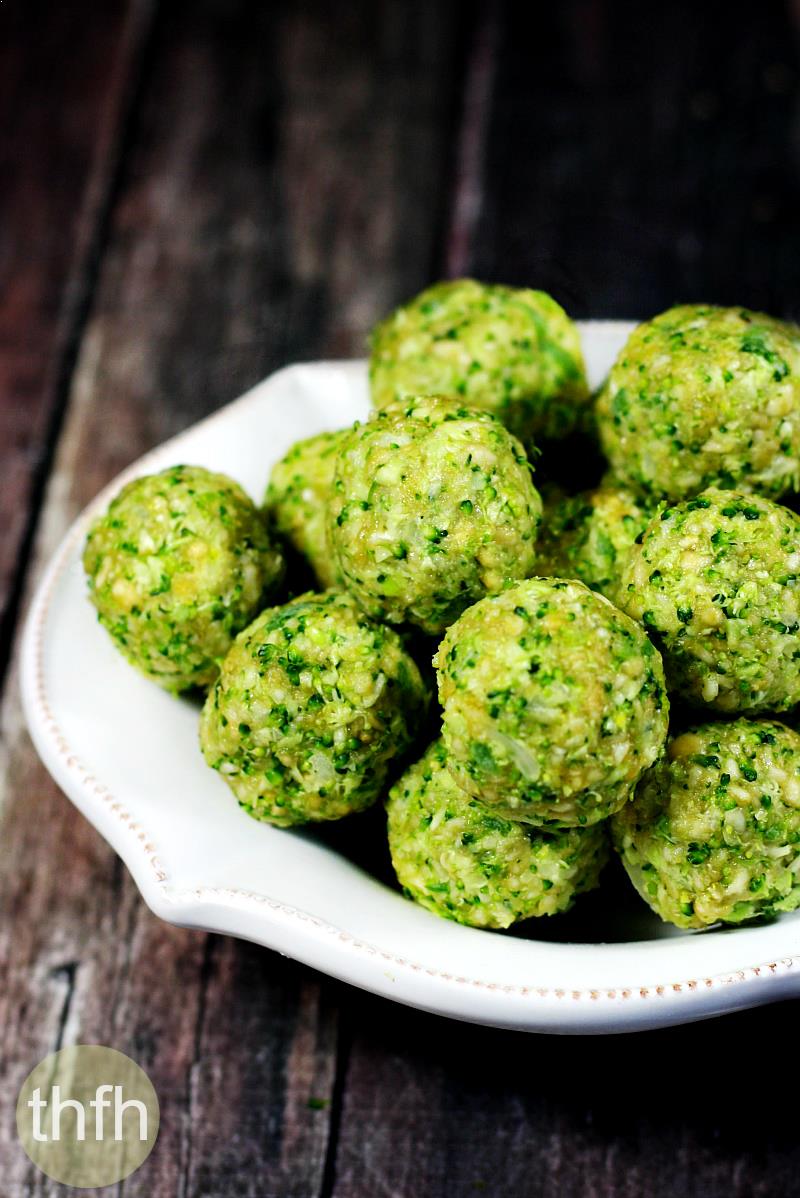 Want More Healthy Plant-Based Vegan Snack Recipes?
Check out these: