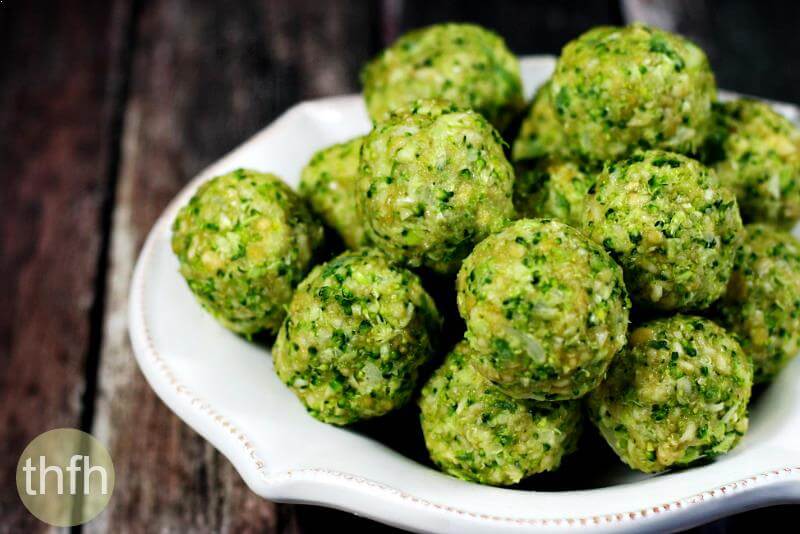 Today, I have for you an easy, clean eating, raw food recipe for Raw Broccoli Balls is so easy to make and it's also a great way to let your little ones help – especially making the balls!
I also have another healthy vegetable ball recipe that's really good too…my Clean Eating Vegan Sweet Potato and Pecan Balls, which are perfect during the holiday season.
But this Raw Broccoli Balls recipe would make a great side dish for a family meal, appetizer for a party or a super healthy snack.
You can eat them plain or dip them in your favorite raw dressing or dip. My favorites are my Raw Creamy Jalapeno Dressing and my Raw Spinach and Avocado Dip.

And, you can make them two different ways.
You can make them and roll them into bite size balls, and because they are raw, enjoy them immediately. They have a softer and moister texture, but are delicious!
Or, you can put them in the dehydrator if you prefer a little crispier texture.
Traditional broccoli balls usually have dairy and/or meat in them.
S.A.D. (Standard American Diet) Parmesan Broccoli Balls Ingredients:
Typical Ingredients: broccoli, Parmesan cheese, eggs, butter or margarine, sausage or ground meat, onions, salt, pepper
This healthier version is made with clean, real food ingredients and is not only raw, but vegan, gluten-free, dairy-free, egg-free, keto-friendly and paleo-friendly too!
Want more healthy snack recipes? Check out Roasted Smashed Potatoes with Smoked Paprika Habanero Sauce, Spicy Red Pepper and Spinach Sweet Potato Hash Browns, Rosemary and Garlic Sweet Potato Medallions or my Clean Eating Cookbook with an entire chapter of 20 healthy, clean eating recipes just like this one that you will love!
5 Fast Facts About Broccoli:*
powerful antioxidants
more calcium than dairy products
high in beta-carotene
helps to regulate blood sugar and blood pressure
excellent detoxifier
5 Fast Facts About Onions:*
rich in healthy sulfur compounds
excellent for cardiovascular health
inhibits bone loss in women
reduces blood pressure
lowers blood cholesterol levels
5 Fast Facts About Cashews:*
packed with dietary fiber
rich in "heart healthy" monosaturated fatty acids
rich source of mineral
high in magnesium and copper
excellent antioxidant
5 Fast Facts About Himalayan Pink Salt:*
contains 84 minerals
unrefined, unprocessed, raw
promotes stable ph balance in cells
controls water levels in the body
aids digestion and facilitates better nutrient absorption
5 Fast Facts About Extra-Virgin Olive Oil:*
lowers blood cholesterol levels
rich in antioxidants
improves blood mineralization and calcification
excellent for heart health
anti-inflammatory benefits
5 Fast Facts About Garlic:*
regulates blood sugar levels
lowers high blood pressure
anti-bacterial, analgesic and anesthetizing properties
antiviral
lowers cholesterol levels
5 Fast Facts About Nutritional Yeast:*
vegan source of vitamin B12
contains 18 amino acids and is a complete protein
boosts immune system
excellent anti-oxidant
contains 15 minerals
5 Fast Facts About Jalapenos:*
excellent antioxidant
thermogenic food
anti-inflammatory agent
high in Vitamins A & C and Bioflavinoids
anti-bacterial properties
*These statements have not been evaluated by the Food and Drug Administration. This information is not intended to diagnose, treat, cure or prevent any disease.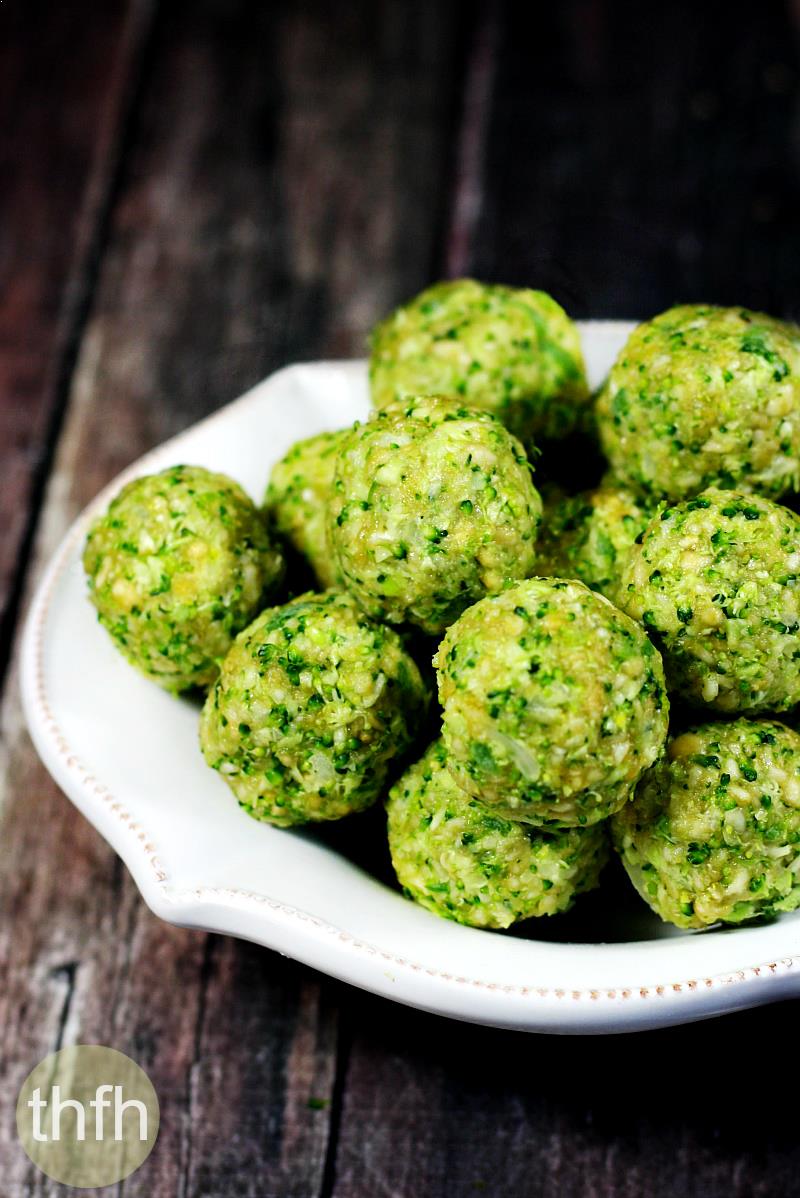 Tip #1: If you decide to dehydrate the broccoli balls, just put them on a mesh tray and dehydrate them at 115 degrees for 10-12 hours, or until slightly "crispy" on the outsides. The difference between the two? The dehydrated ones will have more of a drier texture and will be slightly "crispier" and won't be as moist and sticky as the non-dehydrated ones. They also won't have the same bright green color, but are still raw and delicious!
Tip #2: I like to add a jalapeno to mine, but if you don't like jalapenos, or will be making these for your little ones, you may want to reduce it or leave it out completely.