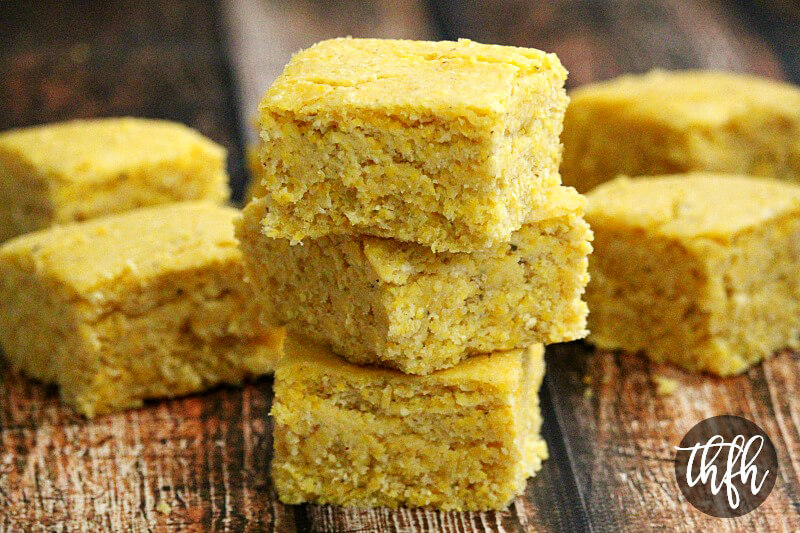 This is a classic Vegan Cornbread recipe that is quite moist and really easy to make.
You probably already have all the ingredients on hand, with the exception of cornmeal, unless you use it on a regular basis.
The only thing I really use it for is to make cornbread so that's the only reason I already had some.
I don't know why, but the majority of the time I make it for breakfast and rarely as a side dish to a meal like chili.
This cornbread is dense in texture and not a sweet cornbread, but you could easily make it as sweet as you like just by adjusting the amount of maple syrup in the recipe.
And, since this is a "basic" cornbread recipe, you can customize it by adding diced jalapenos or even organic corn kernels.
If you need a gluten-free cornbread, check out my Gluten-Free and Dairy-Free Cornbread recipe too!
Want some ideas that would be perfect with this cornbread recipe? Check out Chipotle Black Bean and Sweet Potato Quinoa Chili, Soup, Vegan Black Bean Soup or my Clean Eating Cookbook with an entire chapter of 20 healthy and clean eating Meals and Entrees you will love!
5 Fast Facts About Coconut Oil:*
super high in lauric acid
rich in antioxidants
contains natural microbial and antibacterial agents
improves metabolism and prevents fatigue
improves cholesterol levels
5 Fast Fact About Maple Syrup:*
contains manganese and zinc
contains 54 different antioxidants
helps with inflammation
1/4 cup contains more calcium than the same amount of milk
1/4 cup contains more potassium than a banana
5 Fast Facts About Almonds (Almond Milk):*
regulates cholesterol and blood pressure
energy booster
loaded with protein, calcium and fiber
high in antioxidants
reduces risk of heart disease
5 Fast Facts About Apple Cider Vinegar:*
anti-viral, anti-bacterial, anti-fungal
maintains proper pH balances in the body
regulates blood pressure
reduces bad cholesterol
loaded with potassium
5 Fast Facts About Himalayan Pink Salt:*
contains 84 minerals
unrefined, unprocessed, raw
promotes stable pH balance in cells
controls water levels in the body
aids digestion and facilitates better nutrient absorption
*These statements have not been evaluated by the Food and Drug Administration. This information is not intended to diagnose, treat, cure or prevent any disease.
Tip #1: This is a very dense cornbread and not a sweet cornbread, which I like. However, if you like a sweeter cornbread, just increase the maple syrup by 1-2 tablespoons until you get it to the sweetness you prefer.
Tip #2: If you are not using a glass pan, bake the cornbread at 375 degrees.
Tip #3: I use homemade almond milk instead of buying boxed milk…it's really easy to make and tastes much better too!
Tip #4: Important: Corn is one of the top GMO crops produced today. Make sure you use ORGANIC cornmeal when making this recipe or any other recipe that calls for "corn" or a "corn" ingredient. I purchase my organic cornmeal from the bulk section at Whole Foods, but if you don't have one nearby, you can order organic cornmeal online. There is such little cost difference and it is so important to your health!