This easy Homemade Vegan Cornbread recipe is so moist and made with easy-to-find ingredients. It's vegan, dairy-free, egg-free, butter-free, contains no refined sugar and is a one-bowl recipe that can be prepared in about 5 minutes!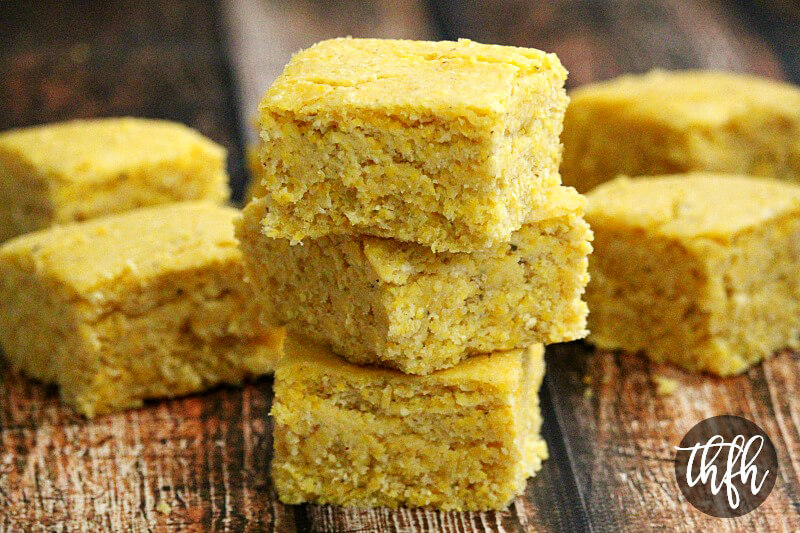 This is a classic homemade Vegan Cornbread recipe that is quite moist and really easy to make because it's a one-bowl recipe that takes about 5 minutes to prepare.
You probably already have all the ingredients on hand, with the exception of cornmeal, unless you use it on a regular basis.
This Vegan Cornbread recipe is somewhat dense in texture and not a sweet cornbread. Make sure you read the next section below of how you can customize it to your preference.
Can I Customize my Classic Vegan Cornbread?
Yes! Cornbread is a "regional" recipe, meaning some people prefer a sweet cornbread and some prefer a savory, or less sweet cornbread. There is no right or wrong way to enjoy it!
The great thing about this particular Vegan Cornbread recipe is it's a "basic" cornbread recipe, and you can customize it however you like.
Do you prefer sweet cornbread? No problem…make it as sweet as you like just by adjusting the amount of maple syrup in the recipe. Add 1 extra tablespoon at a time until you get it to the sweetness you prefer.
Or maybe you prefer a less sweet, savory cornbread? That's easy…just add some diced jalapenos or even organic corn kernels and leave or reduce the amount of maple syrup in the recipe.
If you need a gluten-free cornbread, check out either my Gluten-Free and Dairy-Free Cornbread recipe or my Gluten-Free Vegan Pumpkin Cornbread!
Can You Make Homemade Cornbread Without Eggs?
Yes!
Traditional cornbread recipes are made with eggs, but in this Vegan Cornbread recipe, no eggs are used, making it a 100% vegan recipe!
Also, instead of using regular milk (cow milk), non-dairy milk is used making it a dairy-free recipe as well.
Ingredients Used To Make Homemade Vegan Cornbread:
This recipe is made with only 8 real food ingredients that you probably already have in your pantry.
Try to buy organic ingredients, especially the cornmeal, whenever possible.
Cornmeal
Unbleached White Flour
Coconut Oil
Maple Syrup
Almonds (Almond Milk)
Apple Cider Vinegar
Baking Powder
Himalayan pink salt
Make sure you visit my "5 Fast Facts of Nutrient-Dense Foods" to see the nutritional benefits of the ingredients I used in this recipe!
How To Make Homemade Vegan Cornbread:
You'll love how easy it is to make this one-bowl homemade cornbread recipe and I'll show you how with step-by-step instructions below.
Step 1: Prepare the "buttermilk"
In this step, which should take only a few minutes, you will mix your favorite non-dairy milk (I like to use homemade almond milk) with vinegar and whisk it together.
Step 2: Mix the Wet Ingredients
Next add all the wet ingredients and the "buttermilk" mixture, after re-whisking it to a medium-size bowl. This is where you will want to adjust or increase the sweetener or add extra ingredients like sliced jalapenos, whole corn kernels, etc.
Step 3: Mix the Dry Ingredients
In this easy step, you will mix all the dry ingredients together in a medium-size bowl. After all the dry ingredients are stirred together well, you will add them to the bowl with the wet ingredients and stir until everything is well combined.
Step 4: Assembly
Next, you'll want to have an 8 x 8 baking dish ready, lined with parchment paper. This will make removing the cornbread easier.
Pour the mixture evenly into the baking dish and bake at 350 degrees for 30-35 minutes, or until the cornbread is slightly golden on the top. If you are using a non-glass baking dish, increase the temperature to 375 degrees.
What To Serve with Classic Homemade Vegan Cornbread:
Here are some healthy plant-based vegan comfort meals that would go perfect with this vegan cornbread recipe:
Did You Make This Vegan Cornbread Recipe?
I'd love to hear about it! Please give it a rating and leave a comment below…it would make my day! 🙂