This healthy plant-based Gluten-Free Vegan Southwest Quinoa + Black Bean Casserole Bake is made with fresh produce and herbs and is bursting with flavor. It's an easy family dinner meal ready in under 30 minutes that everyone will love!

This Vegan Southwest Quinoa + Black Bean Casserole Bake is a really easy and filling dinner recipe that the whole family will enjoy.
Gluten-Free Vegan Southwest Quinoa + Black Bean Casserole Bake
You'll love this vegan casserole because it's made with two excellent sources of vegan protein - organic quinoa and organic black beans.
And if that's not enough to love, it's filled with fresh vegetables like onions, garlic, cilantro, zucchini, jalapenos, and tomatoes.
You can even save time and use leftover quinoa or make some in advance.
But not to worry if you don't already have quinoa prepared, you can prep the veggies while the quinoa is cooking, which only takes about 10-15 minutes.
This is a healthy plant-based vegan meal that's vegan, gluten-free, dairy-free, soy-free, egg-free, and nut-free.
If you're looking for another vegan quinoa lunch or dinner meal, try one of my other healthy quinoa recipes:

What Ingredients Do I Need To Make This Vegan Southwest Black Bean Quina Casserole Bake?
This recipe is made with fresh vegetables + herbs with easy-to-find ingredients.
Try to buy organic ingredients whenever possible.
Quinoa
Onions
Garlic
Tomatoes
Zucchini
Black Beans
Corn
Jalapenos
Cilantro
Avocado Oil
Lemon Juice
Ground Cumin
Chili Powder
Himalayan Pink Salt
Daiya Vegan Pepperjack Shreds
How To Make Vegan Mexican Quinoa Casserole Bake | Step-By-Step Instructions
Don't be overwhelmed by the ingredient list because it's a little longer than you may be used to seeing here.
This plant-based casserole recipe is really easy to make in just a few steps and I'll show you how below.
Before beginning, preheat your oven to 350 degrees and set aside an 8 x 8 baking dish.
Step 1: Prepare The Quinoa
In this step, you have two options:
Make fresh quinoa - Prepare the quinoa according to the package directions. I make mine by adding (2) cups of filtered/purified water to a small saucepan with (1) cup uncooked quinoa and bring it to a boil. Then I reduce the heat and simmer for about 10-15 minutes.
Use leftover quinoa - If you're looking to save time or know you will be making this recipe a few days later, you can get a head start and make the quinoa in advance and store it in an air-tight BPA-free container in the refrigerator or just use leftovers from another meal. You only need (1) cup of cooked quinoa for this recipe.
Once the quinoa is ready, set it aside.
Step 2: Prepare The Veggies + Herbs
This part is what takes the longest, and it only takes about 5 minutes!
Just dice and chop the veggies as directed.
Then you will add the avocado oil, garlic and onions to a skillet and saute them until the onions are soft.
Step 3: Assembly
This is the fun part!
All you need to do is add the sauteed onion mixture, the remaining veggies + herbs and cooked quinoa into a medium-sized mixing bowl and stir everything together until it's evenly distributed.
Then you'll add 1/2 of the bag of vegan cheese shreds into the mixture and stir until well combined.
Transfer the mixture into your 8 x 8 baking dish and sprinkle the remaining vegan cheese shreds evenly on the top.
Bake at 350 degrees for about 20-30 minutes, or until the cheese is melted.
That's it!
A healthy southwestern casserole ready to enjoy in under 30 minutes!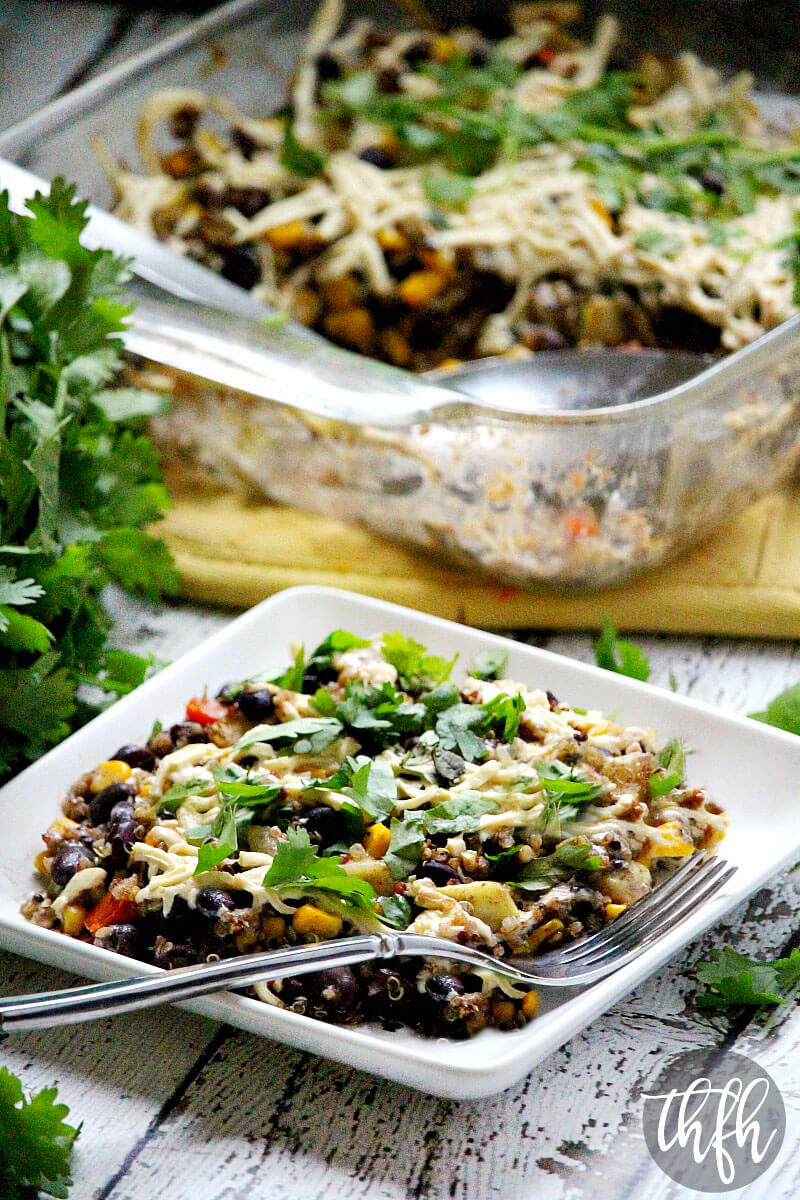 Ingredient Tips + Substitutions for Vegan Southwestern Casserole Bake:
Quinoa. As mentioned earlier, you can use fresh quinoa, leftover quinoa or quinoa you prepped in advance (store in an air-tight BPA-free container in the refrigerator). You can use any variety of quinoa for this recipe.
Avocado Oil. You can substitute with organic extra-virgin olive oil.
Jalapenos. You can reduce or omit if you don't like spicy food or will be serving this dish to children.
Corn. I've used both frozen organic corn and organic canned corn and both work well. If you use canned, just make sure to drain the corn before adding it to the mixture and if you use frozen, let it thaw out before adding to the mixture. You can also omit the corn if you are following the Medical Medium protocol, as I am, and I just make it without the corn when I'll be eating it.
Daiya Vegan Cheese Shreds. I really, really, really do not like to use processed vegan products like "vegan cheese", but it does make this meal more appealing to non-vegans. If you prefer to not use a processed vegan cheese (like me!), you can enjoy the flavorful vegetable mixture without heating it in the oven and serve over salad greens or as a wrap in romaine lettuce or a gluten-free tortilla.
Want More Healthy Vegan + Gluten-Free Dinner Recipes?
Check out these: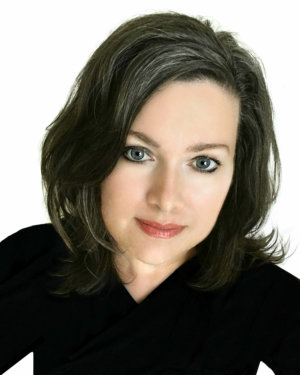 Hi, I'm Karielyn! I'm the published cookbook author of CLEAN DESSERTS and content creator of The Healthy Family and Home™ website since 2012. I specialize in creating easy, healthy plant-based and Medical Medium® compliant recipes that are gluten-free + vegan and made with clean, real food ingredients that you can feel good about eating.