This Vegan Southwest Quinoa Bake is a really easy and filling dinner recipe that the whole family will enjoy.
It's made with two excellent sources of vegan protein – quinoa and black beans, and also fresh vegetables like onions, garlic, cilantro, zucchini and tomatoes.
If you don't already have quinoa prepared, you can be prepping the veggies while the quinoa is cooking, which only takes about 10 – 15 minutes.
And after you saute' the onions and garlic for a few minutes, the next step is to just add everything to a medium size mixing bowl, stir it all together than transfer it to your baking dish.
You'll only need to bake it long enough to warm the ingredients and melt the cheese.
It's also a great recipe to make when you have a little extra leftover quinoa, since this recipe only needs one cup.
This is a healthy vegan meal that's vegan, gluten-free, dairy-free and soy-free.
Want more healthy dinner recipes?  Check out Vegan Stuffed Pepper Soup, Spicy Twice Baked Turmeric Potatoes, Vegan Smoked Paprika and Black Bean Chili or my Clean Eating Cookbook with an entire chapter of 20 healthy, clean eating meal and entrée recipes just like this one that you will love!
5 Fast Facts About Quinoa:*
high in anti-oxidants
anti-inflammatory
high in magnesium (20.9% DV) and folate (19.5% DV)
gluten-free
complete protein containing 9 essential amino acids
5 Fast Facts About Onions:*
rich source of sulfur compounds
excellent for cardiovascular health
inhibits bone loss in women
reduced blood pressure
lowers blood cholesterol levels
5 Fast Facts About Tomatoes:*
contains lycopenes which are cancer fighting agents
high in beta-carotene
excellent anti-oxidant
high in vitamin A and K
high in chromium which helps control blood sugar levels
5 Fast Facts About Zucchini:*
low calorie food – 94% water
high in manganese
helps lower blood pressure
anti-inflammatory
helps lower cholesterol
5 Fast Facts About Garlic:*
regulates blood sugar levels
lowers high blood pressure
contains anti-bacterial and analgesic properties
anti-viral
helps to lower cholesterol levels
5 Fast Facts About Black Beans:*
extremely high in fiber
loaded with anti-oxidants
contains insoluble fiber
high in iron at 20% RDA
regulates blood glucose absorption
5 Fast Facts About Lemons:*
extremely alkaline to the body
blood purifier
excellent for detoxification
balances blood sugar levels
contains powerful anti-bacterial properties
5 Fast Facts About Himalayan Pink Salt:*
contains 84 minerals
unrefined, unprocessed, raw
promotes stable pH balance in cells
controls water levels in the body
aids digestion and facilitates better nutrient absorption
*These statements have not been evaluated by the Food and Drug Administration.  This information is not intended to diagnose, treat, cure or prevent any disease.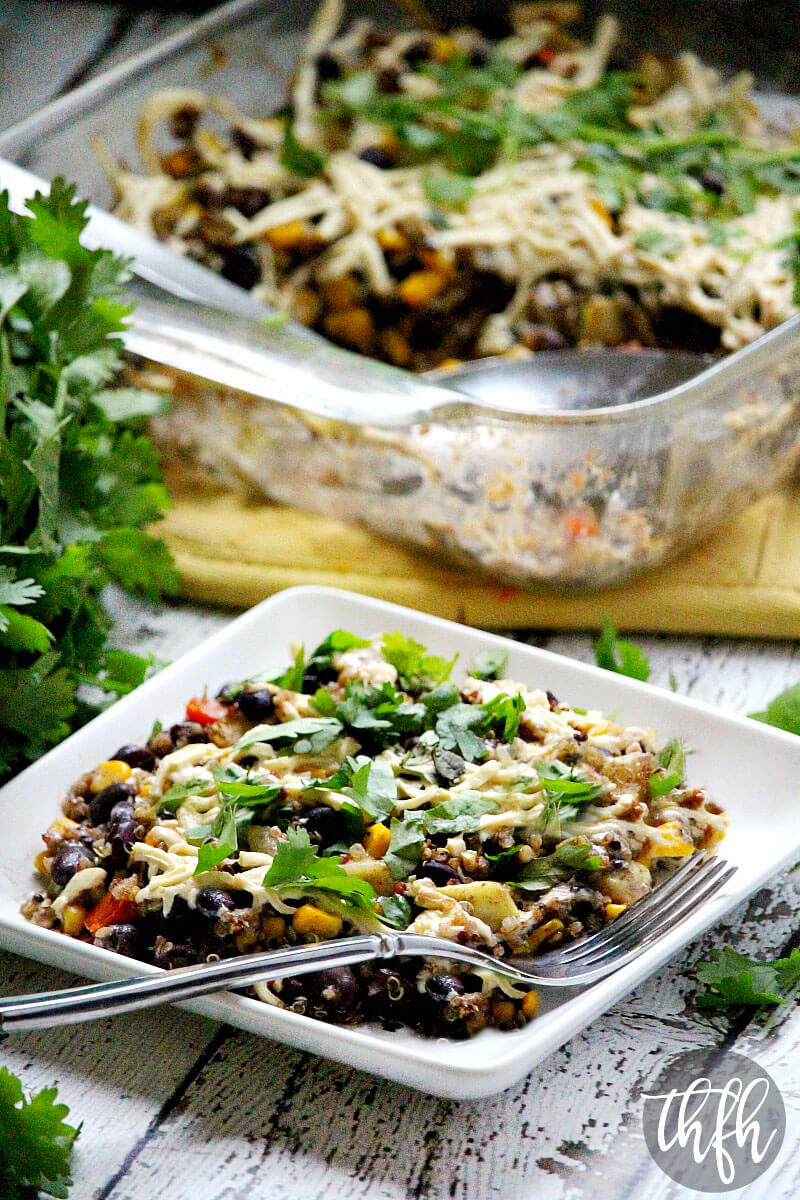 Vegan Southwest Quinoa Bake (Vegan, Gluten-Free, Dairy-Free, Soy-Free)
Print recipe
Ingredients
1 cup organic quinoa (cooked)
1 teaspoon 100% pure avocado oil
1/2 cup organic onions (diced)
2 cloves organic garlic (freshly crushed)
1/2 cup organic tomatoes (diced)
1/2 cup organic zucchini (peeled and diced)
1 - 2 organic jalapenos (diced)
1/2 cup organic cilantro (diced)
1 can organic black beans (15 ounce can; drained)
1 cup organic non-GMO corn
1 teaspoon Himalayan pink salt
1 teaspoon organic ground chili powder
1/2 teaspoon organic ground cumin
1 tablespoon organic lemon juice
1 bag Daiya vegan mozzerella shreds (8 ounce bag)
Directions
Step 1
Prepare quinoa: prepare according to package instructions (add 2 cups of water and 1 cup of quinoa to a small saucepan and bring to a boil; reduce and simmer for 10 - 15 minutes).

Prepare the veggies: while the quinoa is cooking, diced the onions, tomatoes, jalapenos and zucchini.

Add the avocado oil, garlic and onions to a skillet and saute on medium / high heat for 2 - 3 minutes, or until the onions are soft.

Transfer the sautéed onions to a large mixing bowl; add all the remaining ingredients, including the cooked quinoa, and stir until well combined. Adjust seasonings to your preference.

Add 1/2 the bag of vegan mozzarella shreds to the mixture and stir until it's evenly distributed.

Transfer the mixture to an 8 x 8 baking dish.

Sprinkle the remaining 1/2 bag of vegan mozzarella shreds evenly on top.

Bake at 350 degrees for approximately 20 - 30 minutes or until cheese is melted.

Best served hot from the oven.

Enjoy!
Note
This recipe will make approximately (4) servings.

The recipe and photographs for "Vegan Southwest Quinoa Bake" by Karielyn Tillman of "The Healthy Family and Home" website are licensed under a Creative Commons Attribution Non-Commercial 4.0 International License and cannot be used without my written permission.
Affiliate Disclosure: This post contains affiliate links. This means that if you were to make a purchase through one of these links, "The Healthy Family and Home" website would receive a small commission.