Welcome to my Vitamix Page!
You've come to the right place to not only learn about buying and owning a Vitamix, but also for the most extensive list of exciting and creative recipes using the world's best performing and most reliable blender…the Vitamix!
I have over 150 + recipes that you can make with your Vitamix,
and another 30+ recipes that you can find exclusively in my Clean Eating Cookbook.
That's 180 + recipes I've made with my Vitamix making THFH website your favorite resource for unique and delicious recipes that will make you "feel good about what you eat".
All my Vitamix recipes are clean eating, vegan, gluten-free, dairy-free, egg-free, contain no refined sugar and many are raw and paleo-friendly.
And, you won't find a bigger selection of clean eating recipes using a Vitamix anywhere else…other than the official Vitamix website!
---
Me and My Vitamix
I have owned my very first Vitamix for over 11+ years now and have just recently purchased my second one, the Professional Series 750 Model.
There was absolutely nothing wrong with my original model, I just wanted a new one 🙂
Some of the best, and most popular recipes on my website were made with my Vitamix and one has even been featured in the "Go Gluten-Free!" magazine.
In fact, every recipe you see on my website from 2012 through 2015 was made with my original 4500 model, and it has served me very well.  I have used it literally every day and up to 2 – 3 times per day.
Believe it or not, it is so vital to my routine and food preparation, I have even packed it up and taken it with us when traveling and on vacations too!
This is true.
It was one of the first appliances I purchased when I decided to clean up my diet and it was the best decision I ever made.
I bought it when I became pregnant with my oldest son and wanted to eat as healthy as possible during my pregnancy.
At the time, I didn't know what else to make with it but smoothies…but it was a start.
It has transformed the way I prepared food for myself and my family over the years and our diet has evolved from a 100% S.A.D. (Standard American Diet) to a clean, unprocessed, real food diet.
I now use it to make homemade nut milks, nut butters, soups, raw foods, snacks for my dehydrator, dips, dressings, raw pies, cheesecakes and so much more.
It's amazing to think an appliance can make that big of a difference, but it did!
---
Clean Eating + Vitamix = Success!!
---
Top 10 Reasons to Invest in a Vitamix Blender…
I say 'invest" in a Vitamix blender because it is just that.  An investment.  In your health.
Having a Vitamix blender in your kitchen will be one of your most powerful tools to make eating healthy and staying on track a whole lot easier.
This is the perfect appliance if you are in a transition phase to clean eating, vegetarian, vegan, raw, paleo, gluten-free or just want to clean up your diet.
Below are the "Top 10 Reasons" of why purchasing a Vitamix blender is a wise investment towards your health:
Spill proof lid with removable lid plug
BPA-free shatter-proof container with a 64 ounce of true blending capacity
Easy-grip handles and soft-touch controls egronomically designed for comfort and control
Metal-to-metal, container-to-base coupling for maximum durability and long life
High Speed Setting allows for maximum processing, for thicker ingredients and larger recipes
Variable speed control – you control the blades allowing you to chop, grind or fully blend ingredients, all in one container
Powerful 2 peak output horsepower motor propels the blade tip speed up to 240 mph
Full 5-7 year warranty (depending on the model you choose)
Financing Options to help you purchase your new Vitamix
---
There are several different models to choose from, depending on your needs and budget, with prices starting at $399.
To make it easy to purchase a new Vitamix because they now offer convenient payment plans to make purchasing a new Vitamix affordable.  You can have a new Vitamix shipped to your door with as little as 20% down!
And, you can also purchase certified reconditioned models at discounted prices starting at $259.
---
Where can I buy a Vitamix?
Because I am a long-time, loyal user of my Vitamix, I have partnered to be an affiliate with Vitamix to be able to share it with you and I will receive a commission if you purchase your new Vitamix through me.
You will also receive FREE STANDARD SHIPPING (up to $25 in U.S. and $35 in Canada) when you make a purchase through my Vitamix affiliate link below:
There are a lot of websites on the internet and retail stores where you can purchase a new Vitamix.  By purchasing your Vitamix using my Vitamix affiliate link above, you are helping to support my website, which I sincerely appreciate.
And, you can count on me to provide you with easy, healthy recipes to make with your new Vitamix once you get it home!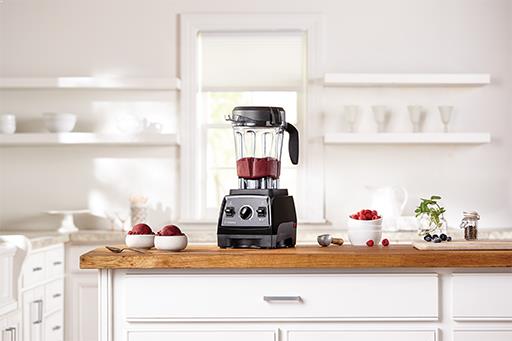 ---
And now…
some easy, delicious recipes you can make with your new Vitamix:
Breakfast:
Vegan Cacao Almond Baked Breakfast Quinoa Squares
Quinoa and Fruit Breakfast Porridge
Desserts:
How To Make Homemade Whipped Coconut Cream
Pumpkin Ice Cream and Brownie Parfait
Raw Cacao and Raspberry Mousse Cakes
Raw Vegan Key Lime Cheesecake with Coconut Cream Topping
Raw Vegan Pumpkin Mini Cheesecakes
Vegan Chocolate Chip Peanut Butter Ice Cream
Strawberry and Raspberry Cheesecake Hearts
Cacao Nib and Mint Chocolate Ice Cream
Vegan No-Bake Chocolate Marbled Pumpkin Cheesecake
Vegan Superfood Ice Cream
Creamy Mango and Chocolate Chip Ice Cream Popsicles
Vegan Black Forest Ice Cream
Vegan Lemon Blueberry Swirl Cheesecake Squares
Vegan Chocolate Chip Raspberry Swirl Ice Cream
Vegan Chocolate Peanut Butter Swirl Ice Cream
Raspberry Lemon Mini Cheesecakes
Vegan No-Bake Peanut Butter Cheesecake
Clean Eating Peanut Butter Brownie Triffle
Chocolate Fudgesicles
Acai Berry and Banana Mini Cheesecakes
Chocolate Banana Cream Mini Desserts
Healthy Vegan Chocolate Hazelnut "Nutella" Spread
Raw Cacao Almond Balls
Raw Triple Chocolate Cheesecakes
Raw Vegan Marbled Cheesecake
Dips:
Raw Stuffed Kale Leaves with Mint Cashew Aioli
Healthy Artichoke Dip
Dressings:
Creamy Raw Hemp Cilantro Dressing
Poor Man's Version of "Green Dragon Dressing"
Raw Vegan Creamy Chipotle Dressing
Raw Vegan Roma Tomato and Tahini Dressing
Smoked Paprika Habanero Sauce
Clean Eating Watermelon Vinaigrette
Meals:
Spaghetti Squash with Basil and Creamy Cauliflower Alfredo Sauce
Wilted Kale Salad with Creamy Chipotle Dressing
Vegetable Rigatoni with Creamy Cauliflower Sauce
Sweet Potato Fettuccine and Creamy Rosemary with Roasted Garlic Sauce
Pasta with Asparagus and Creamy Mushroom Sauce
Spicy Roasted Butternut Squash Pasta
Zucchini Noodles with Spinach and Tomatillo Sauce
Kelp Noodles with Spicy Peanut Sauce
Spaghetti Squash with Creamy Lemon Garlic Sauce
Vegan Baked Penne with Spicy Rose' Sauce
Raw Stuffed Kale Leaves with Mint Cashew Aioli
Nut Butters:
How To Make Homemade Almond Butter
Nut Milks:
How To Make Homemade Almond Milk
How To Make Homemade Coconut Milk
Salads:
Wilted Kale Salad with Creamy Chipotle Dressing
Watermelon Salad with Clean Eating Watermelon Vinaigrette
Sauces:
Creamy Cauliflower Alfredo Sauce
Raw Vegan Red Pepper Basil Creamy Pine Nut Pesto
Creamy Rosemary with Roasted Garlic Pasta Sauce
Side Dishes:
Cheesy Sprouted Brown Rice with Baby Spinach and Mushrooms
Roasted Smashed Potatoes with Smoked Paprika Habanero Sauce
Clean Eating Zucchini Boats with Creamy Garlic Sauce
Smoothies:
Acai Berry and Banana Immunity Smoothie
Kale and Banana Green Smoothie
Pineapple and Banana Hemp Smoothie
Spirulina and Hemp Protein Smoothie
Strawberry-Banana Maca Smoothie
Strawberry Smoothie with "Raw Fit" from Garden of Life
Tropical Breeze Raw Protein Smoothie
Chocolate Strawberry Almond Protein Smoothie
Triple Chocolate Banana Protein Smoothie
Chocolate Peanut Butter Protein Smoothie
Banana Mango Superfood Smoothie
Pomegranate and Maca Protein Smoothie
Mango and Hemp Seed Smoothie
Pumpkin Protein Smoothie
Smoothie Bowls:
Raspberry Acai Smoothie Bowl
Dark Cherry and Acai Smoothie Bowl
Blueberry Acai Protein Smoothie Bowl
Classic Acai Bowl
Snacks:
Raw Vegan Carrot and Flax Crackers
Raw Vegan Habanero Pepper Crackers
Raw Vegan Sour Cream and Onion Kale Chips
Lemon Dill Kale Chips
Jalapeno Kale Chips
Soups:
Raw Vegan Cream of Mushroom Soup
Creamy Vegan Tomato Basil Soup
and more to come!