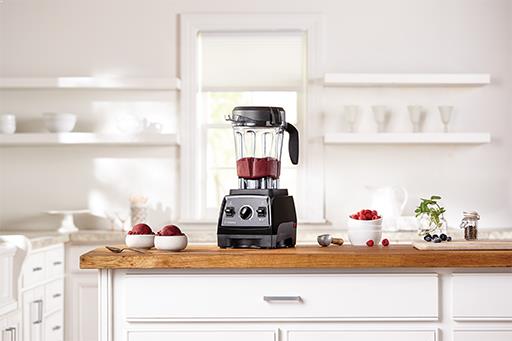 If you're on my Vitamix page, you probably have lots of questions, like "Which Vitamix is Best?" or "Do I Need A Vitamix?" or "Which Vitamix Should I Buy?" or "Should I Buy A New or Reconditioned Vitamix?" or even "Where To Buy A Vitamix"?
Well don't worry...you've come to the right place to not only learn about buying and owning a Vitamix from a long-time user, but also for the most extensive list of exciting and creative recipes using the world's best performing and most reliable blender...the infamous Vitamix!
7 Fun Facts about Me and My
Vitamix
I purchased my first

Vitamix

over 13 years ago. I purchased my first machine in 2005 when I was pregnant with my oldest son because I wanted to clean up my diet and eat as healthy as possible during my pregnancy. At the time, I didn't know what else to make with it but smoothies...but it was a start. It has transformed the way I prepared food for myself and my family over the years and our diet has evolved from a 100% S.A.D. (Standard American Diet) to a clean, unprocessed, real food diet. I now use it every day to make homemade nut milk, nut butters, soups, raw foods, snacks for my dehydrator, dips, dressings, raw pies, cheesecakes and so much more. It's amazing to think an appliance can make that big of a difference, but it did!
I've owned two different

Vitamix

models over the past decade. The first

Vitamix

model I purchased was the basic 4500 model and I loved it. When I decided to upgrade to a newer model, it was purely by choice and not a necessity. There was absolutely nothing wrong with my original model - I just wanted a new one 🙂 The second

Vitamix

I purchased was the Professional Series 750 Model and I love it even more because it has more settings than the 4500 model.
I have over 150+ recipes on my website that you can make with your

Vitamix

. My list of 150+ vegan and gluten-free

Vitamix

recipes continues to grow and I have another 30+ recipes you can find exclusively in my Clean Eating Cookbook. I literally use my

Vitamix

2-3 times a day, every day. All my

Vitamix

recipes are clean eating, vegan, gluten-free, dairy-free, egg-free, contain no refined sugar and many are raw and paleo-friendly.
Every

Vitamix

recipe you see on my website from 2012 - 2015 was made with my original 4500 model. And it has served me well. You don't have to buy the most expensive model with all the bells + whistles to make amazing recipes. Some of the most popular recipes on my website were made with my original

Vitamix

and one has even been featured in the "Go Gluten-Free!" magazine.
I purchased both my

Vitamix

's on a monthly payment plan. I purchased both my Vitamix's with my own money and used a monthly payment plan. I'm a stay-at-home mother that follows a strict budget. One of the things I love about the

Vitamix

brand is they make it easy to purchase their blenders by offering payment options so you can have a Vitamix delivered to your door without having to wait. I understand that not everyone can purchase a

Vitamix

in a single payment - including myself. It's a big purchase. But it's also an investment.
I pack my

Vitamix

with me on vacation. Yes, It's true! Well, not all vacations, like when we take a cruise vacation, but when we travel and have access to a kitchen, my trusty

Vitamix

is in tow. I have it's own special "luggage" to carry it in and everything. It may sound extreme, but that's how attached I am to it and it helps me stay on track with healthy eating when away from home.
I am a Vitamix affiliate. I have no biased motivation to share my Vitamix experiences with you other than I'm a loyal, long-time user that is passionate about the Vitamix brand. I have never been gifted a Vitamix for a product review or any other type of "for pay" collaboration. I've purchased both my Vitamix's with my own money as a direct consumer...just like you. I don't have every model Vitamix has ever made or over a dozen Vitamix's sitting on my kitchen counter or in my pantry. But I have owned two different models, have used my Vitamix's over a period of 13 years, and have created over 150+ recipes with them. However, in full transparency, as a Vitamix affiliate, I do receive a small commission for any purchase you make through the links on my website.

Vitamix

Buying Guide

There are several things to take into consideration if you are looking to purchase a Vitamix, and I'll go through each of those with you below.
Do I Really Need A
Vitamix

?

This is a great question because the true and honest answer is no. You may be asking, "You love your Vitamix, why would you say that?" The truthful answer is you can get through life without a Vitamix in your kitchen. And you can make meals and smoothies at home without a Vitamix. That's a fact.

But if you want an appliance (because that's what a Vitamix is - a kitchen appliance) to help you eat healthier, prepare more homemade meals for your family, get them to eat more fruits + veggies, and save money by making your own condiments, nut butter, nut milk, etc., then you really need a Vitamix.

If you want to make smoothies without chunky pieces of ice or fruit, unblended pieces of spinach, or just sub-par performance, then you really need a Vitamix.

And, if you want to have control over the ingredients in what you make instead of buying highly processed, store-bought items with long lists of ingredients, then you really need a Vitamix.

There are several reasons to invest in a Vitamix blender. I say "invest", because it is just that. An investment - in your health.

A Vitamix is the perfect appliance if you are in a transition phase to clean eating, vegetarian, vegan, raw, paleo, gluten-free, or just want to clean up your diet.

Having a Vitamix blender in your kitchen will be one of the most powerful tools you'll use to make eating healthy and staying on track a whole lot easier.
Top 5 Reasons to Invest in a
Vitamix

Blender
Vitamix

Motor - The key selling point of a

Vitamix

is it's powerful 2 or 2.2 horsepower motor (depending on the model you chose) that's designed to prevent overheating. That's serious power! For comparison, a standard blender such as a "Hamilton Beach Multifunction Blender" has a 700-watt blending power. Big difference!
Warranty - In the unlikely event that something were to go wrong with your

Vitamix

, you can rest assured because it's backed by a 5-year to 10-year full warranty, depending on the model you chose. Did you know that fewer than 1% of products sold in the U.S. that are currently under warranty have been returned to

Vitamix

for service? That's just amazing! And refurbished models come with a generous 5-year warranty.
Longevity - These are high-quality machines that are built to last.
Investment - As I mentioned earlier, you aren't just "buying" a

Vitamix

, you are "investing" in a

Vitamix

and they will hold their value for a long, long time.
Affordable - Ok, at first glance, and after surviving sticker shock, you may be thinking, "affordable?!" But they really are! There are models priced as low as $249 and

Vitamix

makes it easy to purchase a new blender because they are currently offering affordable payments options. And, they are always running specials and sales so keep an eye out for those lower prices!
What is the Best Vitamix Model?
The best Vitamix model is the one that fits YOU.
There are several different models to choose from, depending on your needs and budget, with prices starting at $399.
They are broken down into 3 categories:
Vitamix

Smart System - Price Range $399.95 - $549.95

These are the "state-of-the-art" blenders with these features (vary per model):
1-10 Speed Dial
3 Program Settings (A2500 Model Only)
5 Program Settings (A3500 Model Only)
Start/Stop Switch
Touch Start/Stop (A3300, A3500 Model Only)
Pulse Switch
Touch Pulse (A3300, A3500 Model Only)
Digital Timer (A2300, A2500 Model Only)
SELF-DETECT Technology
Vitamix

Classic - Price Range $299.95 - $649.95

These feature simple design with these features (vary per model):
Classic 48-ounce container (E310 Model Only)
Classic 64-ounce container (5200 Standard Model Only)
Low Profile 64-ounce container (Professional Series 750, 780 Model Only)
Variable Speed Control
Pulse Control (E310, Professional Series 750, 780 Model Only)
High/Low Controls (5200 Standard Model Only)
5 Pre-Programmed Settings (Professional Series 750, 780 Model Only)
Touch Screen Controls (780 Model Only)
Vitamix

Space Saving - Prices Starting at $329.95 - $349.95

These are great for making a single serving or small batches with these features (vary per model)
20-ounce containers
40-ounce containers
Pulse Control (S30 Model Only)
2 Pre-Programmed Settings (S50 Model Only)
Variable Speed Control (S50 Model Only)
Which Vitamix Should I Buy?
I'm going to keep this section short and sweet. Deciding which Vitamix model doesn't have to be so overwhelming and confusing. There are Vitamix affiliate sites that have pages and pages of options and details and links and charts that it's almost overkill.
Vitamix makes it easy for you to determine which model is perfect for you with their new "Blender Recommendation" tool based on machine size, program features, and your budget.
Simply answer a few questions like
"Do you currently own a blender?"
"What is your ideal blender size?"
"Do you prefer the latest technology or prefer to stick to the classics?"
"What type of recipes do you think you will make with your Vitamix?"
"Do you prefer switches or touch controls?"
"Do you prefer recipe programs?"
"Are you interested in a Certified Reconditioned machine?"
And just like magic, it recommends the perfect blender!
All in a matter of minutes without having to sift through pages and pages of text and links and sales pitches.
Even though I already own a Vitamix, this feature wasn't available when I bought mine.
But I was curious as to how accurate it was and went through the "Blender Recommender" questions and guess what? It recommended the exact blender I'm currently using lol!
What is a "Certified Reconditioned"
Vitamix

?

The first thing you need to know, is what does "Certified Reconditioned" mean?

Vitamix performs a 17-point inspection on every Certified Reconditioned blender before it leaves the warehouse, including the blender base, motor, and control panel, and the blade.

If for some reason a component does not pass inspection, it is replaced with a brand new part.

And, all Certified Reconditioned blenders come with a brand new cookbook, container shell, lid, and tamper.

This means you can get a like-new machine for a much lower cost than buying a new one!

But are there any risks in buying a Certified Reconditioned blender? No, not at all! In fact, you get a generous 5-year warranty that covers parts, labor, and shipping plus a lifetime of customer service, just like you would with a new blender.
Should I Buy a New

Vitamix

or Reconditioned

Vitamix

?
This is a personal preference but I think it comes down to price and warranty.
Here is a list of the current reconditioned models?
And, you can also purchase certified reconditioned models at discounted prices starting at $259.
Vitamix Reconditioned Smart System Series - Price Range
Vitamix

Reconditioned Classic Series - Price Range $399.95 - $499.95
Certified Reconditioned A2500
Certified Reconditioned A3500
Vitamix Reconditioned Space Saving Series - Price Range $
Vitamix Accessories
If you've decided to be on #teamvitamix, you'll be excited to know that there are lots of fun accessories to use with your Vitamix blender, all of which can be found on the official Vitamix website.
Some of the Vitamix accessories include:
Under Blade Scraper
Legacy Series Tamper Holder
Stainless Steel Smoothie Cup
Mini-Tamper
Flip-Top Beverage Bottle
Perfect Blend Smart Scale (shown below)
Blending Cup with SELF DETECT
Blending Bowls with SELF DETECT
Aer Disc Container
and many more!

Where Can I Buy A

Vitamix

?
Although I purchased my first Vitamix from a non-Vitamix website, I was lucky that I never had any problems with it.
My second one I purchased directly through the official Vitamix website, and I recommend you do the same. I just feel better knowing that I purchased an authentic machine and my warranty will be intact if I ever needed to use it.
Also, when you purchase your Vitamix from the official Vitamix website, it is automatically registered and you will receive FREE SHIPPING!
Because I'm a long-time, loyal user of the Vitamix brand, I have partnered with them as an affiliate to be able to share their product with you. If you purchase a new or refurbished Vitamix through me, I will receive a small commission, at no additional cost to you.
There are a lot of websites on the internet and retail stores where you can purchase a new Vitamix. By purchasing your Vitamix through the official Vitamix website using my affiliate link above, you are helping to support my website, which allows me to continue to create and share new Vitamix recipes with you!
And, you can always count on me to provide you with easy, healthy recipes to make with your new Vitamix once you get it home!
---
Clean Eating Vegan + Gluten-Free Vitamix Recipes
And now...some easy, delicious recipes you can make with your new Vitamix:
Or, visit my "Vitamix Index" page for a complete list of all the recipes I've made on my website with my Vitamix!
Vitamix Breakfast Recipes:
Vegan Cacao Almond Baked Breakfast Quinoa Squares
Quinoa and Fruit Breakfast Porridge
Vitamix Dessert Recipes:
How To Make Homemade Whipped Coconut Cream
Pumpkin Ice Cream and Brownie Parfait
Raw Cacao and Raspberry Mousse Cakes
Raw Vegan Key Lime Cheesecake with Coconut Cream Topping
Raw Vegan Pumpkin Mini Cheesecakes
Vegan Chocolate Chip Peanut Butter Ice Cream
Strawberry and Raspberry Cheesecake Hearts
Cacao Nib and Mint Chocolate Ice Cream
Vegan No-Bake Chocolate Marbled Pumpkin Cheesecake
Vegan Superfood Ice Cream
Creamy Mango and Chocolate Chip Ice Cream Popsicles
Vegan Black Forest Ice Cream
Vegan Lemon Blueberry Swirl Cheesecake Squares
Vegan Chocolate Chip Raspberry Swirl Ice Cream
Vegan Chocolate Peanut Butter Swirl Ice Cream
Raspberry Lemon Mini Cheesecakes
Vegan No-Bake Peanut Butter Cheesecake
Clean Eating Peanut Butter Brownie Triffle
Chocolate Fudgesicles
Acai Berry and Banana Mini Cheesecakes
Chocolate Banana Cream Mini Desserts
Healthy Vegan Chocolate Hazelnut "Nutella" Spread
Raw Cacao Almond Balls
Raw Triple Chocolate Cheesecakes
Raw Vegan Marbled Cheesecake
Vitamix Dip Recipes:
Raw Stuffed Kale Leaves with Mint Cashew Aioli
Healthy Artichoke Dip
Vitamix Dressing Recipes:
Creamy Raw Hemp Cilantro Dressing
Poor Man's Version of "Green Dragon Dressing"
Raw Vegan Creamy Chipotle Dressing
Raw Vegan Roma Tomato and Tahini Dressing
Smoked Paprika Habanero Sauce
Clean Eating Watermelon Vinaigrette
Vitamix Meals Recipes:
Spaghetti Squash with Basil and Creamy Cauliflower Alfredo Sauce
Wilted Kale Salad with Creamy Chipotle Dressing
Vegetable Rigatoni with Creamy Cauliflower Sauce
Sweet Potato Fettuccine and Creamy Rosemary with Roasted Garlic Sauce
Pasta with Asparagus and Creamy Mushroom Sauce
Spicy Roasted Butternut Squash Pasta
Zucchini Noodles with Spinach and Tomatillo Sauce
Kelp Noodles with Spicy Peanut Sauce
Spaghetti Squash with Creamy Lemon Garlic Sauce
Vegan Baked Penne with Spicy Rose' Sauce
Raw Stuffed Kale Leaves with Mint Cashew Aioli
Vitamix Nut Butter Recipes:
How To Make Homemade Almond Butter
Vitamix Nut Milk Recipes:
How To Make Homemade Almond Milk
How To Make Homemade Coconut Milk
Vitamix Salad Recipes:
Wilted Kale Salad with Creamy Chipotle Dressing
Watermelon Salad with Clean Eating Watermelon Vinaigrette
Vitamix Sauce Recipes:
Creamy Cauliflower Alfredo Sauce
Raw Vegan Red Pepper Basil Creamy Pine Nut Pesto
Creamy Rosemary with Roasted Garlic Pasta Sauce
Vitamix Side Dish Recipes:
Cheesy Sprouted Brown Rice with Baby Spinach and Mushrooms
Roasted Smashed Potatoes with Smoked Paprika Habanero Sauce
Clean Eating Zucchini Boats with Creamy Garlic Sauce
Vitamix Smoothie Recipes:
Acai Berry and Banana Immunity Smoothie
Green Power Smoothie
Kale and Banana Green Smoothie
Pineapple and Banana Hemp Smoothie
Spirulina and Hemp Protein Smoothie
Strawberry-Banana Maca Smoothie
Strawberry Smoothie with "Raw Fit" from Garden of Life
Tropical Breeze Raw Protein Smoothie
Chocolate Strawberry Almond Protein Smoothie
Triple Chocolate Banana Protein Smoothie
Chocolate Peanut Butter Protein Smoothie
Banana Mango Superfood Smoothie
Pomegranate and Maca Protein Smoothie
Mango and Hemp Seed Smoothie
Pumpkin Protein Smoothie
Vitamix Smoothie Bowl Recipes:
Raspberry Acai Smoothie Bowl
Dark Cherry and Acai Smoothie Bowl
Blueberry Acai Protein Smoothie Bowl
Classic Acai Bowl
Vitamix Snack Recipes:
Raw Vegan Carrot and Flax Crackers
Raw Vegan Habanero Pepper Crackers
Raw Vegan Sour Cream and Onion Kale Chips
Lemon Dill Kale Chips
Jalapeno Kale Chips
Vitamix Soup Recipes:
Raw Vegan Cream of Mushroom Soup
Creamy Vegan Tomato Basil Soup
---
Affiliate Disclosure: Karielyn Tillman | The Healthy Family and Home is an affiliate for Vitamix. If you click on any of our links and make a purchase, we earn a small commission from Vitamix. Your purchases through our site allow us to provide you with this free content.